Another ho-hum week and a half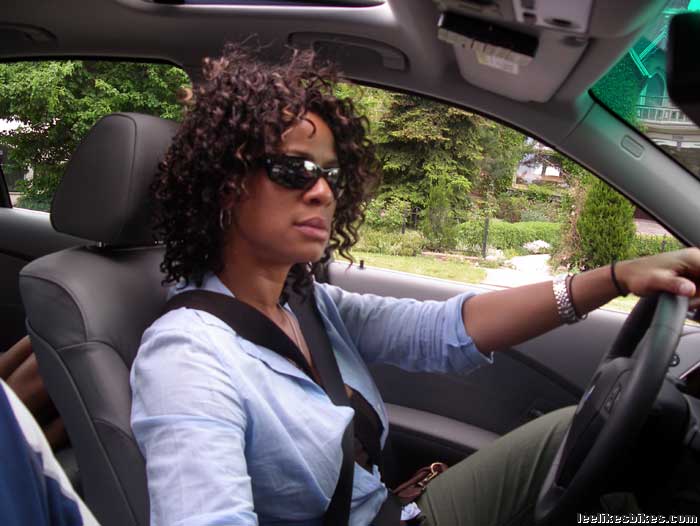 Dudes: I feel like I am living on the edge of what's possible. And it's excellent!
The more you click, the more I can post. Lee Likes Groceries dot com!
---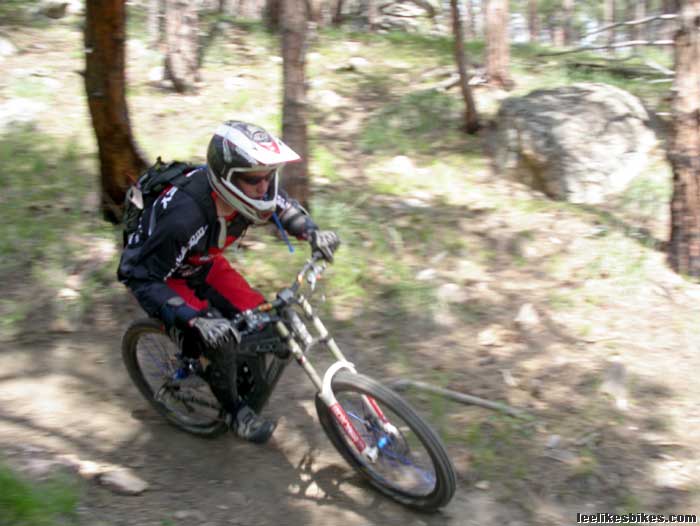 Mighty Matt Ripley, Left Hand Canyon style.
Last Friday – Pack up and drive to Nathrop for MSC #1. Go with Arlette to get marriage license at Boulder County Court. Pay the 10 bucks, sign on the dotted line, marry ourselves on the spot. Give each other rubber bands for wedding rings.
Sat – 4X racing. Honeymoon at Darner's ranch. Sun setting over Mt. Princeton, magenta light dancing across her cheeks … oh yeah.
Sun – DS racing. Qualify 17th in pro/semi, a nice wedding gift!
Mon – Rest, office work.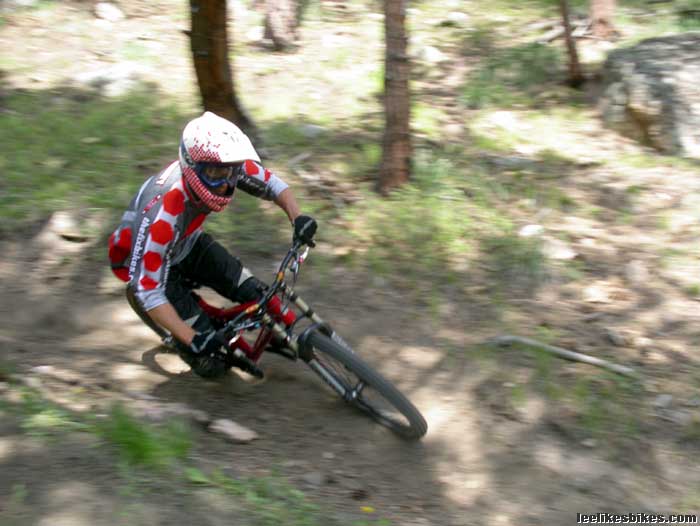 Unreal Neal Grigsby with the custom Tetris helmet.
Tue – Coach a group of friends. Teach them to rip turns on mountain bikes. Ride from home and back; an hour of easy spinning and tough climbing, plus pump/jump at The Fix.
Wed – Coach the husband of one of the Tuesday folks. Teach him the attack position on his mountain and road bikes. Get him manualling, dropping and railing. Ride from home and back.
Thur – Impromptu session. Teach attack position and the keys to bike control. Rock some pump action in preparation for jumping doubles. Practice gates at a top-secret private location. Discover that my starts are great — they're just about 3/10ths too late.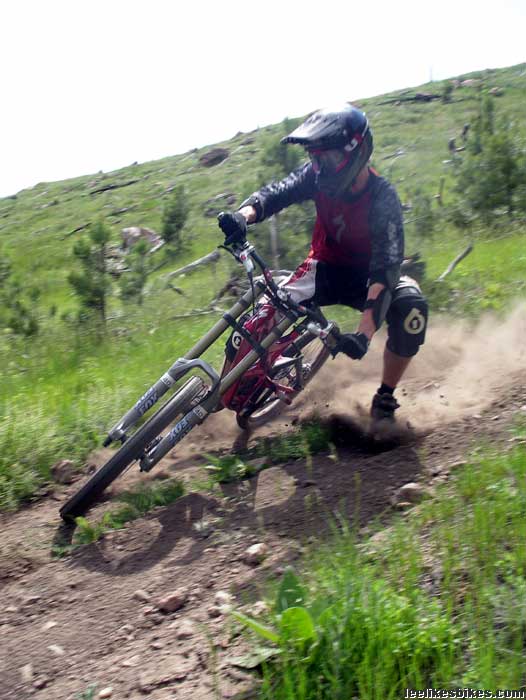 Super Joey Schusler with that I'm Gonna Kick Chris Kovarik's Ass foot-out style.
Fri – Office work. Go to an art gallery with Arlette. Very fun — and nobody talked about bikes!
Sat – Coach a dad and his two teen racers. Take The Fix Monkeys to Left Hand Canyon for some DH bike pushing and riding. Zach took a nasty fall and fractured the iliac crest on his left hip, and he'll be out all summer. Get well fast, Zach!
Sun – Ring ceremony on the corner of 16th and Walnut in Boulder, where we fell in love. It was the second date, and we were in her car, and a bolt of lightning hit me. I knew in an instant that I'd known Arlette for a thousand years, and that we'd always be together. So on Sunday we met a few friends on the corner, exchanged vows, exchanged platinum and diamonds, and went for a nice brunch.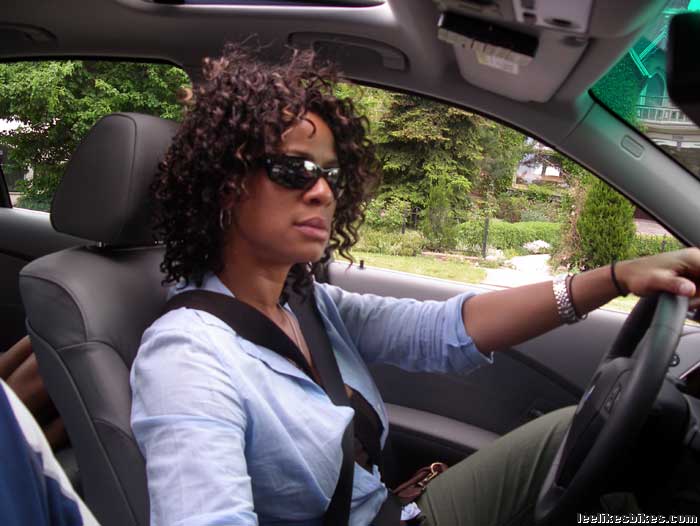 Arlette (aka @b, aka Agent 530) drives me around. She's rad — and she's my wife!
Days: 10
People coached: 14
Days riding: 6
Days racing: 2
Weddings: 1
All in all, a pretty eventful week and a half!
https://www.leelikesbikes.com/wp-content/uploads/2018/08/leelikesbikeslogoheader.jpg
0
0
leelikesbikes
https://www.leelikesbikes.com/wp-content/uploads/2018/08/leelikesbikeslogoheader.jpg
leelikesbikes
2007-05-23 12:15:24
2007-05-23 12:15:24
Another ho-hum week and a half