MTB Strength Training Program – Phase 2 update
I've been following James Wilson's MTB Strength Training Program for a couple months, and here's my status report. To sum it up: I hate James while I'm doing the workout, but I love him while I'm ripping on my bike.
The more you click, the more I can post. Lee Likes Groceries dot com!
---
The vision
James is a professional strength trainer and a mountain bike nut. He's used his professional kung fu to design a strength program for mountain bikers. It builds functional mobility, strength and power from the bottom up.
I've been training for 20 years — and I studied exercise physiology in college — so I thought I knew my stuff. James knows more, and I gotta say: It's liberating to dumbly follow his detailed program.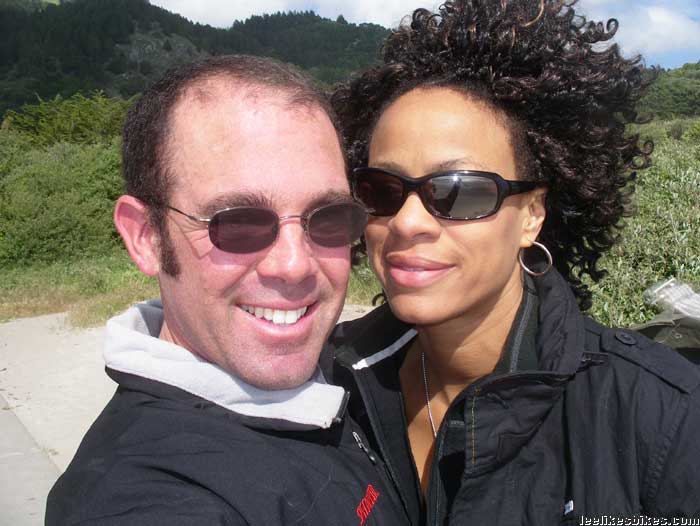 Ever since I got on the MTB Strength Training Program, I've been getting hot chicks! BTW: This hottie is now my wife!!!
The workout
The MTB Strength Training Program workouts are arranged in three-week phases, with each phase working a specific goal (mobility, strength, etc) and each day working specific movement patterns (vertical push, vertical pull, hip flexion, etc.).
Each one-hour workout starts with seemingly easy but very technical isolation exercises. You might activate your glutes, or your upper shoulders, or whatever. These are subtle, and to get the effect you have to pay attention.
10 minutes into the workout you might think, "This is easy; I'll go for a ride afterward." … Just wait.
I have yet to do any of the gym-standard exercises I grew up with. James' moves use low weight, high coordination and surprisingly high effort. Exercises like the YTMW, pistol squats, one-legged deadlifts and the Turksh Getup use your body in ways you never thought of — and make you sore in ways you didn't think possible.
45 minutes into the workout, you're doing whole-body, weight-bearing, highly technical exercises, and you're thinking uncool thoughts about James.
Each workout ends with about five minutes of anaerobic conditioning. You might do 30 seconds on, 30 off, or a time ladder of 15/30/45/60. You can do just about any full-body exercise; I do burpees — and it kicks my ass.
After the hour I feel thoroughly worked, but in a very open, non-linear way. Not like a hard XC ride or weight session; more like a moto or a hard yoga class. In a good week I do two of James' workouts. He designs his program so two workouts hit everything, and I'll tell you this: Two are plenty.
BTW: I'm doing the program on the floor with an exercise ball, adjustable dumbbells and exercise bands. That's the only equipment I need.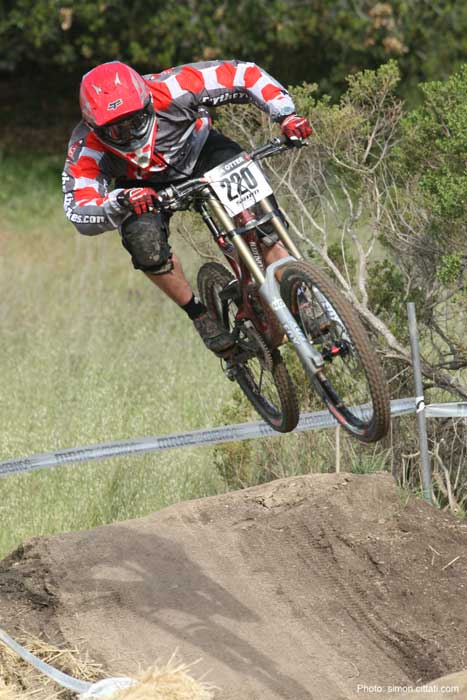 Confidence is a function of skills, equipment, fitness and how you feel about yourself. My confidence has never been higher.
The results
Almost immediately, I felt stronger and more in tune with my body. I did a private session with James, and I learned a ton about recruiting my glutes. They're the biggest muscles in our bodies, and we hardly use 'em.
I feel great. This spring I rode less XC and road, but somehow I'm climbing stronger. I feel very stable, and I feel like no matter what happens, I can handle it. In four weeks I've dropped my 2.4-mile climb home from 18 minutes to 14. Pushing the DH bike up Left Hand Canyon has never been easier. At Sea Otter I felt superhuman. Dude: 2nd in semipro slalom qualifiers — that is awesome for me!
On a busy day when I can't ride, James' one-hour workout works me hard and gives me the confidence I'm doing the right thing. I trust the guy, and doing what he says feels easy (mentally, not physically!).
Tweaks
1. You still have to ride your bike. James says most riders ride too much — they get over trained, stiff, weak, etc. — and that they'd be better off with his workouts than lots of riding. I agree in principle, but I love bike riding, and I gotta say that bike riding is the best training for bike riding.
In the off season I was doing two of his workouts per week (if I was really sore I did half the sets), and that felt great. Now that summer is on and I'm racing and recovering, training and playing, working and coaching, I've missed a couple weeks of the workouts. I feel strong, but get this: The more I ride (especially XC and road), the stiffer and less open I feel. So that tells me I should get back onto James' workouts.
2. Beware over training. I see the importance of the workouts, but if I do them on top of my normal riding, I'll die. It's just too much work for me. So that means I must compromise. Here is my plan:
– Do two of James' workouts each week, adjusting for fatigue. Less intensity, fewer sets, etc.
– To compensate for that workload, ride a bit less. But keep it focused and intense.
To sum it up
I really dig the MTB Strength Training Program. It's teaching me a lot about my body, it's making me strong, it's adding variety to my workouts, and it's actually pretty fun. Most of us can benefit from increased mobility, stability, strength and power. If you're willing to put in the work, I recommend James Wilson's program.
Get the program
James' program includes lots of goodies:
– 16-week workout program
– Fully detailed workouts
– Training logs
– MTB mobility training program
– Recovery strategies
– Nutrition program
– Supplement list
– Audio CD
– Demo DVD
– 200+ page manual
– Two 30-minute phone consultations
– 60-day money back guarantee
– Price: $147
That's a lot of love for $147, and with the money-back guarantee you can't go wrong.
Get the MTB Strength Training Program
Disclaimer: I get a small commission on each sale, but I wouldn't offer this program if I didn't believe in it.
https://www.leelikesbikes.com/wp-content/uploads/2018/08/leelikesbikeslogoheader.jpg
0
0
leelikesbikes
https://www.leelikesbikes.com/wp-content/uploads/2018/08/leelikesbikeslogoheader.jpg
leelikesbikes
2007-05-21 19:20:50
2007-06-13 14:34:51
MTB Strength Training Program – Phase 2 update