All balled up: suspension/wheels/seat
Nate is having problems with his suspension, wheels and seat rails. Could they be related?
Lee
Thanks for the great web site and book. I listened to the bike setup podcast. The podcast really got me thinking about my setup. So here is my background information. I have a 05 Enduro Pro with the Fox DHX 5.0 rear shock and Talas 32 RC2 forks. I live in Wisconsin but my favorite trails are like Porcupine Rim trail in Moab. In the off season I seriously lift weights and practice basic trials moves on a hardtail.
I currently have the front shock fairly plush with the high and low compression fairly high with hardly any rebound damp. I have to stay light with the hands or I'll blow thru the travel easily and on drops I have to make sure I take the impact with my legs. I like that it feels like its glued to the trail.
The rear shock is set about 30% sag with the progressiveness fairly high with little rebound damp. It takes about a 3 foot drop to a good form flat landing to go thru the travel. When I bunny hop I go thu the travel easily. If I hop as high as I can and land light I sometimes go thru all the travel. If I hop and land so I go into a second hop (really cram the bike into the ground) I clank metal to metal in probably shock and the fork.
Since I live in Wisconsin there are hardly any great suspension specialist in the area. When I ride lets say Porcupine Rim trail. I feel like I'm about ready to break the bike. I actually broke a couple of spokes off at the thread on the stock rear wheel set on that trail. So I'm probably going to need a more of a DH style rear wheel set. Another problem I have is after an aggressive ride somehow my stock seat rails get bent. Is the seat problem common or is it a technique problem? Do I need a different style of seat?
OK to sum it up. Should I change the way my suspension is set up? Is there a wheel set you would recommend that wouldn't break the bank? If the seat problem is common, what should I get for a seat?
Thanks
Nate
By the way the answer you gave me for the "Change my bunny hop into a rabbit hop" was revolutionary to how I ride. Thanks a lot I really appreciated it.
---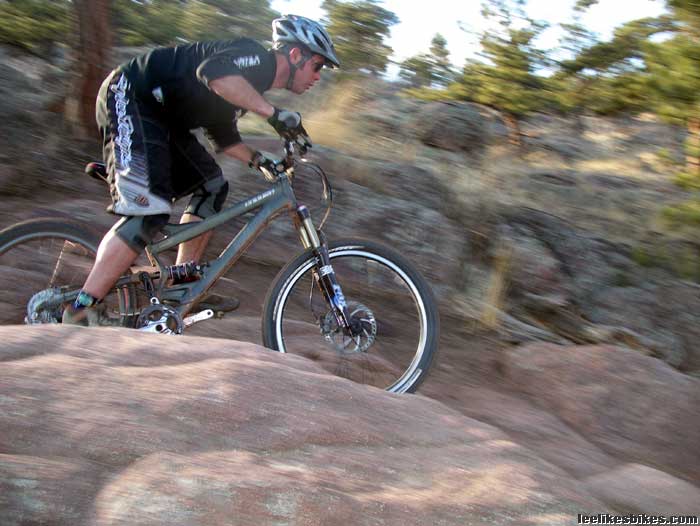 Rocking the '05 Enduro in some Front Range rocky love. BTW: I'm pulling myself forward to pump into the backside.
Hey Nate,
Thanks for writing. The '05 Enduros are awesome — kind of like mini DH bikes that pedal too. I had a 2005 S-Works Enduro, and I'm sorry I sold it.
Suspension
Yes, it sounds too soft. You shouldn't be bottoming that often or hard.
Like I said in the podcast, but I think I kind of mumbled: When you're pining it on a typical ride, you should use all of your travel. The suspension should gather you up and just barely kiss the bottom-out — but there should be no clank.
It's also possible that you're riding too rough and heavy.
Wheels
I'm not a board certified ninja wheel builder, but that sounds like a spoke tension problem. As I recall, the stock wheels on that bike are solid — but you must maintain spoke tension.
If you're interested in an inexpensive, bomber wheelset for aggressive trail riding on that bike, consider Sun Chargers. I have Charger 27s on my Stumpy, and they've been great. But you must maintain spoke tension! (Disclaimer: Sun provided those wheels.)
It's also possible that you're riding too rough and heavy.
Seat rails
Back in the day, I used to bend seat rails and seat posts with regularity. It got to the point where I couldn't lower my seat anymore!
That was caused by 100 percent bad technique: I was way too involved with the seat.
You should NOT be bending your seat rails. Stop slamming onto your seat. Ride with your feet. Lower your seat.
If that doesn't fix the problem, look into any DJ/DH-specific saddle.
To sum it up
Stiffen your suspension. Tension your spokes. Ride with your feet. And work on being smoother.
Right on. I'm off to work.
Braaap!
— Lee
---
https://www.leelikesbikes.com/wp-content/uploads/2018/08/leelikesbikeslogoheader.jpg
0
0
leelikesbikes
https://www.leelikesbikes.com/wp-content/uploads/2018/08/leelikesbikeslogoheader.jpg
leelikesbikes
2009-02-10 09:03:32
2009-02-10 09:03:32
All balled up: suspension/wheels/seat