A private riding paradise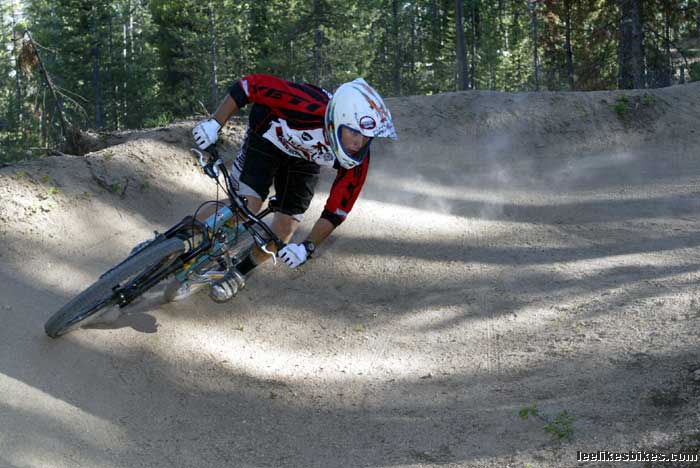 Last weekend I was invited to a delicious training spot. It's 160 acres owned by a family whose son rides, and it's shaping up to become Whistler South. Read to the bottom, because they're offering camps.

---
You drive from Winter Park, CO up a long dirt road until you reach a gate. From there you climb about 2.5 miles up a rough dirt road until … whoa … there it is.
Right now the property has:
A 4X course. It's flowy and fast. The berms and jumps remind me of A-Line at Whistler, only shorter and much steeper.
A slalom course. A single berm line rips through the trees and will get you making quick transitions. It ends at the bottom of …
The world's longest rhythm section. It's a downhill set of rollers with a table in there somewhere. It must be close to 100 yards long. If you roll the first roller then manual the next you'll instantly hit 100 miles an hour. This section teaches reflexes — I'll tell you what. Stupid human tricks: I was racing Petr up the set. With some timing and every muscle in your body, you can actually double uphill.
Dirt jumps galore. There are three lines: easy tables, medium doubles and big doubles. An even bigger line is being built. The guys are into progression, and I must say these lines inspire success. I rolled the little one once then buttered the medium one about six times. Ordinarily I stop there, but the big line looked so well built I decided to chip away at it, and before I knew it, that was butter too. Pump jump, pump jump, pump jump, pump hip to the right, pump jump, pump jump. Six nice jumps take about that long.
The guys are planning a downhill track as well. They have plenty of elevation to work with, and they seem to know what they're doing. It'll be sweet!
I'd rather ride than take pictures, but we did get a few shots on the 4X course:
| | | | |
| --- | --- | --- | --- |
| The Watts: Bobbi in the first berm and Jon enjoying a stepdown double. | Cody Wilderman rails Berm 2. Cody's a chief architect of the site. | Berm 3 Cody style. His dad Wade owns Rocky Mountain Roastery, which provides coffee samples at the MSC events. Thanks Wade — I brew it up before every race. | Petr Hanak whips it, whips it good. |
| | | | |
| --- | --- | --- | --- |
| Jon Watt style. | Cody with some table whip action. That's Berm 3 in the background. | Biiig table, then a step-up to finish things off. Petr is about to take his hands off the bars. | Forest drives a mean Bobcat, and he rides bikes well too. |
You can ride here
The guys are planning three overnight camps for riders age 8 to 18. Three days of riding, lodging, food and instruction cost only $250, which is a steal. The dates are July 21-23, Aug. 4-6 and Aug. 18-20.
I don't know what the instruction will be like, but I'll bet the camps will be a blast.
For more info check out www.lonesome-hut.com/youthbike.htm, email lonesome-hut@lonesome-hut.com or call 970-726-4099.
Thanks to Forest and Cody for the invite. You guys rock the nation.
https://www.leelikesbikes.com/wp-content/uploads/2018/08/leelikesbikeslogoheader.jpg
0
0
leelikesbikes
https://www.leelikesbikes.com/wp-content/uploads/2018/08/leelikesbikeslogoheader.jpg
leelikesbikes
2006-06-21 22:00:13
2006-06-21 22:08:48
A private riding paradise