MSC#3 – Wildflower Rush, Crested Butte, CO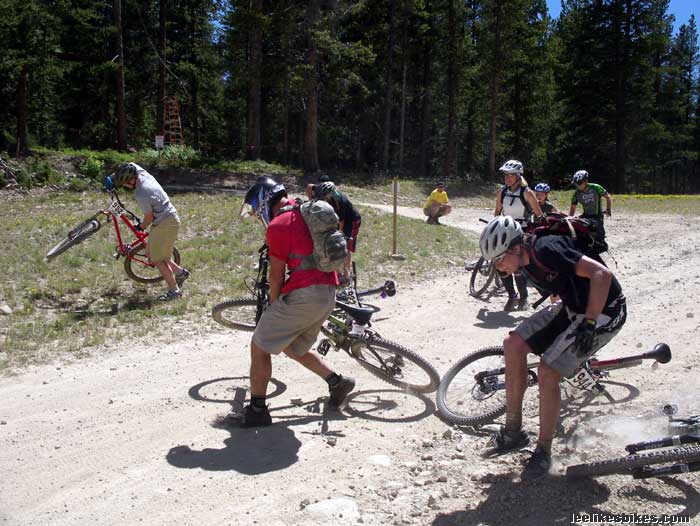 Crested Butte has some of the sweetest trails anywhere. It was great hanging with the tribe, ripping the courses and — thankfully — riding some real trail.

---
Downhill
Most racers remember the Crested Butte course for its wicked (uphill) pedaling sections, but between the grunts there are are plenty of oohs and aahs.
You sprint down a dirt road then hang a hard left straight down the fall line. Aaaaaaaahhh! Clatter across the rocks, ruts and water bars, hit a road then bounce down, down, down. Full speed across a meadow, through a right then to the first and only technical test.
A rockfall drops into a big, bermed left. The rocks on the right look scary. The dirt o the left of the rocks is super loose. THe faint of heart go left, struggle thrugh the dust then blow the turn. The hot ticket: Roll right over the rocks and perfectly into the berm. It looks gnarly, but it's actually easier.
Carry mega speed out of the turn then blast across a flat into a short, swooping uphill. Pedal! Drop through a meadow into a tight, switchbacked woods section. Whee, then onto a road. Gather speed, stick a long 180 then turn hard right onto an uphill singletrack.
Here's where fortunes are made. PEDAL!!! Left, right, up, up. Keep pedaling over the bridge and let it roll through a series of wide turns. Whew. Take a breath then hard left into the woods. Another left, then a quick right — bam bam — feels so sweet. Pump the bridge and hammer onto the dirt road. PEDAL!
Hit the wedge jump a little to the right and fly 30 feet or so to smooth backside. Pedal! Suck up the ridiculously short table No. 1, gather your wits then repeat for No. 2. OK, cool. Rail the deeply rutted right around the trees and into the open. You can feel the venue and hear the crowd.
Nail the right berm, hit the jump and fly, fly, fly to (almost) infinite downslope. Land hard, hit the final road and PEDAL as hard as you can. Sweet!
Nathan Hills of Dillon, CO won pro men in 4:45.76. Jacqueline Harmony of Tucson, AZ took pro women in 5:39.22. Jordan Thinger of Colorado Springs, CO crushed Jr. Beginner Women in 7:48.09.
| | | | |
| --- | --- | --- | --- |
| Are you ready to rumble? Photo by Yosei Ikeda. | This go-around seems easier than the rocks, but it's pure trouble. | The rocks are easy as long as you're balanced. And Neil is one balanced fellow. | After the dreaded rocks it's all speed baby! |
| | | |
| --- | --- | --- |
| Wolverine. Photo by Yosei. | In the woods, all blown out style. Photo by Yosei. | It's nice to see my form is decent, even when I don't know anyone's looking. Photo by Yosei. |
A word about bikes: Many riders run smaller trail bikes on this course, thinking they're faster than full DH bikes. Not true! Small bikes feel faster because you're about to die. I did moderate back-to-back runs on my Enduro and Demo 8, and the Demo was 15 seconds faster (about 5:05 vs. 5:20). The Enduro was easier and maybe more fun to ride, but when it comes to racing on a chewed up DH course, it's all about the big bike.
Super D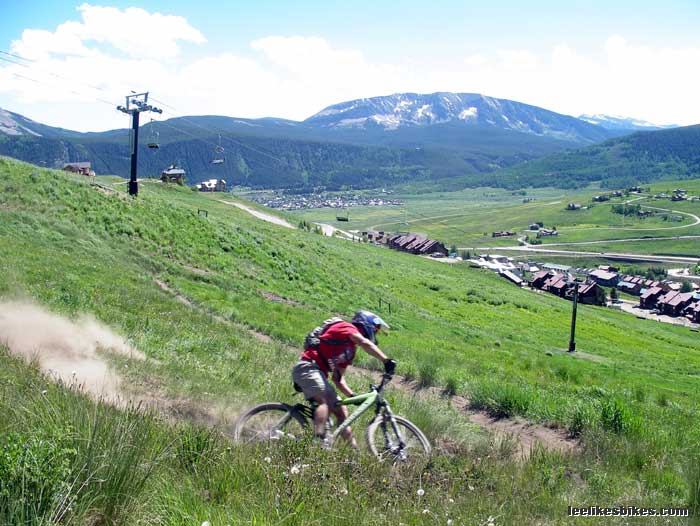 Bruce from Texas rips one of the final switchbacks. He and his buddy Auger did a clinic with me on Thursday.
Welcome to the world of modern Super D, where the LeMans starts are long the the pedals are always turning. The run was originally supposed to be 100 yards downhill, but it got changed to a mega loop. Forget cycling shoes — it's time to rock running shoes and Power Grips.
Once you got on your bike, it was all fun. Blast the gravel road, rip the rolling singletrack, swoop through the woods then climb the road. More pedaling through the aspens, a few minor descents, a full-speed fire road then the final singletrack: a steep climb then a sequence of steep switchbacks to the venue. Pop out at the lift then sprint up the pavement to the line. Very XC, but good fun.
Mike West of Boulder, CO won open men for the 186th time in a row. Local Crested Buttean Veronica Jarollimek took open women, with Lyn Franklin hot on her heels. Jill Behlen of Boulder (part of the extended The Fix/SMBA family) won Jr. Women. Go Jill!
Free Super D clinic
I've been doing free clinics at all the MSC races. It's a way to encourage people to try racing, and to hear myself talk. About 20 people joined me on the Super D course.
We practiced LeMans starts then rolled the course looking for good corner lines and places to pass. I took a wrong turn near the bottom and blew the group apart, but I think everyone had fun and learned something.
| | | |
| --- | --- | --- |
| Since we never run to our bikes, I figured we oughta practice LeMans starts. Everyone got faster — and the whole thing was a hoot. | Almost every non-clinic rider blew this turn. Not us — we know about late-apex lines. | Like Steve Peat says: "Don't be a sheep." |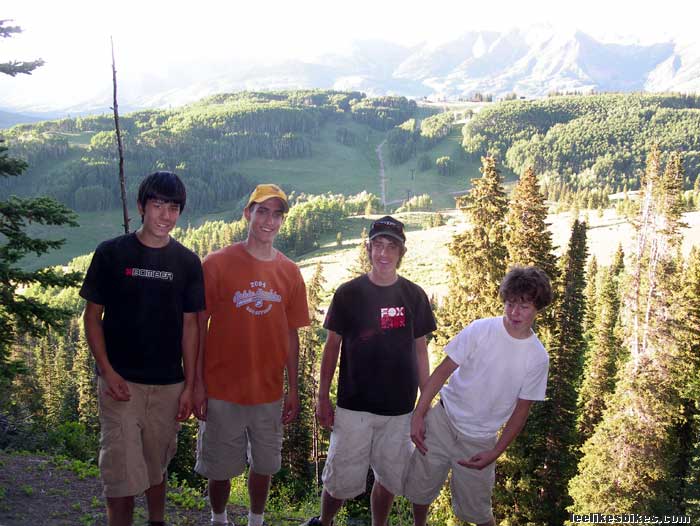 Yosei, Neil, Joey and Evan.
The mosquito dance
Saturday evening the monkeys and I hiked the downhill course. It's a great way to scope and memorize lines. Mosquitoes were everywhere, and the dudes were doing a dance — constantly wiggling the arms and legs — to thwart parasitic landings. Don't worry so much, I said, we're appeasing the gods with our blood.
The Fix dudes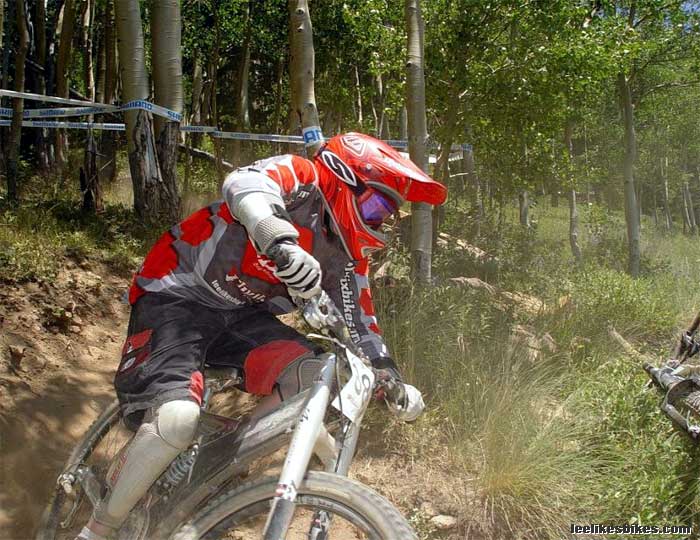 Dyan rips through the aspens. Photo by Yosei.
The Fix monkeys all rode like champs. 14-year-old Dylan Patterson had a huge breakthrough, boosting the final jump and hammering all the way to the line. He finished third in Jr. Beginner 13-14 — his first downhill podium! In his first downhill race, Zach Johnson hit all his lines, had a fun run and finished 10th out of 22 in that class.
Evan Powell rode hard all weekend but crashed in the race to place 8th in Jr. Sport. He was stoked; he knows the podium is right there. Joey Shusler, 16, rode strong and finished 2nd in Jr. Expert ≤18. Neil Grigsby, 17, rode clean and solid. Factory Clay Watson also rode clean, and he finished 6th in Sport 30-39. He's killing the gated events; just a matter of time until he dials in DH. Elliott Hoover just got back from a month in the Andes (more on that soon) and he rocked 3rd in semipro.
Ahh … real mountain biking
I skipped racing so I could focus on the dudes, but by the time the semipro downhillers were coming taking off, I was getting antsy! So I went for a little spin with Brian and Neil Grigsby. We buzzed up the road from the resort to the Snodgrass Trail. My legs felt dead and the climb turned steep, but after a few days on a Demo 9, my S-Works Carbon Stumpjumper felt like a rocketship.
We gathered potential energy, checked out the massive view then let roll. Snodgrass Trail is a foot-wide ribbon of love bordered by greenery and framed by majesty. I swept left and right, up and down, through wildflowers and between aspens — not competing, not teaching, not learning. Just doing. Ahh.
| | | |
| --- | --- | --- |
| Nothing like a casual ride to broaden your view. | Brian Grigsby takes a dip. | If this doesn't make you wax poetic, mountain biking is not for you. |
https://www.leelikesbikes.com/wp-content/uploads/2018/08/leelikesbikeslogoheader.jpg
0
0
leelikesbikes
https://www.leelikesbikes.com/wp-content/uploads/2018/08/leelikesbikeslogoheader.jpg
leelikesbikes
2006-06-27 09:38:25
2006-06-30 18:32:40
MSC#3 – Wildflower Rush, Crested Butte, CO