Dude: I really love mountain biking. Every once in a while Life pushes me toward a worse place, but all it takes is some nice singletrack, and I'm stoked.
---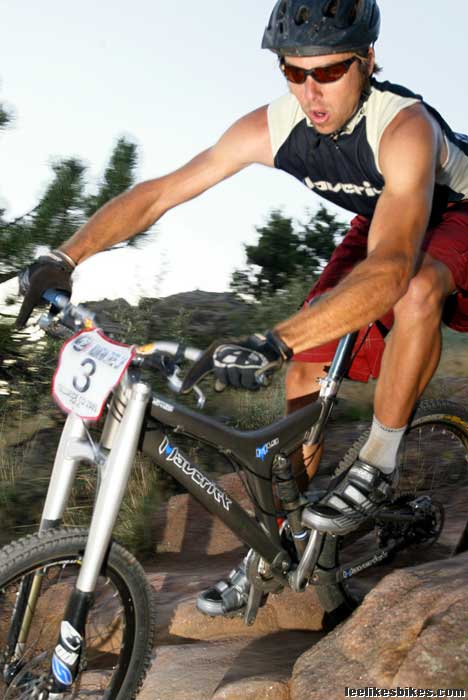 Ariel Lindsley rocks the rocks.
This morning I dropped The Boy off at school then drove to Hall Ranch up in Lyons, CO. This rocky/turny/flowy/technical trail is my local favorite. While the 20-degree thermometer reading gave me pause, I'm so glad I went for it.
The sun was low, and the shadows were long. Orange-ish light played across the bluffs. The dirt was frozen hard and very tacky. Trailside snow reflected warmth at my face.
I'm still riding the 2007 Stumpjumper Expert, and the bike killed it today. I regularly ride this climb on an Enduro SL or a Demo 8. The bigger bikes feel really good on the super-rough uphills; just point them and pull the big gear. I applied the same style to the Stumpy today, and the thing leapt at will.
Any Boulderite will tell you the descent is pretty serious as XC trails go; the kind of trail that lets you use any bike you bring. It mixes swoopy berms, flat/sandy turns, big pump-able rocks, random rock fields and a fair amount of pedaling. Like I said, I typically ride this trail on a bigger bike. While I found myself slowing more than usual for some sections, I cannot say the Stumpy diminished the fun.
It felt absolutely awesome: Braaap through a berm and get a Brain-assisted surge into the next turn. Jump a rock garden to sandstone backside. Just let bike and body do their thing.
When I hammer the main decent on my Enduro, it takes about 8:30. Today I cruised the Stumpy in 9:00 (with snow patches). It's time to hammer the Stumpy and see what the clock says.
Whatever the clock says, it'll be sweet!
---
https://www.leelikesbikes.com/wp-content/uploads/2018/08/leelikesbikeslogoheader.jpg
0
0
leelikesbikes
https://www.leelikesbikes.com/wp-content/uploads/2018/08/leelikesbikeslogoheader.jpg
leelikesbikes
2007-11-26 11:50:07
2007-11-26 20:30:12
A little a.m. XC love