2006 Stumpjumper 120 or Enduro?
As with so many of these questions, it all comes down to riding style.

---
Lee,
Your book has really helped me develop my MTB skills. I still can't ride a wheelie for more than a couple/few pedal strokes, but it has increased my skills pedaling off drops and making tough technical rocky climbs!
Not sure if you answer these kinds of email questions or not…but what the heck.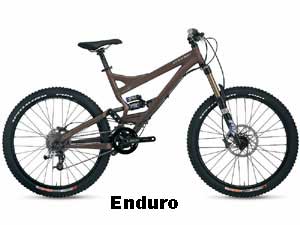 I currently ride a 2004 enduro weighing 29 lbs, which is my do-all bike. I'm looking at my next rig to be a Stumpjumper Pro 120 (with Fox brain and Talas). I find the new Enduros are heavier and designed for a different riding style from mine…I like things a bit lighter and better climbing. Do you recommend the Stumpy 120 as a good replacement option? Got any other good recommended options?
I'm from San Jose and typically ride places like the Demo, UCSC, Santa Teresa (I love climbing Rocky Ridge!), Skeggs, Montebello, Coe, etc. I love long and technical singletrack climbs just about as much as bombing back down them. Also enjoy rock gardens and getting "small" air off of rocks/logs/roots…and I never take logs/drops/jumps much larger than 2 feet or so. I also do the occasional long steep fireroad climb for conditioning.
I'm 41 and married with child so don't see any "big air" in my future…just good solid somewhat aggressive fun trail riding. My tendency is to try and ride harder and faster and more aggressively, somewhat cross-country race style but…got to have some technical fun along the way and get a bit of air here and there. I also enjoy doing pedal-offs from up to 2-3 foot logs on occasion with my buddies.
Ok, I've barffed enough about my riding style and am sure you get the picture. Thanks for any advice you can give me on bike selection options.
— Rob
---
Hey Rob,
Thanks re: the book. I'm glad it's helped.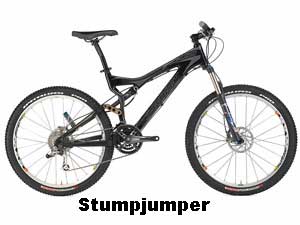 Sounds like the Stumpjumper is your next bike. Basically, half of the 2002-2004 Enduro riders were riding their Enduros like freeride/dh rigs; the new 6″ Enduro is made for them. The other half were riding their Enduros for aggressive XC; the Stumpy 120 is made for them.
The Stumpy has less travel, steeper angles and is significantly lighter than the Enduro. It will climb great and still let you goof off and haul ass. As a matter of fact, I rode my 2006 S-Works Stumpy today. With the Brain shock and a TALAS, that bike is a speed weapon. I ran it at the Mammoth Super D — holy cow: I pinned it down the Kamikaze (passing a guy on an M1), passed six more on the traverse then wrung the hell out of the singletrack descent to the finish. Rad bike.
Most of the major bike manufacturers make comparable bikes. Cannondale Rush, Intense Spider, Maverick ML-7, Giant Reign, Norco Fluid, Santa Cruz Blur LT, the list goes on. I enjoy my Stumpy, but you can't go wrong with any of these.
Speaking of pedal-offs, is that log still on Braille in the Demo? What a sweet trail.
— Lee
PS: If you buy the Stumpy, go see Lars at Trail Head Cyclery.
https://www.leelikesbikes.com/wp-content/uploads/2018/08/leelikesbikeslogoheader.jpg
0
0
leelikesbikes
https://www.leelikesbikes.com/wp-content/uploads/2018/08/leelikesbikeslogoheader.jpg
leelikesbikes
2006-05-03 21:56:53
2006-05-03 22:14:31
2006 Stumpjumper 120 or Enduro?