20 vs. 24 vs. 26 for BMX riding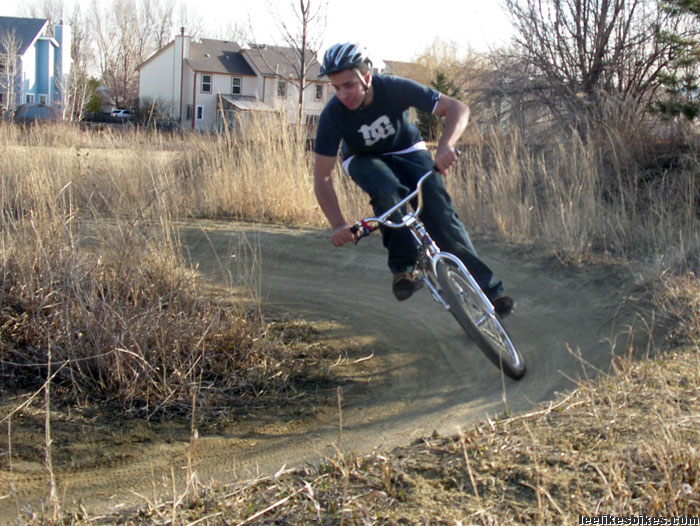 Lee,
The city I live in just opened its first skate/bmx park. I really want to learn some bmx riding, I have been a mountainbiker for about 12 yrs. I never had the opportunity to try bmx when I was younger, I am 44 and have never ridden a bmx bike. Which style of bike would you recommend? 20″ bmx, 24″ bmx, or something like a P series from Specialized? Thanks!
Jeff
Hey Jeff,
I've been riding a BMX cruiser a lot lately, and I've been thinking about this very topic. I could go on and on (and I plan to at some point), but let me say this for now: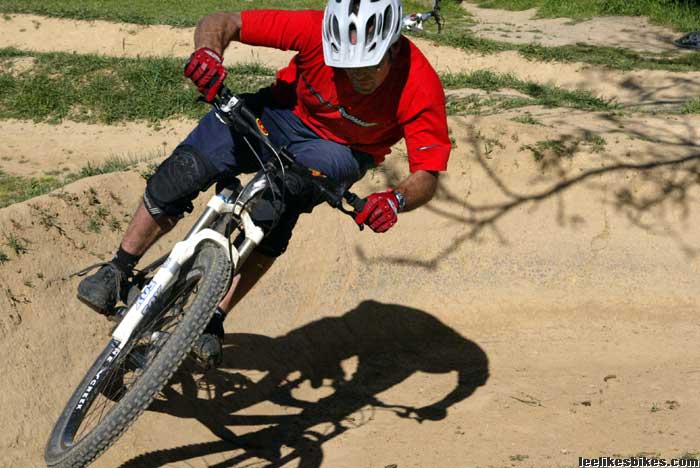 P.3 style. Braaaping it at Weir's.
There is no bad option. It's all a question of familiarity and goals. Do you want to race BMX? Do you want to race 4X/DS on mountain bikes? Do you simply want to learn a new form of riding? Do you want to have fun in the shorter term or develop your skills in the longer term? How much can you spend?
A DJ hardtail like a P.bike will be the easiest transition for you. It will ride like your other mountain bikes, just smaller and stiffer. You will learn a lot, and this will make you better on your other, bigger bikes. Also, this type of bike is extremely versatile; I ride my P.3 all the time for errands, hill training, light trails, pump, jump, BMX, etc.
A 20″ will feel very strange. The cockpit will be shorter than you're used to, and the bars will be much lower. The quickness and stiffness will offend you at first, but this is the ultimate way to build real skills. Even pro cruiser racers train exclusively on 20s. As current ABA Pro Cruiser champ Danny Caluag told me, "You get all your skills on the 20. A cruiser is so stable and easy to ride, you can always hop on the cruiser and go."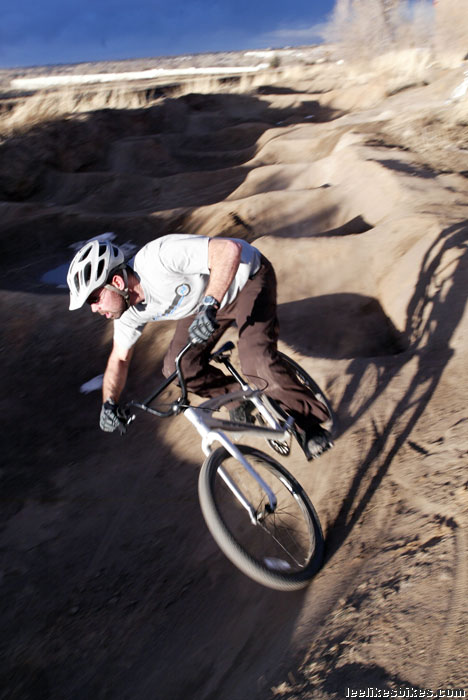 BMX cruiser style. Folding into a Western Denver pump track. This bike is trickier to ride, but when it's on, IT'S ON!
A 24″ cruiser is a nice compromise. The cockpit will be the same as a comparable 20, but the bigger wheels make it feel a bit more like a mountain bike. But it will feel different, and it will show you how slow and lazy you've become over the years. When you learn to ride this beast, you will be ready to kill your MTBs, and you can step down to a 20 with less stress.
After I broke some ribs a couple months ago, I spend six weeks riding my Intense Factory Alloy 24 exclusively. I rode it for errands, I rode it up and down the mountains in my neighborhood, I rode pump track. Once I got the hang of it, it absolutely ripped. And when I got back on my Enduro and P.3, I was a different (better) rider. Specifically, my movements became quicker and more precise. Now that I have this experience, I really want a 20.
Here's what you should do:
Buy yourself a 24 BMX cruiser. You can get a new ridable one for $400 or a raceable one for $700 (about half the price of a quality DJ hardtail). Commit to riding it for a while. If you decide you like it, great. If it still feels sketchy, get yourself a P.bike or similar. You can't go wrong.
I'm working on a BMX technique book, and I am learning a ton. Stay tuned.
— Lee
Product plug: Intense BMX bikes are designed by BMX/MTB legend Toby Henderson. They come in sizes and price points for everyone. My Intense Factory Alloy 24 is fantastic, and at a retail of $699, that's a whole lot of love per dollar.
---
https://www.leelikesbikes.com/wp-content/uploads/2018/08/leelikesbikeslogoheader.jpg
0
0
leelikesbikes
https://www.leelikesbikes.com/wp-content/uploads/2018/08/leelikesbikeslogoheader.jpg
leelikesbikes
2008-03-18 09:43:01
2008-03-18 09:43:01
20 vs. 24 vs. 26 for BMX riding