1x drivetrain for bikepacking?
I'm a fit 52 old on a 2007 3×9 26" Ibis Mojo planning to bikepack the Colorado Trail in July. The drivetrain has considerable wear, and probably needs to be replaced. Do I just stick with it or move to a more modern setup? I'm considering moving to 1X11, 30t front, 11-46 back. I know and don't have issue with 50% HAB on this trail.
Any thoughts?
Ed
---
Ed!
Welcome.
I was in no hurry to switch from 2x by 1x. My Shimano front shifting was so flawless, even for downhillling, why give up the gear range?
But my new bikes won't take front derailleurs, so I'm on 1x, and I like it. My setups have enough low gear, and I really don't miss the high end. Even when we hammer Hwy 36 back from long trail rides to Lyons, the 28×10 (at 120rpm) is plenty fast. If you're bikepacking, I'll guess you need more low end than high end.
Random observation: Road riders don't want to be passed by some hairy-legged, baggy-wearing, white-bearded guy on a mountain bike with 3-inch tires. It's amazing how deep they'll dig to prevent this!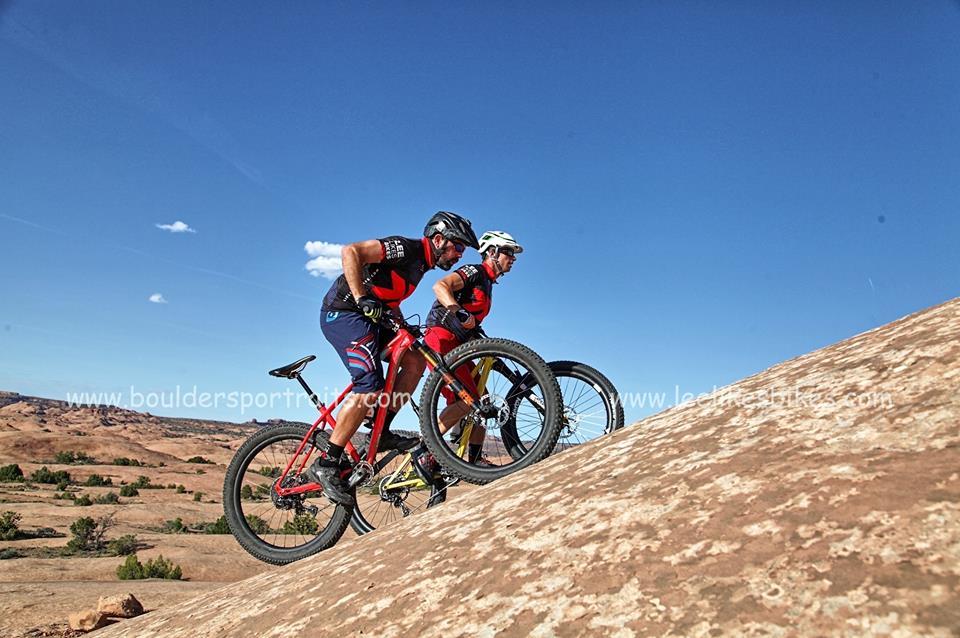 Climbing what we thought was unclimbable a year ago. I'm turning a 30×42. On any other day, and on a bikepacking trip, this would be a hike.
Consider these gear ratios:
22/36 = 0.61
30/46 = 0.65
28/46 = 0.61
And consider an oval chainring. I've been riding a OneUp on my hardtail, and it helps me turn the gears over on long, grunty climbs, which is most of ColoRADo. A 30t oval ring feels like a 28t. That's why most people add a couple teeth when they go oval.
A Shimano XT 1X drivetrain will be perfect and bombproof for a good long time. I'll gently suggest going for it. If you feel like you need more help on the low end, switch the 30t round ring out for a 30t oval ring. That might be the perfect solution.
On the downhills, relax, pump and enjoy the beauty.
Lee
---
Know more. Have more fun!
Join the leelikesbikes mailing list:
---
https://www.leelikesbikes.com/wp-content/uploads/2018/08/leelikesbikeslogoheader.jpg
0
0
leelikesbikes
https://www.leelikesbikes.com/wp-content/uploads/2018/08/leelikesbikeslogoheader.jpg
leelikesbikes
2017-01-04 08:53:03
2017-01-04 08:53:03
1x drivetrain for bikepacking?