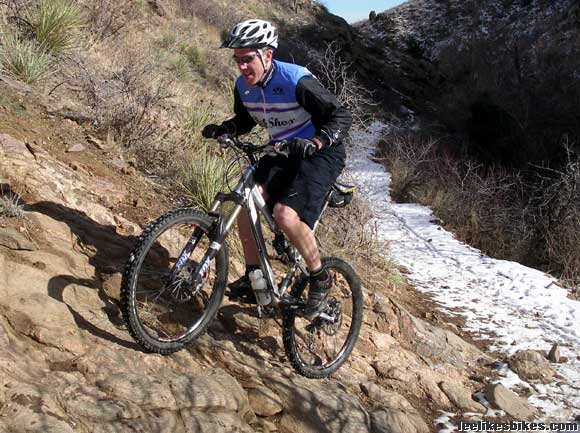 It depends on your riding style.

---
Hey Lee,

Maybe you can help. I am looking for a new bike right now. My team is sponsored by Yeti, so we get a sweet deal. I am stuck between a ASR and the 575. I am definitely leaning towards the 575 because of the price point (even with the sweet deal), however I am not sure if it is the right choice. I am coming from a Hoo Koo E Koo, so this is a big step for me.
I am definitely a climber, and I admit am a baby on the downhill. I know either bike should help that, but is the 575 too much bike for me? Should I suck it up and get the ASR? I am about 150lb, 6ft female. I will race this year, but after that this bike will probably just be for enjoyment purposes. Any advice would be great appreciated.
Thanks,
Natalie
---
Hi Natalie.
What a quandary. Compared with your Fisher hardtail, both are WAY more capable. As you know, the ASR is an XC race weapon — cover ground as efficiently as possible — while the 575 is a trail bike — cover the same or rougher ground with more comfort and stability, but still pretty fast. The 575 frame is about 1 pound heavier than the ASR.
Hmm, this is a tricky one. How about this:
– If you primarily want to focus on fast climbing and XC racing action, and secondarily you want to have more fun descending and technical riding, go for the ASR. It's still WAY MORE bike than your hardtail!
– If you want to focus more on descending, technical riding and goofing off (and still climb pretty darn well) go for the 575. I recently got to ride one with Chris Conroy, the Yeti head honch, and it climbed really well. It's not too much bike for you, but you'll have to learn how to ride it effectively. Same with any suspension bike.
XC race and mellow fun = ASR

Super D race and aggressive fun = 575
I hope that helps. Tell me how it goes!
— Lee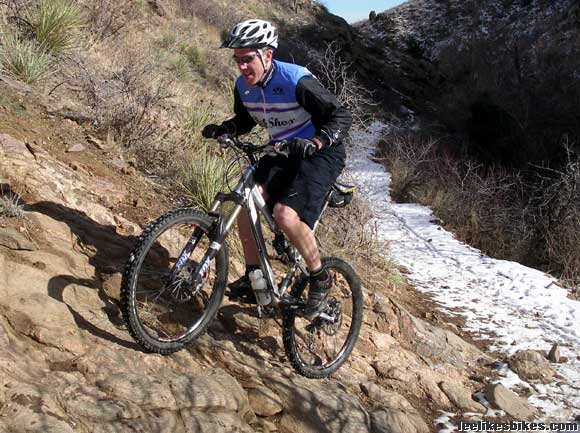 Lunch time in Golden, CO: Chris Conroy regularly rides a 575 from the Yeti Cycles headquarters, up this trail then back down. He's doing product testing … yeah, that's it.
https://www.leelikesbikes.com/wp-content/uploads/2018/08/leelikesbikeslogoheader.jpg
0
0
leelikesbikes
https://www.leelikesbikes.com/wp-content/uploads/2018/08/leelikesbikeslogoheader.jpg
leelikesbikes
2006-02-26 18:45:17
2006-02-26 18:52:30
Yeti ASR or 575?