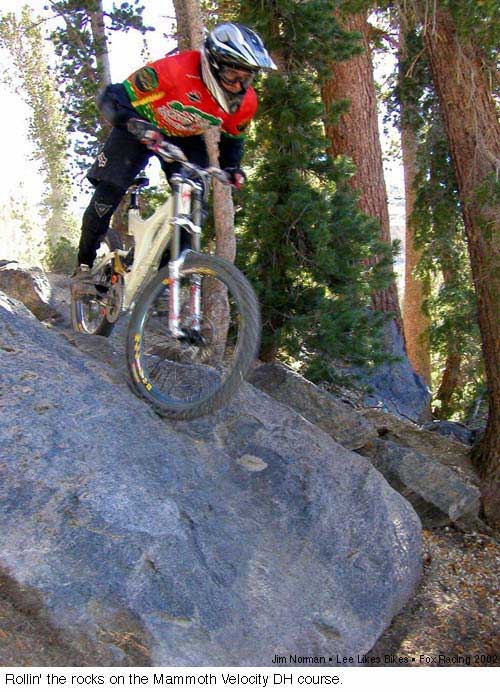 Hi Lee,
I am 33 & mom of five in Show Low, AZ. I have been biking for almost 3 years now. There are some awesome trails up here but I feel like I've hit a wall. I really want to be able to improve on some of my mtb skills but feel like I'm almost limited in the small town I live in. There are no coaches here. I just purchased your book and I am also looking into the strength training program that James Willson offers. Outside of this can you give me any other suggestions?
I am completely addicted to this sport and want to take my biking to the next level! I have the bruises and scars to prove it 🙂 Any advice you have would be much appreciated!
Thanks,
Aly
Hey Aly,
Thanks for writing.
We all hit walls — literal and figurative — in our riding. MTB kung fu development is not linear. You enjoy a period of rapid improvement, then you level out for a while, then you notch it up again. It's a process, with no set pace and no real end. That's one of the coolest things about it.
Your MTB kung fu has three basic components:
– Skill
– Fitness
– Confidence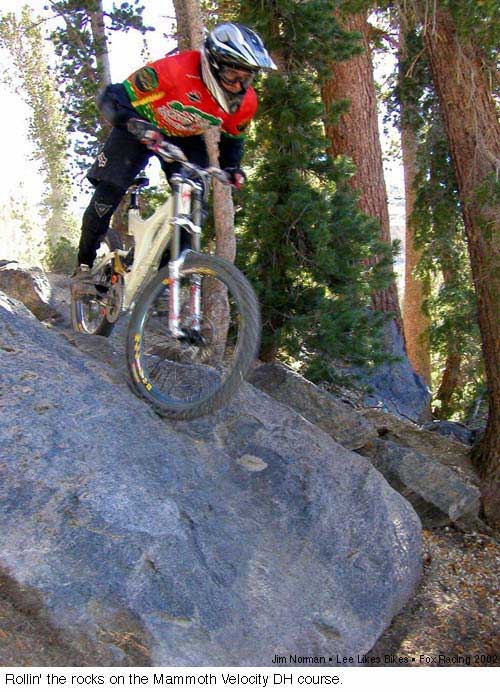 Riding Mammoth back in 2002. I couldn't rock this sort of drop-in until I'd done a thousand smaller ones perfectly. If you practice the little stuff with perfect form, there comes a time when you reach the big stuff and just know, "Dude — I have this!"
Skill
Skill is the ability to consistently make the bike do what you want it to do. Go, stop, turn, hop.
Always ride with intention. Work your way through the book, focusing on one element at a time. The most important: Heavy feet, light hands!
This site has lots of drills as well.
Fitness
Fitness is the ability to consistently execute your skills. Stronger, faster, longer.
Ride your bike whenever you can. As a beginner, you're very far away from your peak potential fitness, so don't worry about a "training program." Mix up the intensity and distance, and always ride with intention. This builds both fitness and skills.
James Wilson's DB Combo Workout is a great addition to any program. It'll make you more mobile and stronger — especially if you can't ride all the time.
I rock my adaptation of James' program once or twice a week, and it's probably better for me overall than riding those days. (I thank James every time I have to lift something heavy.)
Confidence
Confidence is the ability to fully utilize your skills and fitness. Ride to your potential, every time.
Confidence comes from skill, fitness and experience. Start slow on easy terrain. Practice riding the easy stuff very well, with a happy heart. Then step it up. Any time you ride with stress (aka fear), you are reinforcing bad habits. If your trail or group scares you, find an easier ride.
You should NOT have bruises and scars! Their acquisition destroys confidence and impairs kung fu. Instead, create small successes by practicing your skills in low-pressure situations. Success breeds success. Confidence breeds confidence.
Remember, it's a process. Take it one step at a time and who knows how far you'll go!
— Lee (still getting better …)
---
Know more. Have more fun!
Join the leelikesbikes mailing list:
---
https://www.leelikesbikes.com/wp-content/uploads/2018/08/leelikesbikeslogoheader.jpg
0
0
leelikesbikes
https://www.leelikesbikes.com/wp-content/uploads/2018/08/leelikesbikeslogoheader.jpg
leelikesbikes
2009-08-03 10:22:12
2009-08-03 10:22:12
Working through a wall