Video review – Hypnosis: Visual Intensity
Clay Porter's latest video made me train extra-hard today.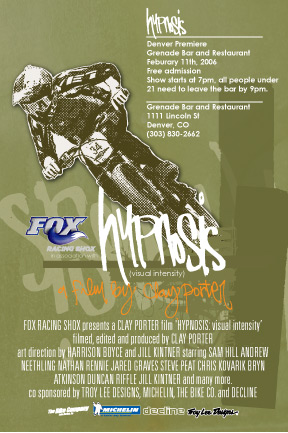 Saw it at: Grenade Bar in Denver last night. Thanks to Matt Thompson of Big Crank Racing for organizing the show.
Previous videos: Spectacle, Second Spectacle, Synopsis. Hypnosis is Porter's fourth release, and it shows improvement. He's gotten over the silly visual effects; now we get straight-up riding footage with occasional slow-mo's to emphasize awesome moves. I met Clay at West Virginia in 2003, and since then he's been working hard and making a name for himself.
Staring: Sam Hill, Andrew Neethling, Nathan Rennie, Jared Graves, Steve peat, Chris Kovarik, Bryn Atkinson, Duncan Riffle, Jill Kintner and some other fast characters
What: Mostly race footage from NORBA Nationals, Sea Otter, World Cups and the World Championships. Some dirt jumping and play riding. Rider interviews. Clay followed the Yeti factory team all last year, and his connection to those guys really shows. There are plenty of Aussies.
Good: Lots of great riders riding greatly. The interviews with riders about other riders. Appropriate soundtrack, and nice integration between sound and video. Nice shots that evoke the feel of ripping. It's a long video — 1 hour, 35 minutes — too much for one sitting, but great for two or three sittings. No mini motos! No hucking!
Could be better: The steepness and gnarl factor could come through more clearly. This is really hard — seems like the only guy who captures the feel of terrain is Ansel Adams. Seems like it could be edited more tightly. Some of the shots felt redundant.
Worth buying? Yes. Watch it a few times through, then slo-mo the pros and go to school. This video makes you want to ride fast.
Get yours: $24.95. Available at the end of Feburary through VAS Entertainment in North America, Xtreme Video and Chilli Video in Europe, Champion Visions in Japan and Black Phoenix Films in Australia.
https://www.leelikesbikes.com/wp-content/uploads/2018/08/leelikesbikeslogoheader.jpg
0
0
leelikesbikes
https://www.leelikesbikes.com/wp-content/uploads/2018/08/leelikesbikeslogoheader.jpg
leelikesbikes
2006-02-12 17:56:59
2006-02-12 22:49:40
Video review – Hypnosis: Visual Intensity