Here's one of my favorite skill drills. OK, let's call it a challenge.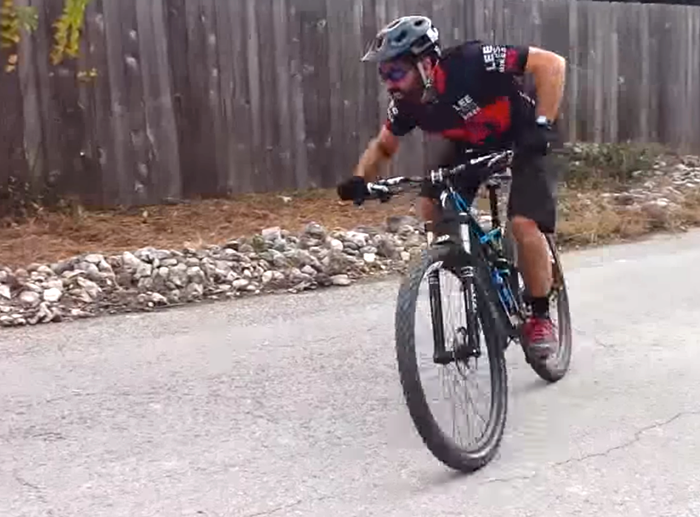 ---
This video was shot during a skills session in Austin, TX. I'll be teaching in Austin again this February.
The uphill pump challenge is:
Fun. Remember, fun happens at the intersection of challenge and skill.
Complex. It incorporates most of the essential movement patterns. When you can do this, straight-line skills are pretty simple.
Accessible. You can do it anywhere. On the way to work, in a parking garage, in your driveway.
Efficient. Skill and strength, all at once, fully integrated.
Bike:
Specialized Camber Expert Carbon with Fox suspension and Shimano brakes and drivetrain.
The suspension is wide open; I push right through the platforms, plus I want to practice the way I ride.
Progression:
• Start on flat, paved ground.
• When a slalom makes sense, add circles, figure eights and other shapes.
• Work up to upslopes. This takes some power!
• Try this on dirt. The more aggressively you pump, the less sketchy it feels.
• When you ride trails, try to pump every corner. If you're gonna turn, you might as well gain traction and speed too, right?
To learn this and other sweet skills, rock an LLB Skills Clinic.
---
Know more. Have more fun!
Join the leelikesbikes mailing list:
---
https://www.leelikesbikes.com/wp-content/uploads/2018/08/leelikesbikeslogoheader.jpg
0
0
leelikesbikes
https://www.leelikesbikes.com/wp-content/uploads/2018/08/leelikesbikeslogoheader.jpg
leelikesbikes
2015-01-23 16:09:19
2015-01-23 16:14:16
Uphill pump challenge