The week in tasty bike action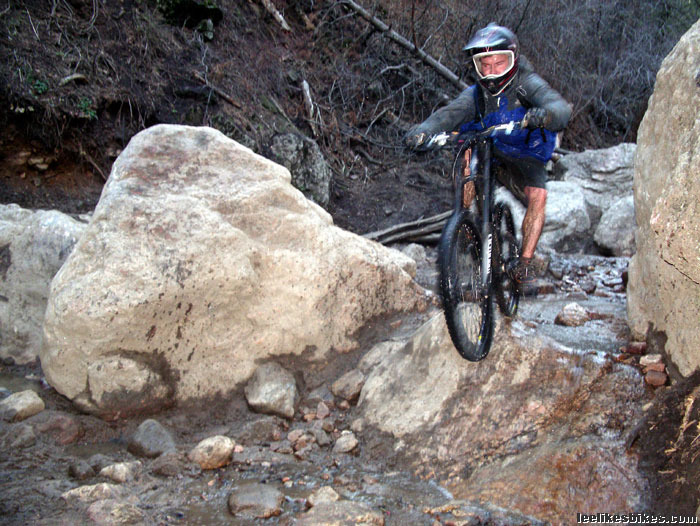 The trails are finally thawing, and we're rocking like hurricanes. A few snapshots from this week:
The more you click, the more I can post. Lee Likes Groceries dot com!
---
Left Hand Canyon OHV Area
Scott Mack races VetEx for Full Tilt Cyclery in Castle Rock, CO. I've been coaching him and his teammates; last Tuesday we did a fun sesh: hike, hike, hike, braaap, braaap, braaap.
| | | | |
| --- | --- | --- | --- |
| The hike is brutal, but the trail at the back of Carnage Canyon is worth it. Scott rocks the mandatory splash. | Carnage Canyon: Following the water … splash splash splash, rat tat tat. | Riding in the Valley of Giants. My turn on the Enduro SL. | Considering this is a 28-something-pound trail bike, it kicked butt on this stuff. I finally got some tubeless Specialized Resolution Pro tires, and they are rocking — even on wet stones. More info to come. |
Pump Clinic
On Saturday I did a little clinic with Scott and his teammate Sam Fan. Pro stunt rider/ex-pro BMXer Zach Lewis contributed his special brand of funny business, and we all stepped it up.
| | | |
| --- | --- | --- |
| Ripping the S on The Fix's new pump track, Sam benefits from Zach's wisdom: "The goofier your face, the better you ride." | Scott with great form and a beautiful line. | I rock it sequence style. I push hard into the first berm, unweight over the roller then drop into the second berm. Yes, the tires go BRAAAP! |
XC at Heil Ranch
Zach Lewis, Matt Ripley and I did a short XC ride at our local spot. Nothing too gnarly; just some moderate climbing and pedal-intensive descending. Matt had a great day on his new SX Trail. Zach insisted on running his Addict DJ hardtail with no rear tread or front brake; he's very quick, but every time he tried to put a move on me he crashed into a tree, a rock, some grass … Of course, I'm on a fully dialed Enduro SL — slight technological advantage!
Left Hand #2
Pushing your bike is an important part of mountain bike racing. Besides, I have no patience for shuttles. On Sunday Zach Griffith, Evan Powell and I hiked Left Hand twice. We did about 2,200 vertical feet of pushing and ripping. Very physical.
Near the top of the first hike — on a loose, rocky, steep singletrack — Zach was blown off the back and 15-year-old Evan was stomping on my heels.
"Evan, am I holding you back?"
"Yeah … Come on McCormack — pin it!"
I started running as fast as I could — bike bouncing all over — and that little puke was right on me! He finally blew up, but wow — that kid is strong. Evan is racing DS at Sea Otter, and that hiking fitness will serve him well.
https://www.leelikesbikes.com/wp-content/uploads/2018/08/leelikesbikeslogoheader.jpg
0
0
leelikesbikes
https://www.leelikesbikes.com/wp-content/uploads/2018/08/leelikesbikeslogoheader.jpg
leelikesbikes
2007-04-02 14:02:13
2007-04-02 14:03:56
The week in tasty bike action