The measure of a technical trail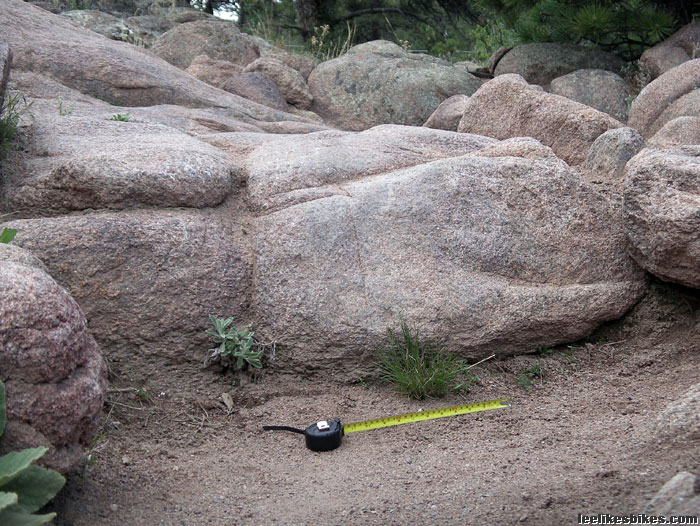 One of the coolest parts of the Lyons Bike Park will be the Natural Terrain Loop. My goal is to re-create common local trail features — ledges, rock jumbles, tight turns — in a setting where people can learn and practice with confidence. The thought is, if you master these sections in the bike park, you're ready to rip the local love.
To that end, yesterday I went out and measured key sections at Hall Ranch.
Findings so far:
– Your bike can roll over some pretty big stuff. A foot tall with a rounded top — no problem.
– It doesn't take much to catch a wheel. A hole 10 inches long and four inches deep is disruptive, at least uphill.
– It's really hard to climb a technical trail 10 feet at a time!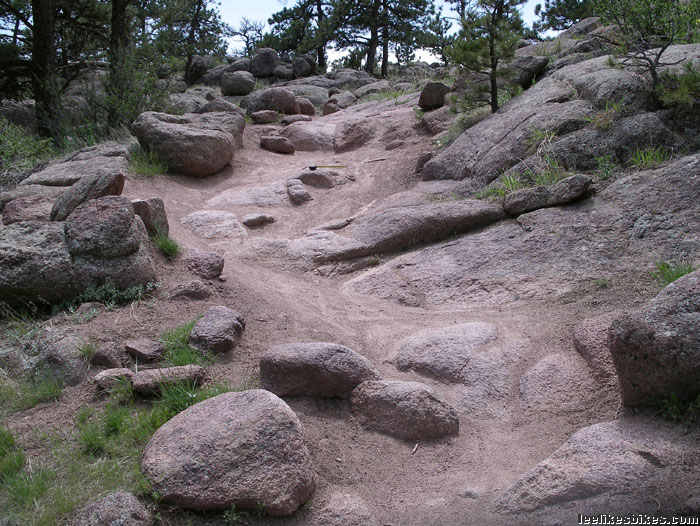 Classic. You either avoid the rocks by making tight turns or — braaap! — go straight over them. The LBP's Natural Terrain Loop will be built this way.
| | | | |
| --- | --- | --- | --- |
| Wow. I had no idea how tall/steep this was. | Kind of an awkward wheel catcher. I think this was easier before they added the "helper" rock at the bottom. | More than a foot tall, and totally rideable. | When people learn to pump surfaces like this one, it's ON! |
Materials and talent
Blue Mountain Stone in Lyons is donating more than 100 tons of sandstone blocks and slabs. The stone is beautiful, and it will make an interesting, high-traction riding surface.
Left Hand Excavating in Longmont is moving the dirt and placing the rocks. Left Hand built Lyons' beautiful whitewater courses. The owner Doug is as stoked as I am.
Target user
While I was out there, an extremely fit-looking rider struggled his way down on a brand-new Ibis Mojo. This guy was in fear mode — totally stiff, barely rolling, obviously having no fun.
I asked him, "What would help you get down this trail?"
"More confidence. I'm not used to this stuff; I'm more of a roadie." (No kidding!)
"If there was a place nearby where you could practice these moves, get 'em dialed then bring your skills up here, do you think that would help you?"
"Yes. Definitely."
OK. Will do.
---
Know more. Have more fun!
Join the leelikesbikes mailing list:
---
https://www.leelikesbikes.com/wp-content/uploads/2018/08/leelikesbikeslogoheader.jpg
0
0
leelikesbikes
https://www.leelikesbikes.com/wp-content/uploads/2018/08/leelikesbikeslogoheader.jpg
leelikesbikes
2009-05-15 19:56:55
2009-05-15 20:03:57
The measure of a technical trail