Final design: Lyons bike park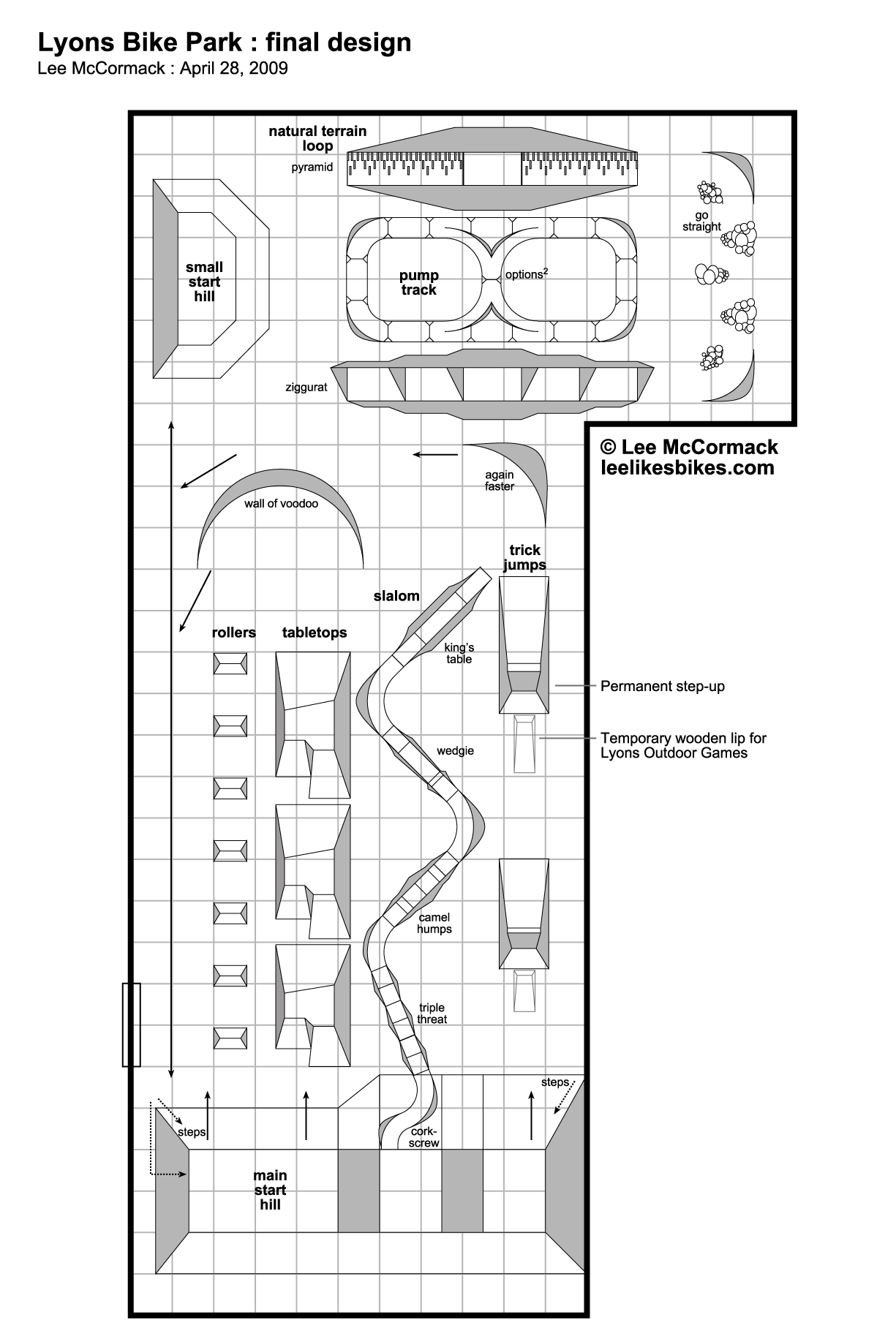 I'll write [much] more when I get a chance, but here's a quick update.
The Lyons Bike Park design is approved and ready to build. The park, located where last year's Lyons Outdoor Games were held (very close to the Lyons end of Picture Rock Trail), will feature:
– Pump track
– Natural terrain loop
– BMX rollers
– Tabletop jumps
– Slalom course
– Trick jumps
Lyons Bike Park is being built through the Lyons Department of Parks, Recreation & Cultural Events as an official city park. The budget is tiny, but the fun factor promises to be huge.
The initiative was spearheaded by Glenn Bell of Bitterbrush Cycles and Lyons parks director Dave Cosgrove. The design and documentation were developed by Lee McCormack of leelikesbikes.com with these goals:
– Accommodating all types of riders
– Maintaining a high level of safety
– Introducing riders to pumping, jumping and other progressive skills
– Preparing riders for our local technical trails
– Merging the styles of cross country and "aggro" riding – it's all good!
Materials are being donated by local businesses. Major earthmoving will be done by the city's equipment operator. Final shaping will be performed by hand.
The team will need volunteers for final shaping, including a handful of experienced rider/builders to lead work groups (shaping lips is an art!). Construction is set to begin in the next couple weeks, and the park should be rocking for the Lyons Outdoor Games, June 12-14.
If you're an experienced rider/digger who's willing to help us achieve pumping perfection, please email me.
Onward!
— Lee
Also read:
Lyons Bike Park: Working design, baby!
---
https://www.leelikesbikes.com/wp-content/uploads/2018/08/leelikesbikeslogoheader.jpg
0
0
leelikesbikes
https://www.leelikesbikes.com/wp-content/uploads/2018/08/leelikesbikeslogoheader.jpg
leelikesbikes
2009-04-30 12:24:25
2009-04-30 12:26:45
Final design: Lyons bike park