Lyons Bike Park: Working design baby!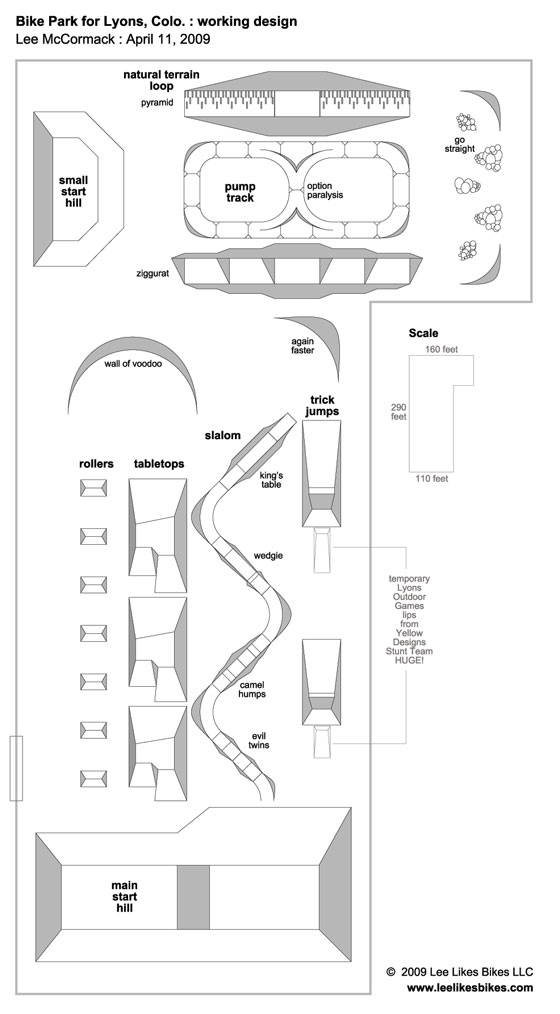 Hey all,
I've been working on a bike park design for the city of Lyons, Colo., and it's ready for public review.
Please tell me what you think. Measure twice. dig once!
THE DESIGN IS BELOW.
The mission
– Create a bike park in the city of Lyons, CO. Lyons fenced off the area where last year's Lyons Outdoor Games DJ contest was held.
– Dave Cosgrove, director of parks and rec, is committed to making this park rock — literally. Blue Mountain Stone has offered to provide various types of rock; I hope to armor/pave as many surfaces as possible.
– Cater to riders of all types and levels.
– Marry the worlds of DJ/pump and XC. Show XC riders 1) how to ride expressively and 2) how to apply pump skills to real terrain.
– Give riders skills they will use on local terrain. Lyons is all about rocks and ledges; you'll find no ladder bridges here.
– Get this all done before the Lyons Outdoor Games, June 12-14. The DJ contest is definite. I'd love to see time trials using the entire park and — of course — a Pump Track Worlds.
The process
I've been working with Dave at the city, Glenn at Bitterbrush Cycles, Brian at Yellow Designs, Jimmy at PUSH, Jimmy at Nick Sim[sick] and other select rider/visionaries. Trying to understand all the project requirements and design something that will satisfy everyone.
That is not easy to do. Ten design iterations later, here's a solid working design. I have another eight pages of very detailed specs to justify safety and best practices (key with cities) and direct the building crew. Once we agree on this design, we'll come up with a plan, gather the materials, organize the labor and get this done.
We will need volunteers! Please email me or post a comment if you're game, and I'll keep you in the loop.
The terrain
Here's the working design. Descriptions of pieces are below. Click the image to open it in a new window or tab.
ROLLERS – A BMX-ish set of widely spaced rollers to get your pump/manual/jump on. I plan to use it as a return line. And transfer to the tabletops. Jon Watt will show us all what's possible there.
TABLETOPS – Three pairs of mathematically perfect jumps. The larger line should flow perfectly together, rhythm style. The smaller line will have some flat space to collect yourself. I expect people like Nick to jump in and out of the slalom course.
SLALOM – We all love Sea Otter speed and huge 180 berms, but this area is flat, and very few riders can generate speed in 180s. I settled on consistent 90-degree corners with highly pump-able, yet tricky, features in between. We will be hauling mail! I have a few optional lines planned for later.
TRICK JUMPS – This was tricky. We wanted to hold the Lyons Outdoor Games DJ contest in this area, but we didn't want to eat up space with huge jumps that almost nobody can ride. The solution: Build permanent small step-up/trick jumps with huge landings. These will be pretty tame but super fun. During the LOG, Brian from Yellow Designs will place temporary wooden launch ramps. The pros can go as huge as they want during the event; they rest of us can have fun the rest of the year.
PUMP TRACK – What a treat, to use modern pump track technology in a public park. This track has a fast outside loop with a figure 8/180 crossover section in the middle. And consider the connectivity options with the …
NATURAL TERRAIN LOOP – The Pyramid will let people climb and descend smooth or rocky lines. The Ziggurat lets riders climb and descend a series of ramps or ledges. The end straight teaches true Trail Fu — beginners will noodle around the rock piles; experts will rip the berms and pump straight over the rocks.
Municipal Braaap!!!
Comments are welcome (as are volunteers). Measure twice, dig once!
— Lee
PS: Don't even ask for the detailed specs unless you're a paying customer. For help designing your backyard or city bike park, email me.
---
Know more. Have more fun!
Join the leelikesbikes mailing list:
---
https://www.leelikesbikes.com/wp-content/uploads/2018/08/leelikesbikeslogoheader.jpg
0
0
leelikesbikes
https://www.leelikesbikes.com/wp-content/uploads/2018/08/leelikesbikeslogoheader.jpg
leelikesbikes
2009-04-11 14:44:35
2009-04-11 14:46:02
Lyons Bike Park: Working design baby!