The Fruita/Grand Junction Adventure of 2007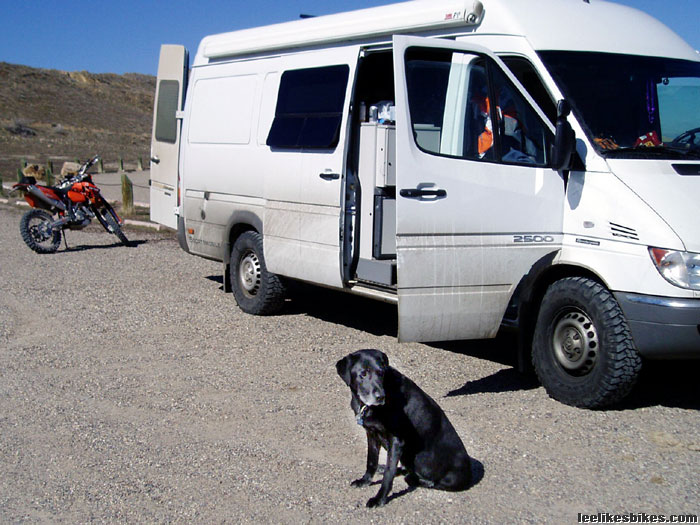 Just returned from three days of bike riding, moto riding and business meetings. Ripping singletrack is the new golf. Today is tired but happy.
The more you click, the more I can post. Lee Likes Groceries dot com!
---
The photos could have been more abundant and better composed, but this trip was more about ripping than reporting.
Monday
Fireman Jeff and I drove to Grand Valley OHV Area in Grand Junction and let fly.
| | | | |
| --- | --- | --- | --- |
| I didn't throw down for the Sprinter because it's easy to park. KTM 450 EXC, Specialized S-Works Stumpjumper, Specialed Enduro SL, Honda CRF450X. | And out they come. Jeff does the honors. | Tons of hills and ridges and washes. It's a skate park for motorcycles. Here's our November 2005 adventure. | I picked a random trail, and it went up up up … Jeff plans his next move. |
| | | | |
| --- | --- | --- | --- |
| … riding back down. This is 100x steeper than it looks. | Looking down the trail and flicking the beast through this little chicane. Yum, yum, yum. | OK, I wanted to ride across the ridge and drop into the berm with the red dot … | … but I got disoriented, got cross-rutted and just about lost it. I was actually wondering how, exactly, I'd be removed from the moto when I looked ahead and saw this little cliff. Instinct took over: I blipped the throttle, shifted back and hucked it perfectly to a 40mph backside. Thank goodness for all my bike riding. Without that instinct it would have been ugly! |
Tuesday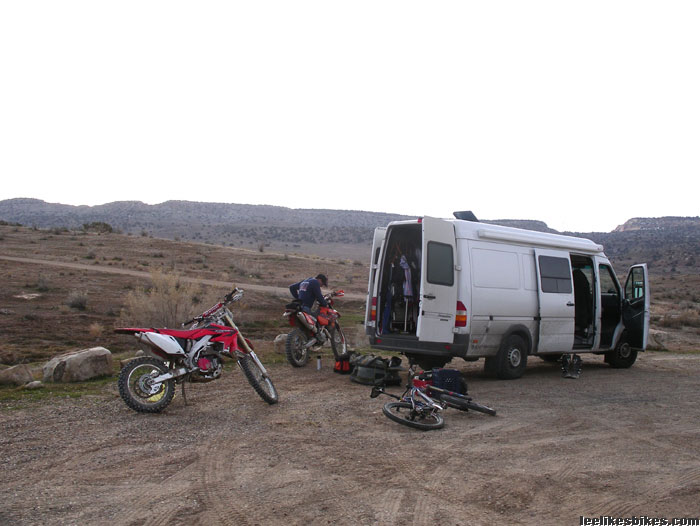 We had the place to ourselves. Such is the pleasure of being a firefighter or a freelancer — flexible schedules baby!
We rode moto at the Rabbit Valley OHV area near the Utah border, and it was so dang good there are no photos. Random snippets:
Pulling 3rd gear across sand whoops, bap-bap-juuuump bap-bap-juuuuuuump! Blipping 1st gear singletrack, up rock ledges and along a tire-wide sidecut with oblivion on the outside; must … look … forward. 10 nonstop miles of whoops, ups, downs and tree slaloms. Imagine the best MTB singletrack, heart rate of 140bpm, just working and pumping and braaaping nonstop. Hard to beat.
We drove to the 18 Road trailhead in Fruita, where we ran into Kyle from Yeti-RPM. The three of us rocked Kessle Run not once, but twice. Miles of rollers and berms snake down an almost rock-free wash. The climb is so easy and the descent is so sweet — oh man. Said Jeff, "this is the first time a decent seemed longer than the climb." Kessle Run is so blessed, I can see that being the case.
| | |
| --- | --- |
| This was a no-stop, no-photo ride, but after jumping this little table and landing in the turn to the sound of ripping knobs and singing angels, I called a do-over. Kyle gets it done. Jeff shoots. | My turn. So happy-making. |
Wednesday
Today Jeff and I split up. While I got my ass kicked by trainer James Wilson (more on that soon), Jeff explored the east end of the Kokopelli Trail on moto. The trail winds 140 miles from Fruita to Moab, and that seems like a good project.
| | | | |
| --- | --- | --- | --- |
| Sweet Colorado River action. | Not super tech, but definitely fun. | Jeff, right on. Thanks for stopping to shoot a photo. That can be tough to do … | It's orange, it's Austrian and it's overlooking the Colorado. |
After the training session, James and I met Ryan Cranston at his house. Ryan races DH and SD for Yeti, and he works for MRP. Good guy. He took on his local loop, which did not suck.
| | | | |
| --- | --- | --- | --- |
| Ryan takes his carbon 575 just past its design envelope. | Pedal your brains out, climb this rock and gap across the trail. Uphill. | Cool diving-board line. That muscly guy is James Wilson. When you're that strong you're not allowed to wear a shirt. | The trailhead is 100 feet from Ryan's front door. Not sucking. |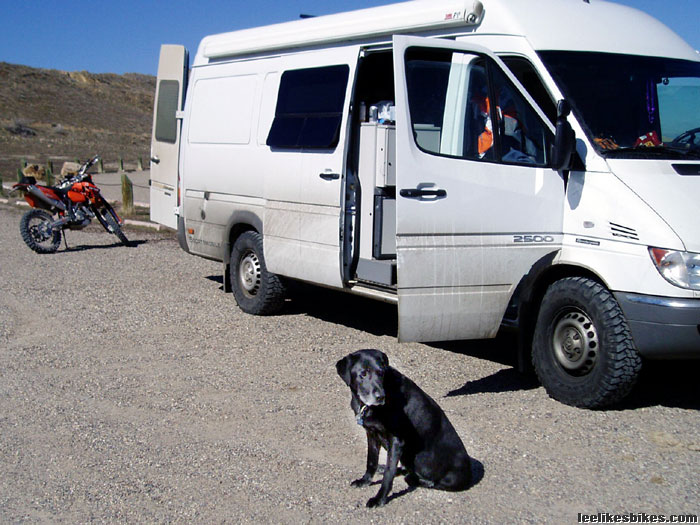 Of course Rufus came! 2.5 years after his left-leg amputation, he has cancer on his liver — but he's still the champion and my special little precious. I'm hatching a plan to drive him to the Labrador coast this fall.
Back to work. Next adventure: Moab around March 20.
https://www.leelikesbikes.com/wp-content/uploads/2018/08/leelikesbikeslogoheader.jpg
0
0
leelikesbikes
https://www.leelikesbikes.com/wp-content/uploads/2018/08/leelikesbikeslogoheader.jpg
leelikesbikes
2007-03-08 18:23:03
2007-03-08 18:28:06
The Fruita/Grand Junction Adventure of 2007