The Fix Jr. Team pump sesh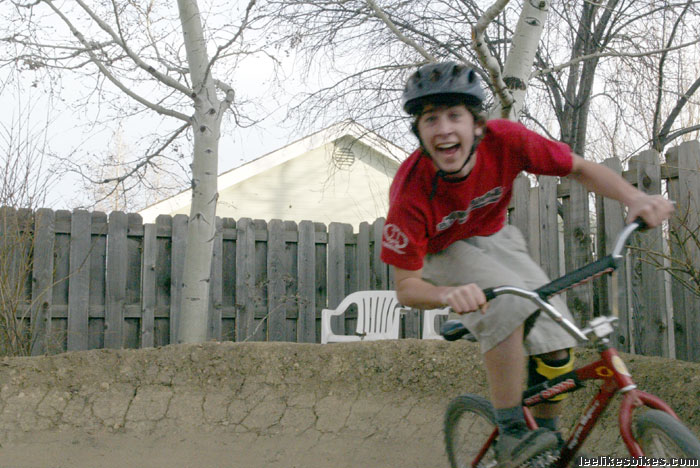 Saturday I hosted the first training session for The Fix's junior development team. Where'd we ride? My back yard, of course.

It looks like we'll have a great crew this summer: Joey, Ben, Dylan, Josei, Mike, Neal, Evan, Carolyn, Jill and maybe a few more.
Photos by Dylan Patterson


Bikes and kids. Kids and bikes.


Timed runs! We did 3 laps, then 10. Mike is working a lot harder than everyone else.


Neal is a smooth character. Nice body/bike angulation.


The bike belongs to Jon Watt, but the effort is all Mike's.


Pump Track Bike of Death. No chain, no brakes, and Joey's lovin' it.


Jill is a fast XC racer. Little does she know the pump will make her even faster.


Evan, aka Wolverine, is fierce!


If I say it looks like Carolyn and Jill are checking Evan out, everyone will get embarrassed. Oops, too late.


Ron Gager, The Fix/Rhythm Cycles co-owner and our team manager, sets the undisputed worldwide 60+ 3-lap pump record.


Just like the Sea Otter slalom. Bobbi prepares for April in Monterey. I'm happy to report that Bobbi and Jon will be riding with The Fix/Rhythm Cycles this year.


Fast Jon Watt with the step-up manual.


Jon has trouble making his wheels follow the ground, so he likes to jump over things.


https://www.leelikesbikes.com/wp-content/uploads/2018/08/leelikesbikeslogoheader.jpg
0
0
leelikesbikes
https://www.leelikesbikes.com/wp-content/uploads/2018/08/leelikesbikeslogoheader.jpg
leelikesbikes
2006-03-06 22:27:40
2006-03-06 22:36:55
The Fix Jr. Team pump sesh