Teaching at Colorado Rocky Mountain School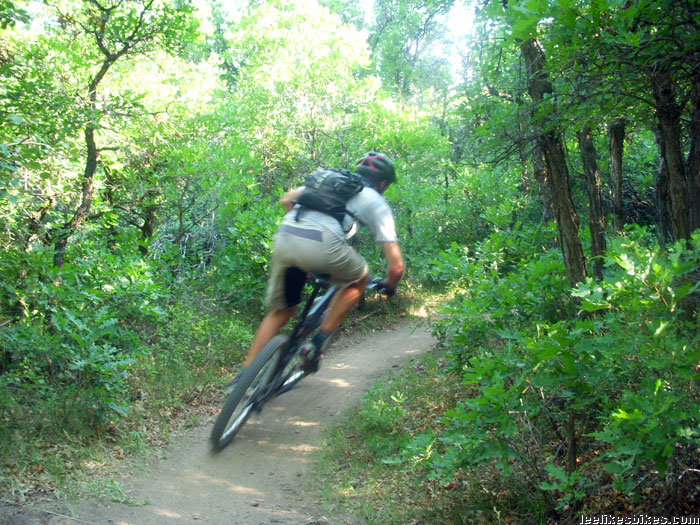 I suppose it's a bit late, but I know where I want to go to high school.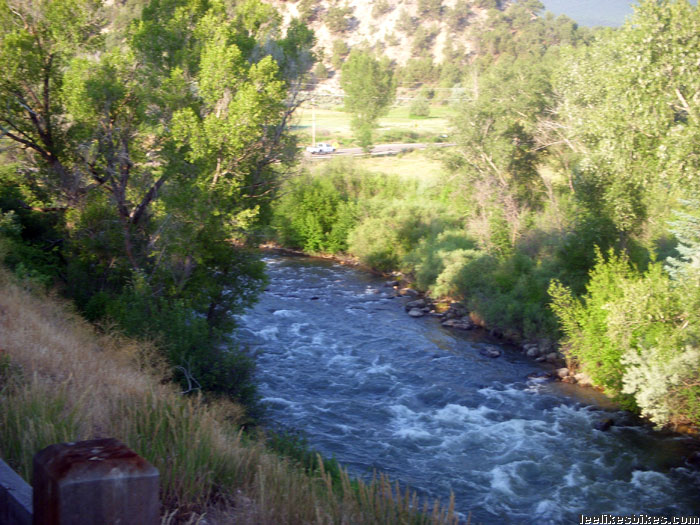 The view from the guest cottage.
Colorado Rocky Mountain School in Carbondale, CO is a private boarding school with an experiential approach to learning. Kids are able to ride mountain bikes as part of their studies. Last week I did a training session with their teachers.
Darryl is a science teacher, director of outdoor education and director of the bike program. Michael is a science and math teacher and a kayak, snowboard and bike instructor. Eric is director of technology and a bike instructor.
We started with a half-day of philosophy, skills and drills on campus. The school has plenty of parking lots, ledges, stairways and even a pump track. Yes, a pump track. Pretty sweet.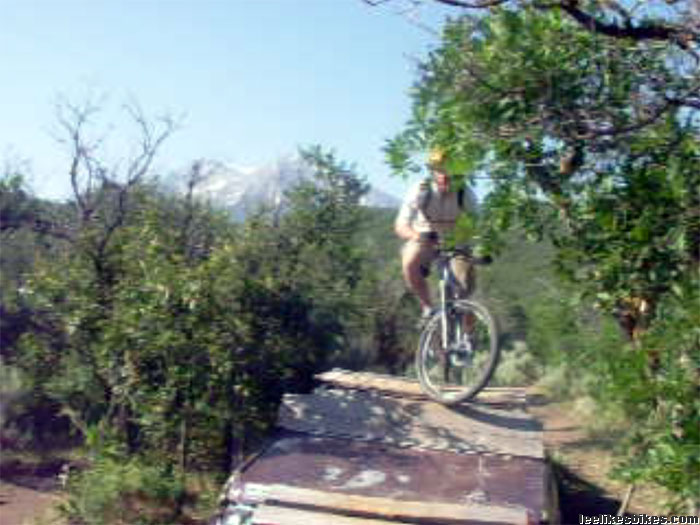 One of the trails is named for this car you ride over. Yes, you can pump a Chevrolet. That's Mt. Sopris in the background.
After our first session, Darrly and I rode to Carbondale's public dirt jump area, which has great flow. I camped in my van on campus, on a spot overlooking the Roaring Fork River. I had access to a guest cottage as well. Pretty sweet.
On Day 2 the boys and I applied the new kung fu on some of their local trails. Carbondale has a variety of terrain, from rolling forests to brutally steep rockiness; we opted for the woodsy flow.
These guys are all very fit, very experienced riders. It was so fun to show them a new way of relating to their bikes, and to show them how they can work the trail like a sine wave. A sine wave of braaap!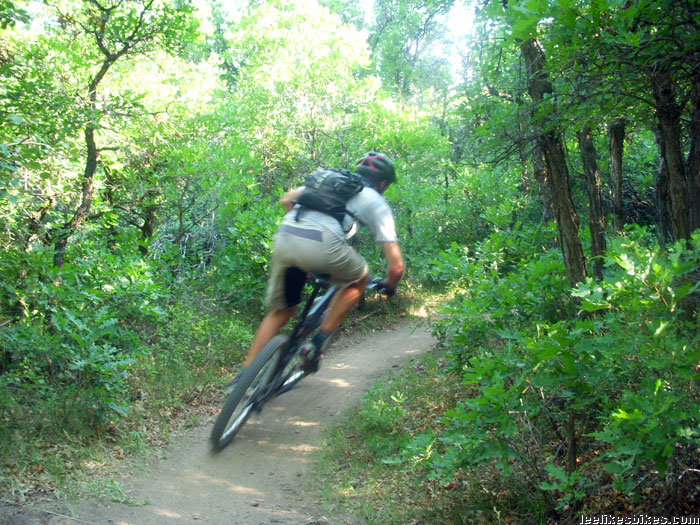 We sessioned this tricky turn sequence. Darryl nails it.
Please forgive the low-res video captures. The riding and teaching were too engaging for real photography.
| | | | |
| --- | --- | --- | --- |
| Eric lays into a natural berm. | Michael pops from the right turn into this leftward backside. This move is a lot like Pumping an S section on a pump track. | If you work the wave just right, this sequence of turns and dips culminates in … | … an easy jump to a delicious backside. |
I can't afford to send a child to CRMS (boarding tuition is $38k a year!), but it looks like I'll be back to teach the teachers and the kids some more kung fu. Looking forward to that.
---
Darryl's feedback:
And after 20 years of riding dirt I thought I knew how to ride… Seriously though, working up through the basics and drilling the skills has opened my eyes and provided a glimpse of what could be the most significant growth and development I have experienced since my early days ripping in the Santa Cruz mountains. Thanks Lee for delivering the goods and helping us push the limits, so that we can help our students at Colorado Rocky Mountain School rip even harder.
---
https://www.leelikesbikes.com/wp-content/uploads/2018/08/leelikesbikeslogoheader.jpg
0
0
leelikesbikes
https://www.leelikesbikes.com/wp-content/uploads/2018/08/leelikesbikeslogoheader.jpg
leelikesbikes
2008-07-19 13:49:45
2008-07-19 13:50:32
Teaching at Colorado Rocky Mountain School