Tara Llanes begins a tough recovery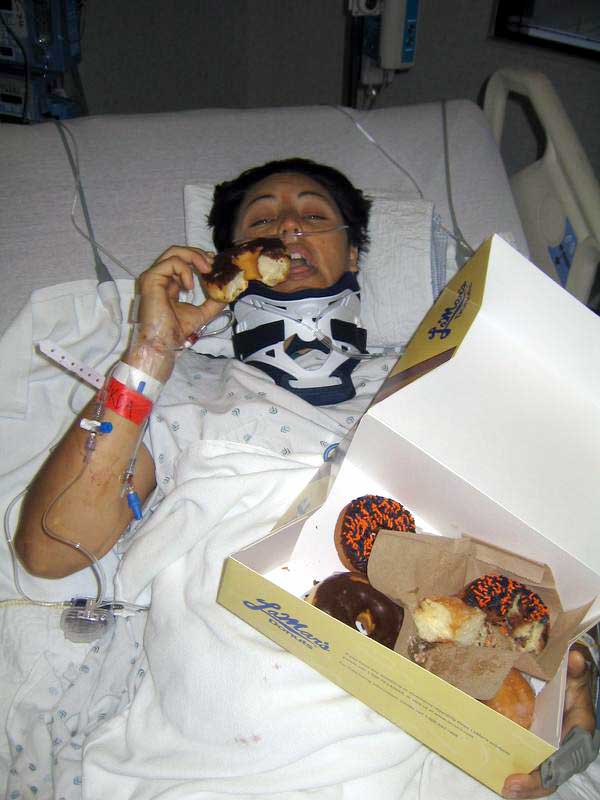 4X and BMX honchess Tara Llanes suffered a major spinal injury at last weekend's Jeep King of the Mountains Race. Now recovering from major surgery, she's in good spirits but currently has no feeling in her lower body.
I first met Tara back in 1993 at Mammoth. It was her first mountain bike race, and the teen BMXer placed second in pro dual slalom. She was a great rider and super cute, and John Ker from Mountain Bike Action convinced her to model with me and some guys for a cover shot. We rode along the edge of an alpine lake about 100 times, and the whole time her mom kept a close eye on all us dudes! In the almost-15-years since then, Tara has been widely regarded as a top rider and — more importantly — a quality person.
No matter how this shakes out, I'm confident Tara has what it takes to come out stronger and wiser. Now it's time for her to really pin it.
Let's all send her our best wishes, and maybe some cash (and donuts). Click the Keep reading >> link for more details.
The more you click, the more I can post. Lee Likes Groceries dot com!
---
Here are more details from Dylan Dean.
Hello Everyone,
As many of you may already know, Tara Llanes crashed racing at the Jeep King of the Mountain finale in Beaver Creek (Vail area), Colorado. Tara was airlifted to Denver Health Hospital where she underwent seven hours of surgery to correct massive trauma in her lower back. In addition, Tara also has a C-7 fracture, which was deemed stable.
Tara once again made it through another surgery and is now breathing on her own and able to communicate with friends and family. Unfortunately, at this time she has no feeling below her waist, a symptom she suffered as a result of her crash.
Tara's immediate family & friends will continue to learn more about her injuries in the upcoming weeks and will continue to keep everyone posted. Since coming out of surgery, Tara, drugged and very happy, has kept in good spirit and has promised not to let this beat her.
Tara's room is so full of gifts and flowers that there is barely enough room for the nurses and doctors. At this time, they ask you save your money for the "Road To Recovery Fund." They are currently setting up a website that will allow for you to send your contributions directly to Tara to cover all medical expenses. Although she is covered under insurance, there will be additional expenses. They are looking into the top rehab facilities to get Tara up and walking again. All donations will go directly toward her rehab such as personal care, various equipment, housing modifications, etc. They were told that their #1 choice of rehab facilities may run up to $2000+ per day!
For all you Southern CA friends, Missy will be organizing an event to raise funds that will cover non-medical expenses such as travel and day to day items for Team Llanes. There will also be opportunities to take photos and write messages to Tara that will be sent over all together. More details to come so stay posted!
Her family & friends ask that you have as much faith as Tara does throughout this difficult period. Please feel free leave a message on Tara's MySpace page www.myspace.com/mtbtara (you don't need an account to view her site & photos, but you will need one if you want to post a message.
For those that have already left messages, Tara LOVES getting all your messages. Please keep sending them. Her eyes light up when she hears a success story similar to hers so if you have any, please let her know. Her spirits are still so high and her determination is remarkable.
Please keep Tara in your thoughts & prayers.
— J. Dylan Dean
— — —
You can also contact Tara through her site:
https://www.leelikesbikes.com/wp-content/uploads/2018/08/leelikesbikeslogoheader.jpg
0
0
leelikesbikes
https://www.leelikesbikes.com/wp-content/uploads/2018/08/leelikesbikeslogoheader.jpg
leelikesbikes
2007-09-05 16:48:41
2007-09-05 16:59:36
Tara Llanes begins a tough recovery