2007 MSC Final: Keystone Klimax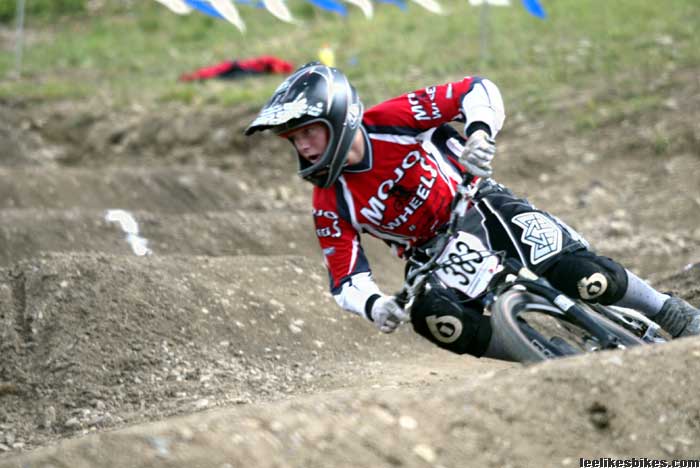 The 2007 Mountain States Cup ended in grand fashion. We had fun courses, fast timing and hot hot action. Tired today. Humbly reporting …

---
I'm glad to say the race timing was dialed — thanks to CJ Timing. After Red Rock Timing balled up a few events, it's great to see the MSC back on its game.
Dual slalom
Oh man. This course is always fun. This year was extra technical; so much so that many pros said they felt like beginners.
Snap pedal pedal! Stick the barely banked right then hook-manual-double down the first straight and up the bank. Square left up, take half a stroke then prepare for Eventfulness: triple rollers, a huge roller then triple rollers. The middle roller was big, pointy and really quite disruptive. Going slow you just suck it up. Going medium you get very balled up. If you're a stud and the planets are aligned: hook, double, double, double. Braaap, braaap, braaap into a Sea Otter-esque right berm.
Pedal for extra love then jump as far as you can into the field of stutter bumps. Rat-tat-tat skimming skimming skimming, boot the little double then land G-Force style into the perfect left berm. Raaaaiiiilllll it, pedal, boot the exit double then prepare to Distinguish yourself.
The flat right turn is loose and rocky. After last night's rain a rut has formed. Do you trust it? Line up wide carve across and hang on. There's a 90% chance your right foot is out. There's a 99% chance David Camp is riding faster than you.
OK, made it. Pump the rutted left then pin it straight at the big table. Pedal!!! Suck it up, touch down and PEDAL to the line. Oh yeah!
David Camp and Ross Milan taught a dual slalom clinic, and as fast as Ross looked, Camp owned it. That guy *really* knows how to corner.



Dave Camp with a definite moto influence. Sick.
| | | | |
| --- | --- | --- | --- |
| It rained Friday night, and Saturday dawned nice and tacky. | Take a couple strokes and rail the first right. Matt Ripley and Brendan Smith. | Steve "Power Wheelie" Wentz | Second straight. Chris Boice steps off the Massive Roller of Consequence. |
| | | |
| --- | --- | --- |
| Survive the second straight and PIN this berm. Photo by Ian Martin. | Out of the berm … and jump as far as you can into the stutter bumps. Boice. | Dave Ziegman style. |
| | | | |
| --- | --- | --- | --- |
| Rock back onto your pedals and skim. Matt Thompson. | Ross Milan makes with the throttle. He's probably making about two horsepower. | Not content to merely braaap these bumps, Camp is also flicking his bike to the right so he can double into the outside of the left berm. | Rat tat tat tat tat tat juuuuuump … So sweet. Mike Kreeger won semipro DS, took 2nd in DH (just 0.04 behind All Mountain Mike West) and rocked the microphone all weekend. Mike's an excellent rider, but he's a truly gifted announcer. |
| | | |
| --- | --- | --- |
| The double before The Flat Turn (cue dramatic music). Elliott Hoover. | Line up wide and carve under the flag. Evan Powell knows what's up. The dirt was SO nice Saturday morning; by race time it was loose and dry, but there was a decent rut. | Yeah, braaap! |
| | | | |
| --- | --- | --- | --- |
| Keith Darner. | Yeah! Roy Benge gets some. | Lee: "Hey Ross, good thing you'll be retired by the time Teddy goes pro." Ross: "Yeah, I want nothing to do with Teddy." | Blair Reed style. |
| | | |
| --- | --- | --- |
| Michael Ontiveros has been off the bike focusing on his mathematical genius. He's off to Oxford soon, but he dusted off his Staats and went a couple rounds in semipro. | Welcome back! Early this season, Zach Johnson tore off part of his iliac crest. He was out all summer, but he's back in a big way. | Folding into a tasty berm. |
Downhill
We rocked Downhill #1 from July's G3 race. It's long and burly! Top Pro Man: 10:50. Top Sport Woman: 15:28. That's three or four normal DH runs in one.
Milky Way flows and jumps and drops and clatters much like Garbanzo at Whistler. Rail the turns, stick the off-cambers and watch your lines lest you get sucked into an unfortunate tangent. Join the old DH course for a quick traverse, a rocky turn, a couple doubles and another traverse. Dive, dive, dive into a new section of high speed, rocky, jumpy love then enter a new trail called Jam Rock.
Holy cow, pray you're not a beginner! Steep. Rocky. Steep. Crazy optional lines. Pros: elevated bridge to steepness to rocks to more steepness to more rocks, then a beautiful drop-in and an infinite rock booter. Beginners: Steep. Rocky. Rocky. Steep! Not easy! But tré cool.
Dive into flowy Mosquito Coast for a sec, cross over to wide-open Paid in Full for a couple turns, then survive Motorhead to the finish. Hope you're not tired —- rocks, switchbacks, rocks, braking bumps! Hold form on the final traverse and cross the timing pad like the champ you are.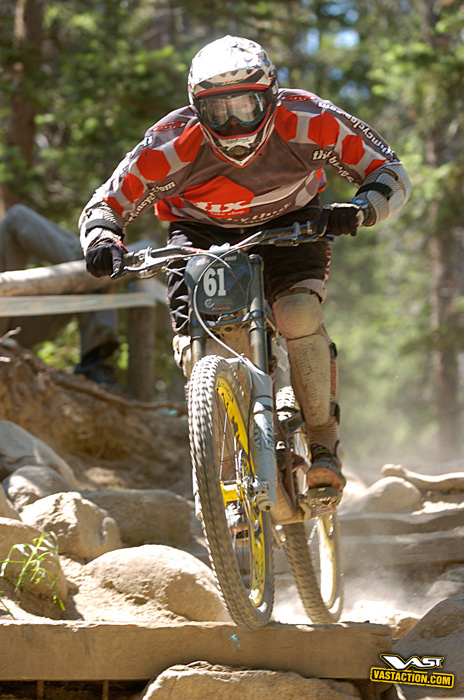 Three Step on Motorhead. Photo from G3 by .

Afternoon rains forced the Pro Men to race an ever-wetter course. Steve Wentz qualified chainless — and in last place — so he got to race first on a dry course. As rain sloppened the dirt and slickened the roots, fast riders finished visibly shaken, and Steve's 10:58 kept him on the hot seat. No. 2 qualifier Chris Boice pinned a wet 10:50.86. No. 1 qualifier Eli Krahenbuhl found 0.5 second and won with a 10:50.39. Wentz held onto third.
Super D
This is a fun Super D! Not much uphill, lots of turns, plenty of length. All-Mountain Mike West killed it in 18:57. Local DH honch Nate Hills rolled a 19:23 for second.
https://www.leelikesbikes.com/wp-content/uploads/2018/08/leelikesbikeslogoheader.jpg
0
0
leelikesbikes
https://www.leelikesbikes.com/wp-content/uploads/2018/08/leelikesbikeslogoheader.jpg
leelikesbikes
2007-09-04 17:40:09
2007-12-05 10:51:16
2007 MSC Final: Keystone Klimax