Supersweet: Mid '90s GT Cruiser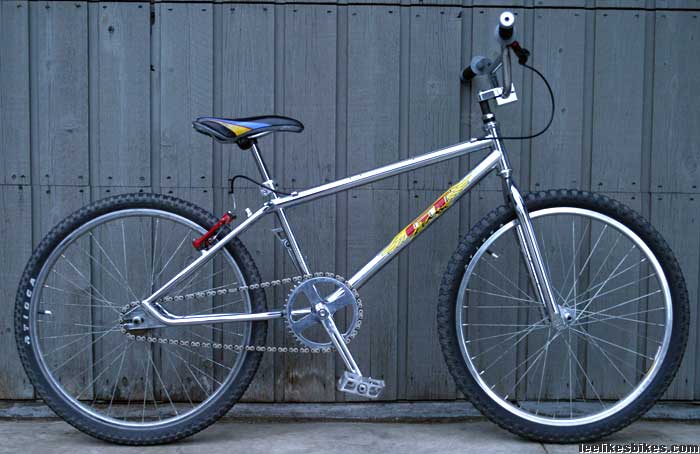 My friend Robyn found out I was looking for a BMX cruiser, and he set me up with this beauty. Too cool.

The bike: This mid '90s GT Cruiser has a nice, authentic build. Redline Flight cranks, GT wheels, Tioga Comp 3 tires, chrome everywhere.
The benefactor: Robyn Markland is a successful businessman in the areas of exotic reptiles and temperature-sensing guns. He is a total bike nut and a vintage BMX collector.
The ride:
– I haven't owned a BMX bike in over 10 years. Right away I went for a bunny hop, and — WHACK! — I slipped a pedal and smacked my shin. Oh yeah, the timing is different than a mountain bike …
– Compared with new cruisers, this bike has a slacker head angle (more stable) and longer stays (more stable but harder to manual). I love the slackness. Gotta get used to the long rear end.
– It's amazing how responsive this bike is. Even compared to my P.3, which is no sled.
– On Saturday I had fun messing around on the final rhythm at the Pikes Peak BMX track. It took me a while to get the manuals between the rollers, but — wow — they felt great.
– The bars are low for my taste. Gonna work on that.
Looking forward to pump track, dirt jump, urban, park and even the local road climbs. Stay tuned …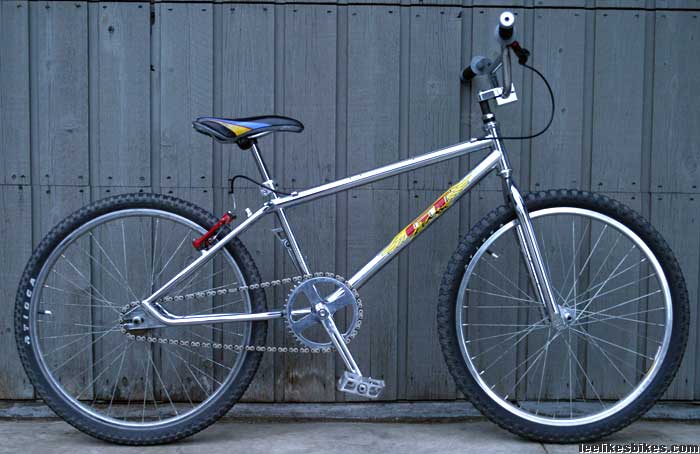 Sweetness.
---
https://www.leelikesbikes.com/wp-content/uploads/2018/08/leelikesbikeslogoheader.jpg
0
0
leelikesbikes
https://www.leelikesbikes.com/wp-content/uploads/2018/08/leelikesbikeslogoheader.jpg
leelikesbikes
2008-01-07 14:02:21
2008-01-07 14:02:21
Supersweet: Mid '90s GT Cruiser