Success: October training camp in Nathrop, CO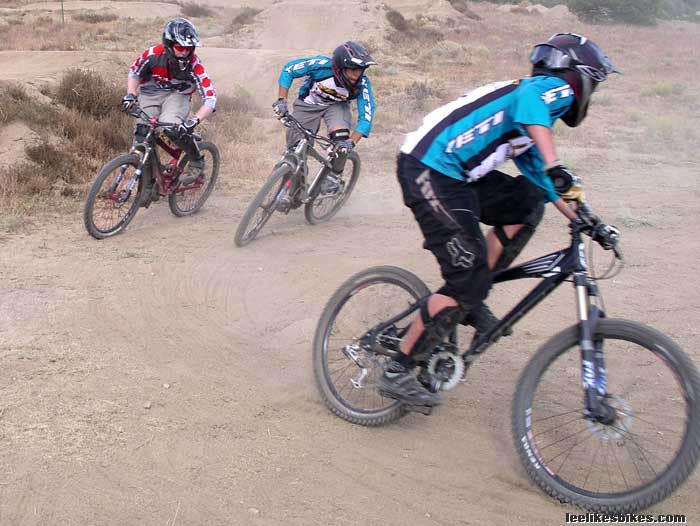 This weekend we had one day of perfect sun and another of perfect rain. Everyone learned a lot and had a great time. Next spring, a tsunami of great riders will roll through the Mountain States and beyond.

The venue
Darnerland in Nathrop, CO., aka the sickest square mile on Earth. Thanks to Keith Darner.
The coaches
– Jon Watt, biomechanical engineer, pro racer
– Bobbi Watt, personal trainer, pro racer
– Zach Griffith, bike shop stud, pro racer
– Me, writer/coach, semipro racer
The pupils
We had 18: ages 9-51, from haven't-raced-yet to semipro-superfast
The deal
Zach has improved dramatically since we started working together a year ago. I asked him to tell the group about my approach, which focuses on the absolute basics (kind of like Mr. Miyagi in the Karate Kid). "Well, to tell you the truth, I thought it was pretty lame at first …" he said. ".. but it definitely works. If you stick with it you will get faster, guaranteed."
I was like, "Thanks Zach … mostly." Pretty lame huh? I see intervals in your future.
Saturday started with a warmup and timed runs on the dual slalom course. The ticking clock magnified everyone's technique problems. We ran everyone through body position and braking, then we split into two groups: pump and corners. Jon and Bobbi worked the pump; Zach and I rocked the corners. Some open practice and we called it a day.
Sunday rained nonstop. We "warmed up" in our attack positions on the DS course, then we worked on gates for a few hours. By this time we were all soaked, and everyone was done — except the groms, who just kept jumping.
| | | | |
| --- | --- | --- | --- |
| Do it like this. Zach dives into a tight 180. | Look over there! Zach keeps Madison focused on the task at hand. Nice view, eh? | Dan sets up a nice one. Braaap! | Matt, another longtime pupil, mixes it up with Yeti-RPM's Jose and Brendan. |
| | | | |
| --- | --- | --- | --- |
| This isn't Keith Darner's first picnic. He shows TJ (right) how it's done. | Kids of all ages listen to Bobbi. Until you can snap her out of the gate, you best keep listening. | Bobbi sets up in the gate. Jon explains. | Jake and Brendan get pointers from two of the best starters in the Mountain States. |
We might do another session after Veloswap in November, and we'll definitely do some in spring. For info on those or to set up your own camp, email me at lee@leelikesbikes.com
---
Comments from the campers
Ah Sensei,
A truly great weekend! I think you guys get an "A", tough to figure out much of anything to improve upon. The information was about as much as could be digested in a weekend. You (4) did a great job of explaining and demonstrating. I think as an introductory or core lesson, it was great. I think you should also consider an intermediate or advanced curriculum as well. Everyone had a lot of fun and learned a lot! Thanks!
Scott, 43 sport, and two sons, 9 and 13 beginners
—
Lee
I was going to email you later today anyway to tell you how much we enjoyed and gained from the clinic. Dude…..an A+ fo sho….seriously, it was THE best coaching experience ever for us….I can't stop talking about it….we both gained so much from the weekend and the weather was not even a factor….what weather….I was cooked by the afternoon anyway.
Brian, 45 expert, and son, 12 sport
—
Thank all of you!!! The camp was great. It improved a lot of what I already did decently and made me do it great, and things I wasn't good at at all. I look forward to next season and seeing how the things I learned will affect my results. I really enjoyed everything
especially how you guys demonstrated then had us do it repetitively I felt that really forced me to get it right.
Thank you!!!
Jose, 17 jr. ex
—
I'm really looking forward to our next couple of sessions! I have just been stoked about riding since our first lesson and the clinic at Darners, I have not been able to practice the drills as much as I would like but I know I'm a way better rider already, I did a couple of XC rides last week and the attack position, balance, light on the hands, and proper breaking stuff have made a big difference, I can't wait until I have all of these things really dialed! It is a day and night difference! You really do know your shit!
Brent, VetEx
https://www.leelikesbikes.com/wp-content/uploads/2018/08/leelikesbikeslogoheader.jpg
0
0
leelikesbikes
https://www.leelikesbikes.com/wp-content/uploads/2018/08/leelikesbikeslogoheader.jpg
leelikesbikes
2006-10-09 11:25:13
2006-10-17 18:26:20
Success: October training camp in Nathrop, CO