Strong chains for 4X racing
Hey Lee,
What is the best chain for 4x out there? I've been snappin' my Shimano chains and it hurts.
Thanks,
Ron

---
Hey Ron.
I feel your pain. My awesome power has snapped new Dura-Ace chains out of the gate — it's a great chance to talk smack, but it ain't cool.
Easy: I've been happy with SRAM chains. Everything from low end to high end seems to hold up. By the way, make sure your chain goes as straight as possible from your ring back to your "Power Cog."
Doable: Lopes once told me KMC chains are really strong.
Drastic:Run a wider, stronger 8-speed chain with an 8-speed cassette. You don't need nine gears for 4X.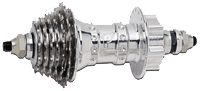 Ultimate:Profile Racing makes a hub with a 6-speed cassette that uses an 8-speed chain. Only $255.
Improbable: Back off the power, tough guy!
https://www.leelikesbikes.com/wp-content/uploads/2018/08/leelikesbikeslogoheader.jpg
0
0
leelikesbikes
https://www.leelikesbikes.com/wp-content/uploads/2018/08/leelikesbikeslogoheader.jpg
leelikesbikes
2006-02-08 21:16:46
2006-02-09 10:32:41
Strong chains for 4X racing