Repairing Specialized Lo Pro Mag pedals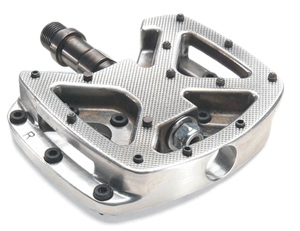 These are great pedals, but some early production hiccups are causing issues. Luckily, they're solvable.

Lee,
Saw your review of the Specialized Lo Pro Mag pedals as well as the other readers' problems. I've got LoPro pedals that came on my '05 SX Trail. They've been used for freeride and dirt jumping and trail riding and after 6 months of use have developed some serious side-to-side slop and they spin way too easy now. The "spin too easy" sounds odd but when you take a foot off for a one-footer you want the pedal to stay put right? I'm just curious how yours have held up or if you've seen the same problems.
Michael
---
Hey Michael.
I'm really digging my Lo Pro Mags. They're light, grip my shoes and have tons of clearance. After 19 months of almost-daily use, they do have that "spin too easy" thing going, but I never take my feet off the pedals, at least not on purpose.
I sent your note to Deacon James, the product manager in charge of the Lo Pros, and here's what he says:
---
The old design has a tendency where the c-clip pops out and allows the body of the pedal to float on the spindle. If you remove the outer lock nut, you can see the grove for the clip. The clip being a stamped piece is best installed with the square edge out.. We did make some running changes to the depth of the groove and the size/strength of the clip, but in a situation where the impact load is from the side and sizable, the clip will pop out.. Reinstall the clip and tighten the lock nut and all should be good. Resistance can be adjusted with different "O-ring" combinations, regardless of how old or used the pedals are.
Deacon
---
Deacon's a good man. For more detail about the pedal, and a nerdy chart that shows how it compares to its competitors, read my Oct. 2004 review: Nice Pedals: Specialized Lo Pro Mag
https://www.leelikesbikes.com/wp-content/uploads/2018/08/leelikesbikeslogoheader.jpg
0
0
leelikesbikes
https://www.leelikesbikes.com/wp-content/uploads/2018/08/leelikesbikeslogoheader.jpg
leelikesbikes
2006-02-07 13:24:26
2006-02-07 13:25:48
Repairing Specialized Lo Pro Mag pedals