Review: 2006 Specialized downhill tires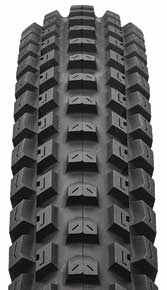 Specialized has a new crop of downhill meats, and I'm here to tell you about 'em.

---
The mission
Over the past few years, Specialized's aggro/DH tires have been so-so. Some worked well — for example the Enduro and Roller RS Pro D2 Wet/Loose — and others kind of sucked, especially compared with the bikes that wore them. For 2006 Specialized has launched an entirely new line of downhill tires. These will come stock on Specialized downhill and freeride bikes, but the company also hopes to take a chunk out of the aftermarket DH tire market.
Most riders already have their favorite flavors — Maxxis, Kenda, Michelin — so the question becomes, are the new Specialized tires good enough — and different enough — to replace the current favorites?
The 2006 DH line features three tread patterns, each available in two trim levels:
Pro: Dual ply casing and 60 durometer compound for decent rolling and long wear. Meant for recreational riders who get lots of runs.
S-Works: Dual ply casing, dual compound Umma Gumma rubber (42 in the middle, 40 on the sides) and butyl side wall inserts. Meant for high performance racer types.
And now for the tread patterns …
Chunder
Models: 2.3 Chunder Pro $58, 2.5 Chunder Pro $58, 24×2.5 Chunder Pro $58; 2.3 Chunder S-Works $65, 2.5 Chunder S-Works $65, 24×2.5 Chunder S-Works $65
Pattern: Ramped and split center knobs with big, exposed corner knobs. Every third side knob is siped and cupped, for extra traction.
Compare to: Maxxis High Roller, Kenda Nevegal, Michelin DH 16
Designed for: General riding, but best in loose conditions where the side knobs can penetrate. Still rolls pretty well.
In action: Compared with the High Roller, I'd say the Chunder bites better in loose stuff but doesn't roll as fast. In corners it's less squirmy than the High Roller and WAY less squirmy than the DH 16. I've run Chunders at the Mammoth championships, at Whistler and all over Colorado. They worked surprisingly well in Mammoth's pumice (few tires feel decent there), and they ripped all over Whistler. They find traction on wet rocks and roots, and they carve through loam. After 10 hard days, my Chunders still look fresh.
Verdict: Good general DH tire, especially in soft/loose conditions. More aggressive than a High Roller and more versatile than a DH 16. I haven't tried the Nevegal (hint, hint :).
Pinn'er
Models: 2.3 Pinn'er Pro $58, 2.3 Pinn'er S-Works $62
Pattern: Medium-sized, medium-spaced center knobs with medium-height, well supported side knobs. Center knobs are ramped for speed and siped for driving traction. Alternating side knobs are cupped and siped for cornering hold. The other side knobs are very long, I assume to hold edges.
Compare to: Maxxis Minion DHR, Kenda Blue Groove, Michelin DH 24 A/T
Designed for: General hard to loose conditions, with an emphasis on drive and braking.
In action: I've run the 2.3 Pros on my XC bike (That Epic Feeling), and they hook up on loose climbs, find traction under hard braking and rail through raw corners. I've also rocked them on my DH bike, and they did what they're supposed to do: 1) Drive hard. 2) Brake hard. 3) Corner well.
Verdict: The Pinn'er is a good all-around tire. It seems to hook up better in loose conditions than a Minion DHR, and it seems to corner as well overall as a Minion DHF, which is saying a lot. It feels more planted in loose dirt than the DH 24. Since it only comes in a 2.3 width, racers will dig it, but super-aggro dudes will look for a 2.5 or 2.7. Compared with the Chunder, it's faster on hardpack but less capable in the wet and loose.
Pin'it
Models: 2.5 Pin'it Pro $58, 2.5 Pin'it S-Works $62
Tread: Ramped center knobs, siped shoulder knobs, cupped and siped side knobs. Frank Stacy the tire engineer spent years designing tires for Dunlop, and he fashioned the Pin'it after a motocross tire. In theory, with all those rows of knobs, there's always a biting edge.
Compare to: It's hard to find similar treads. The Michelin DH 24 A/T is kind of a cross between the Pinn'er and the Pin'it.
Designed for: Hard and dry.
In action: I've ridden the Pin'it at Keystone, Vail and throughout the Colorado Front Range: on sand, hard clay, hard soil, loam, gravel, rock and mud. The Pinn'er rolls fast and corners like nobody's business. On hardpack it hooks stronger and more consistently than any other tire I've used. It does not drift like a High Roller or even a Minion; it just holds, and when it lets go it does so predictably and recoverably, like a low-knobbed WTB Mutano Raptor. On the Keystone downhill, a foot-wide ribbon of 40mph hardpack rips down the open ski runs, and the Pinn'er holds that line so intensely it's hard to believe. At Vail it just freakin' railed the loam and blue groove. When it started raining and the trails got slimy, the Pinn'er failed to penetrate, and it got sketchy. It was horrible in the Mammoth pumice. It works fine in dust. It's definitely a dry conditions tire.
Verdict: This is my favorite of the three, at least for hard/dry conditions. I can't think of a better tire in that situation.
Tire combos for total nerds
Dry/hard or lots of pedaling: Pinn'it front and rear (Crested Butte, CO downhill course)
Dry/hard with some loose: Pinn'it front; Pinn'er rear (Keystone, Snow Summit)
Mixed terrain: Pinn'er front and rear (Vail)
Mixed with lots of loose: Chunder front, Pinn'er rear (Durango, Whistler not rainy)
Loose/pumice/mud: Chunders front and rear (Mammoth, Whistler rainy, West Virginia, Vermont)
The Pros with 60 durometer rubber hook up really well and seem to last forever. And they roll fast. I've been running them in the off season for burly trail riding and low-cost downhilling. I'll mount the softer S-Works models for racing, but if there's a lot of pedaling I'll run an S-Works in the front and a Pro in the rear. Nerd style!
To sum it up
Tire preference usually boils down to personal style and getting used to what you have. These new Specialized tires work at least as well as their competitors, and, since they cost roughly the same, they're certainly worth a try. If you ride on hardpack, definitely try the Pinn'er. In my opinion, that's the breakout tire.
NOTE: I received free test samples.
https://www.leelikesbikes.com/wp-content/uploads/2018/08/leelikesbikeslogoheader.jpg
0
0
leelikesbikes
https://www.leelikesbikes.com/wp-content/uploads/2018/08/leelikesbikeslogoheader.jpg
leelikesbikes
2006-02-06 19:34:51
2006-02-06 22:52:37
Review: 2006 Specialized downhill tires