Status #2: Valmont Bike Park, Boulder, CO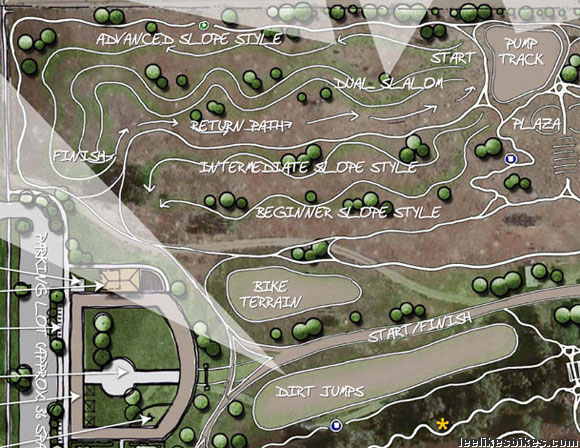 Last night was the second of two public reviews of the bike park plans.
IMBA's Pete Webber gave his spiel at the Boulder Mountainbike Alliance meeting at Rocky Mounts.
Keep reading for the latest schematic.
This is a Preliminary Schematic Design, dated October 30, 2008. A Final Schmatic Design must still be created and approved.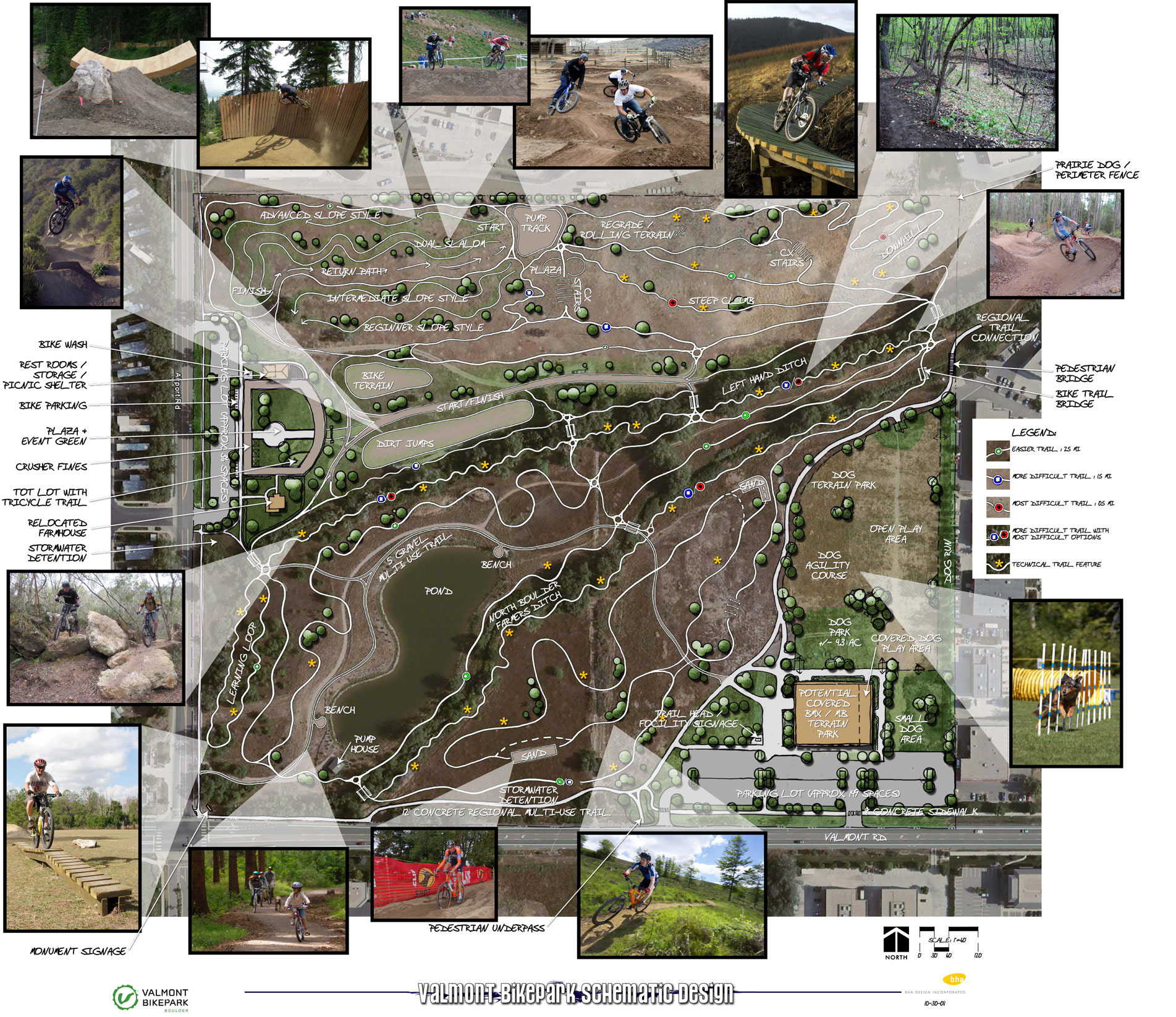 This jpeg is huge, so you can see the details.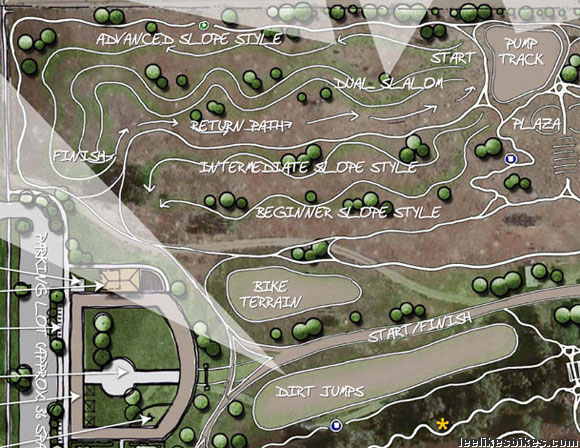 One of the more interesting sections.
Worth mentioning:
– This park promises to be awesome. That's a duh.
– This is just a rough layout. Tons of design and engineering work remains to be done. This is an enormous, complicated process. Designing bike trails is the easy part.
– The overall park budget is $2 million. The bike terrain gets $800,000. The rest is infrastructure.
– The prairie dogs must be captured, relocated and prevented from returning. Ka-ching! This is a Boulder city law.
– Pete was hoping to start building by Spring 2009, but it looks like building will start in Fall 2009 at the soonest. As Pete said, when you're dealing with the government, you learn not to expect things to happen at a specific time.
– Co-designer Judd De Vall emailed me looking for a dirt supplier. That's a good sign.
Also read: Status: Valmont Bike Park, Boulder, CO.
Stay tuned.
---
And again …
What you should do
Get involved. Overall, the park is very cyclocross-oriented. This is because the cyclocrossers have fought the longest and hardest. This is all about involvement. If you want your style of riding to be represented, you must participate in the process (if you sit on your butt, don't complain that the park doesn't serve you). I encourage all bike riders to unite on this one. After all, bike riding is bike riding.
Donate! Here's why: 1) Your donations go directly to building cool bike terrain. 2) Park organizers are trying to get a $200,000 grant from the state of Colorado, and the more people who donate, the better our chances. Even a $5 donation counts toward the grant. Split that $20, or $100, among everyone in your family. Donate money right now.
Contribute your ideas. Send a letter or email here:
Valmont Bike Park Design Team
Attn: Pete Webber
4106 Riverside Ave.
Boulder, CO 80304
pete@imba.com
Be sure to include:
– Whatever terrain and amenities you want.
– That Alpine Bike Parks should build the park. This is the only way to ensure the terrain features are built correctly.
– Ways this park will serve you, your family and the greater community.
– A professional tone. These notes might be used to convince the authorities.
Join Boulder Mountainbike Alliance. http://bma-mtb.org
---
https://www.leelikesbikes.com/wp-content/uploads/2018/08/leelikesbikeslogoheader.jpg
0
0
leelikesbikes
https://www.leelikesbikes.com/wp-content/uploads/2018/08/leelikesbikeslogoheader.jpg
leelikesbikes
2008-11-07 19:55:43
2008-11-07 20:00:06
Status #2: Valmont Bike Park, Boulder, CO