Pump tracks: Doing good things with bad dirt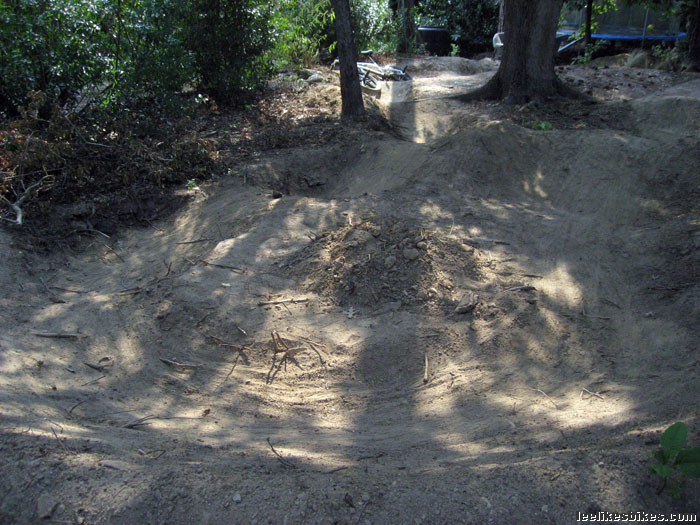 Hey Lee, I just wanted to show off my first pump track to you. It's a real small track, not too fast, but loads of fun and actually really difficult. It has a short uphill and two berms aprox 180 degrees. I didn't keep track of how long it took, a built it over a few weeks though, with just me working on it for the most part. It's dug straight into the ground. I'm in Wake Forest, North Carolina. I've attatched some pictures.
— Paul
Hey Paul,
Nice work, and thanks for sharing. This track looks super technical and quite fun.
If I may:
– You'll want to dig the berms much steeper. When you come in with speed, especially with that loose dirt, you'll need something to push and pump against.
– That crumbly/sandy dirt looks like it doesn't want to pack. You'll need something to hold it together. Try lots of water. Try vegetable oil. Try magnesium chloride. They're using veggie oil on The Fix jumps in Boulder, and it's working very well.
– It's hard to tell, but you might need to make the rollers steeper as well. Low/smooth rollers work very well when the track is packed and fast. If your track stays loose and slow, you might need more to pump against.
– Keep us updated. Pump track Nation!
| | | | |
| --- | --- | --- | --- |
| Beautiful location. | This turn is TIGHT! You need a very steep berm to rock this action. | How about a cross-over between the adjacent straights? | Rip that berm, squash that little jump … BRAAAP!!! |
— Lee
---
https://www.leelikesbikes.com/wp-content/uploads/2018/08/leelikesbikeslogoheader.jpg
0
0
leelikesbikes
https://www.leelikesbikes.com/wp-content/uploads/2018/08/leelikesbikeslogoheader.jpg
leelikesbikes
2008-11-08 11:54:29
2008-11-08 11:56:35
Pump tracks: Doing good things with bad dirt