Status: Valmont Bike Park, Boulder, CO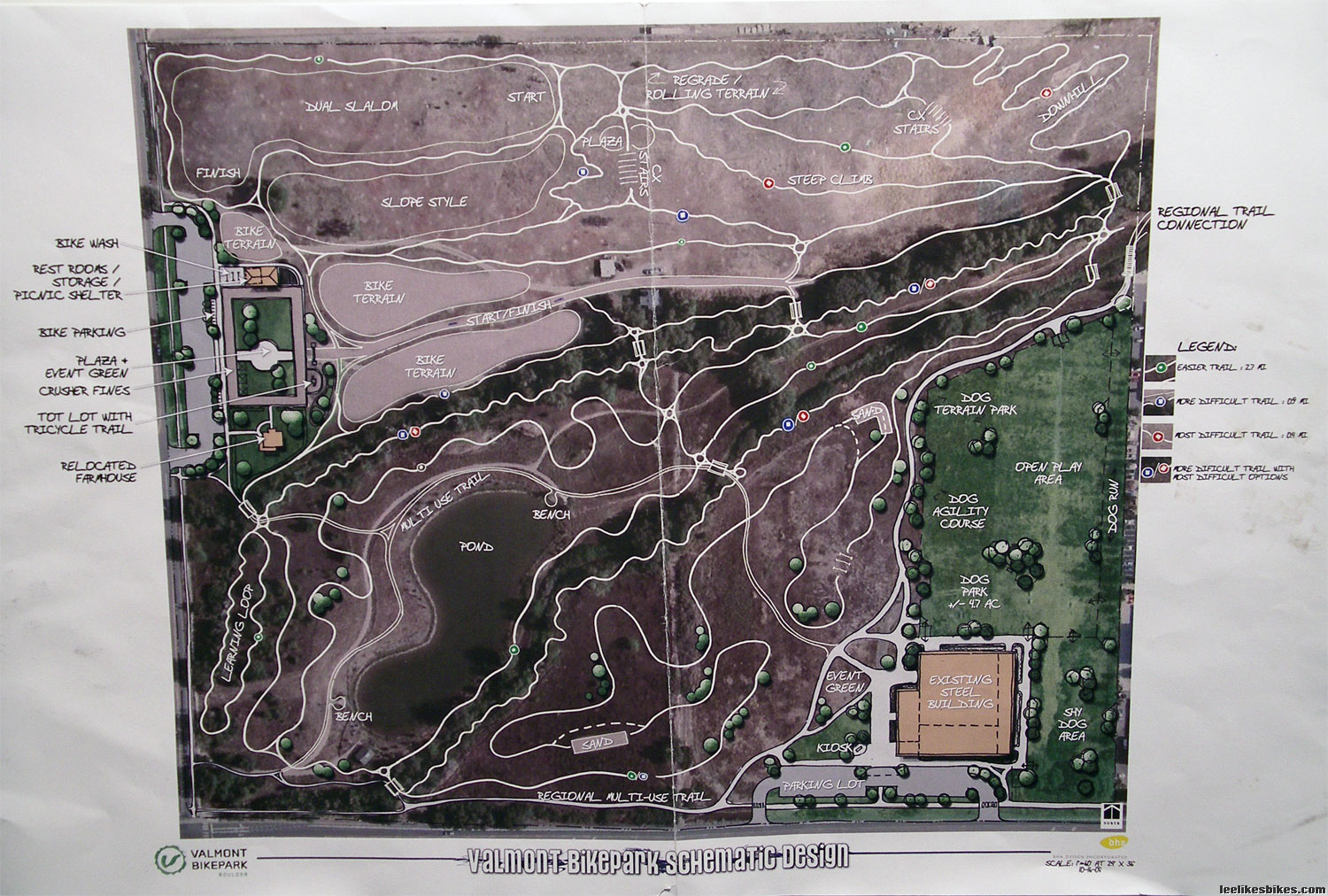 The City of Boulder is planning a big, sweet bike park. Last week the park designers held a review meeting at The Fix. If you're wondering what time it is, it's time for you to get involved.
The process
– This is an enormous, intricate project. Rather than the city setting aside some land and letting people build their own trails (like at Eaton Park), this is a fully designed, fully engineered city park that happens to have bike trails.
– The design phase has begun. Six (6!) design firms have been contracted to represent each major system — roads, electrical, etc. and, of course, the bike terrain. The budget for the design phase alone is $400,000 (four hundred! thousand!). After the design is approved, there will be a separate bidding and selection process for the actual construction.
– The bike design team consists of Pete Webber from IMBA and Judd De Vall and Randy Spangler of Alpine Bike Parks. Pete is a longtime XC and cyclocross honch, while Judd and Randy are both outstanding progressive/aggro riders/designers. Judd and Randy's building credits include Boise, ID; Seven Springs, PA; Park City, UT; Folsom, CA and Manhattan, NY.
| | |
| --- | --- |
| Judd is a local DH/moto legend. I've been hearing about him since I moved to Colorado, and it was great to meet him. This guy knows his stuff. | Randy Spangler is one of the original freeride rock stars. I got to see him ride at a jam last week, and it was pure fluidity. He also knows what he's doing. |
The plan
– The bike park will be situated on 40 acres on the north side of Valmont Road, about one mile east of Foothills Expressway. From Valmont today, you can see the dog park and a big steel building. In the late '90s a facility with ball fields and a skate park was designed and approved for this land, but it was never built.
– The site is mostly flat, with a 40-foot-vert hill at the north end. The vision is to re-sculpt the land, bring in vegetation and create a sort of Disney Land for bikes. The trail beds will be elevated so they can be ridden in all conditions. How cool is that?
– The team is planning four miles of trails. 2.5 miles will be "green" beginner trails that can be used for cyclocross races. There will be one mile of "blue" intermediate trails and 1/2 mile of "black" expert trails. Don't expect these blacks to be very extreme. The technical challenges will come from tight turns and technical features, not major elevation changes.
– The plan also includes two pump tracks, a dirt jump area, a dual slalom track, freeride-oriented trails and a freeride/stunt area — all integrated into the landscape and completely dialed in. Hearing Judd and Randy describe the features gave me chills — if they can build it the way they envision it, this park will be amazing.
– Oh yeah: These dads are planning a kids' area with a tricycle track. This way Pete's family can have some fun while he's racing 'cross.
– Bonus? There is an old, 35,000-square-foot steel building on the property. The original plan was to scrap it, but the team is exploring the possibility of an indoor bike park. They'd remove the walls to create sort of a giant gazebo, then they'd build a concrete pump track/skate bowl type of thing. This is a huge maybe, but WOW.
– The park will serve riders off all levels, types and ages. It will support small weekly races as well as international events. It will become a hub for the Boulder cycling community, and it will make Boulder an even more attractive destination.
– The vision for this park is expansive, inclusive and basically awesome. But remember that the late-'90s plan never got built, and the economy isn't exactly rocking right now. Pete, the Boulder Mountainbike Alliance and many others have worked hard for 2+ years to make this park happen, but much work remains.
What you should do
Get involved. Overall, the park is very cyclocross-oriented. This is because the cyclocrossers have fought the longest and hardest. This is all about involvement. If you want your style of riding to be represented, you must participate in the process (if you sit on your butt, don't complain that the park doesn't serve you). I encourage all bike riders to unite on this one. After all, bike riding is bike riding.
Donate! Here's why: 1) Your donations go directly to building cool bike terrain. 2) Park organizers are trying to get a $200,000 grant from the state of Colorado, and the more people who donate, the better our chances. Even a $5 donation counts toward the grant. Split that $20, or $100, among everyone in your family. Donate money right now.
Contribute your ideas. Send a letter or email here:
Valmont Bike Park Design Team
Attn: Pete Webber
4106 Riverside Ave.
Boulder, CO 80304
pete@imba.com
Be sure to include:
– Whatever terrain and amenities you want.
– That Alpine Bike Parks should build the park. This is the only way to ensure the terrain features are built correctly.
– Ways this park will serve you, your family and the greater community.
– A professional tone. These notes might be used to convince the authorities.
Join Boulder Mountainbike Alliance. http://bma-mtb.org
Attend the BMA meeting/party Nov. 6 at Rocky Mounts in Boulder. This is one of two remaining chances to review the bike park plans.
More info: Valmont Bike Park
Wallets open and fingers crossed …
— Lee
PS: Yes, I have joined BMA and donated money to the park.
---
https://www.leelikesbikes.com/wp-content/uploads/2018/08/leelikesbikeslogoheader.jpg
0
0
leelikesbikes
https://www.leelikesbikes.com/wp-content/uploads/2018/08/leelikesbikeslogoheader.jpg
leelikesbikes
2008-10-25 11:29:19
2008-10-25 12:53:27
Status: Valmont Bike Park, Boulder, CO