Specialized suspenson on Enduro SL?
Lee,
Is [your new Enduro] the one that's carbon and uses Specialized's proprietary shocks and forks?? If it does, my question is how good is it, and aren't companiess like Fox not going to like it since that's one bike their stuff isn't going on?? Or is that just ONE model and all the others will still get off the shelf 3rd party shocks and forks??? And lastly, if I had a Specialized fork and shock on my Enduro, do they let you put another brand of fork/shock on there if I choose??
ok ok… too many damn questions!!! 🙂
take care,
Brian

---
Hey Brian.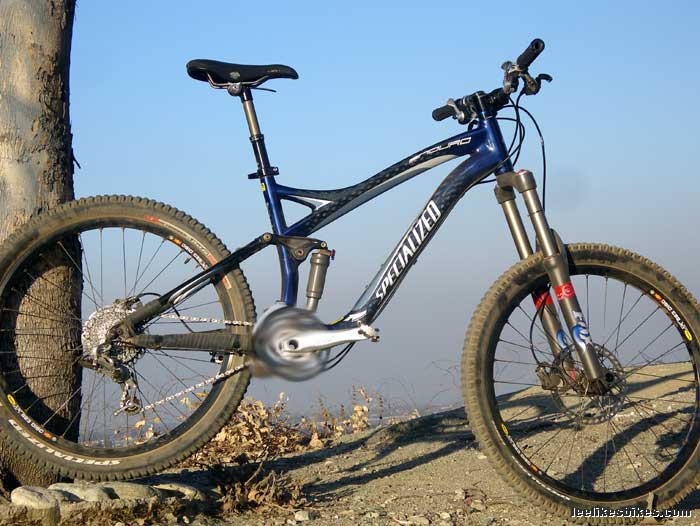 The Mighty Enduro SL with the Specialized shock, FOX 36 FLOAT fork, prototype Specialized Chunder 2.2 tires (slow but grippy) and a secret prototype dual ring guide.
Yes, I've been riding the new carbon Enduro SL.
It is good. I don't have the Specialized fork; I run a 2007 FOX 36 FLOAT, which is sweet (10mm more travel and much plusher than my old 36 TALAS). The rear Specialized shock pedals VERY well, almost like a Stumpjumper. I've been testing pre-production shocks. I'll do a full review when I get the bike dialed with a production shock.
Some of the key FOX and Specialized people are riding buddies, but I don't think FOX is exactly stoked about this. This is my opinion: Knowing Specialized, they will gradually adopt their own suspension, starting with the high-end bikes. Low end bikes and really low-number bikes like the Demos will probably stick with FOX. My opinion.
I doubt a shop would swap the fork and shock for free, but you can definitely switch. I've been trading the Specialized shock with a FOX RP23. Both shocks work great. They're just different. The FOX makes the 2007 Enduro SL feel like my 2005 Enduro, but stiffer and lighter; the Specialized makes the bike pedal quickly and feel even lighter/tighter/brighter.
OK OK … Too many damn answers!!! 🙂
— Lee
https://www.leelikesbikes.com/wp-content/uploads/2018/08/leelikesbikeslogoheader.jpg
0
0
leelikesbikes
https://www.leelikesbikes.com/wp-content/uploads/2018/08/leelikesbikeslogoheader.jpg
leelikesbikes
2006-11-02 21:54:06
2006-11-02 21:57:25
Specialized suspenson on Enduro SL?