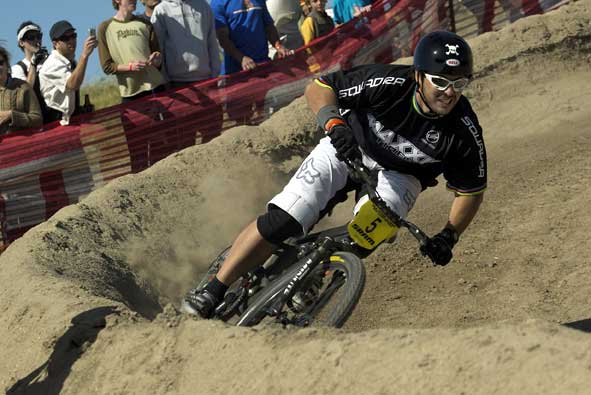 World downhill and BMX champ Mike King was just named Brand Manager at Bombshell/Avent Cycles. King will oversee marketing/promotions, product development, team management and whatever else they throw at him. King has had a long run as a racer and, more recently, a team manager. As he enters the next phase of his career, it seems like a great time for a little interview:

---
Briefly, what's your background and "life story" as a rider?
Started racing BMX on the eve of my fifth birthday. At that age, I was merely following my older brothers footsteps. I won a few amateur BMX titles and turned pro at 17. I won the World Championships and a National Championship my first year as a BMX pro. I started mountain bike racing at 24, won the DH World Championship my rookie year again and the NORBA title in Dual Slalom. Since then, I've won a few World Cups, NORBA's, and dabbled in the team management role for Redline and Haro. Today, a new chapter will be written as I become the Brand Manager of Avent Cycles and Bombshell Parts.
What was your greatest accomplishment as a racer?
I would say winning the DH World Championships. The odds were completely against me and I had that golden run.
I remember something about your 1993 world title. As I recall, you qualified slow and did your run early. After you raced it started raining, and the course slowed down. You wound up winning. It seems like you got lots of support after that, then you stepped up big time. I wonder, did that help your confidence, and did the added support help you realize your potential? (I hope that's accurate — that's just how I remember it.)
Actually, I qualified near the end because I had punctured my rear wheel in the qualifier. Back in those days, the top 20 riders went in the afternoon for live TV and the rest either went before or after. Strangely though, the French favorite (Frank Roman) actually pulled over and was seen on course chatting with the crowd in his qualifier and he still managed to get on live TV after my run!!! Anyway, during the finals, the rain from the night before and early morning caused for a slick course and by the afternoon it was good. I nailed it, wide open and the rest is history… But yes, my career after that race changed. I had a few offers and I chose to ride for GT. At the time, GT was the powerhouse team with endless support and equipment. With the added support, my total outlook on the sport changed and my confidence grew to the highest levels.
What has enabled you to be a champion? Talent, discipline, determination …?
A combination of talent, determination, and most importantly desire.
What was it like semi-retiring? A lot of racers get addicted, and they struggle with "normal" life. How's it been for you?
It's been awkward. I've been very fortunate earn a living racing a bike… I was able to do that for 15 years! I've been away from the grind of the sport for two season now and things are good. Spending more time with family has been great too. Overall, life will throw many challenges at you and I believe this is just one of them.
You've been a team manager for Haro-Adidas. Tell us about balancing your racing with that of your racers, and how helping people compares with peforming on your own.
Being a manager was fun. Competing with younger guys motivated them to push harder which was rewarding to witness. I was aware of there mind set before and during races and I tried to offer as much help and basically being a mentor to them.
Now you're getting this cool job with Bombshell/Avent. How did that come about?
During those semiretired seasons, I had to sit back and do some soul searching. Mainly, do I want to pursue other projects/interests or do I want to stay in involved with bikes? I knew being involved in the bike industry would fuel a passion so it seemed like the logical thing to do. The Avent/Bombshell interest came about a year ago. I knew the Avent BMX TM, Danny Meadows by going over to his house to ride his back yard trails. He suggested I get involved with the company and the relationship has grown ever since our first meeting.
For all those kids out there who want to be pro in the bike world, what advice can you give them? Not only about racing, but about positioning themselves for excellent industry jobs.
It all starts with passion. You don't have to be the best bike racer or win contests but, more importantly, learn how to market yourself. It helps to be a positive person and to give rather than take. Having individual goals is great, but you have to ask yourself what can I do for my sponsors over and beyond a logo and money? When you figure that out, the relationship grows and the doors will open.
Anything else on your mind?
Thanks Lee for the interview.
Thank you Mike. Trying new stuff takes courage. Rip it!
— — —
www.aventcycles.com
www.bombshellparts.com
———–
Mike King career achievements
(From his Oakley bio)
Downhill World Champion
'Unofficial' Dual Slalom World Champion
NORBA Dual Slalom Champion
One of only two athletes to win a World Cup in Downhill, Dual and 4X
14X NORBA National winner (Dual Slalom/Downhill/MountainCross)
3X Sea Otter Classic winner
2X X-Games medalist
2X Jeep King of the Mountain winner
2X King of Bercy Champion – MTB
2X King of Bercy Champion – BMX
BMX Hall of Fame Inductee
https://www.leelikesbikes.com/wp-content/uploads/2018/08/leelikesbikeslogoheader.jpg
0
0
leelikesbikes
https://www.leelikesbikes.com/wp-content/uploads/2018/08/leelikesbikeslogoheader.jpg
leelikesbikes
2006-10-30 22:36:24
2006-10-31 08:47:48
Q&A with Mike King