Specialized Fuse Pro ride #2

This bike's first ride turned into a mess of crusty/melty snow and slick mud. Not impressive.
Friday night's adventure? Rad!
It showed what this bike can do.
---
Bike setup
2016 Specialized Fuse Pro 6Fattie.
Everything original. Even the stem was in the stock position (which is a bit too high and 10mm too long for me).
Tires were at 18 psi plus or minus who knows? My fancy new digital gauge reads whatever it feels like.
Pedals: Shimano XTR Trail
The ride
Warm up in the garage. 10 minutes on the rower, 10 minutes of F6 moves. At this point I usually do Pump Up the Base intervals on the trainer, rower or the road. Friday night I decided to Choose Life.
Climb pavement 8 minutes. I'm already warm so it feels nice.
Traverse technical dirt 5 minutes. Tight and convoluted flats. Punchy, sandy, bouldery climbs.
Descend dirt, rocks and a bit of snow 15 minutes. Site unseen in growing darkness. Fast and flowy across the contour. Extremely steep, rock-stepped switchbacks. Land of the Lost rock gardens.
Climb pavement 35 minutes. Did my Pump Up the Base intervals on the way up. Total darkness with the light on only when cars showed up. It felt totally bad ass and punk rock.
How was it?
Stoked on the adventure! How awesome! So much more gratifying than "training." I don't do this enough!
The Fuse climbs just fine on pavement (as fine as I do, anyway). I plan to convert a set of my Roval 29er wheels for road riding. I've already forsaken my 'cross bike, and I think the Fuse will also supersede my fantastic S-Works Stumpjumper hardtail. The Fuse will be heavier than the Stumpy HT, of course, but it'll be so much more versatile. Email me if you want a dialed XC race bike with FOX Terralogic fork, full XT, Roval carbon wheels.
The Fuse climbs incredibly well on rocks and sand. Traction is better than you can imagine unless you've ridden big tires. With a low bottom bracket, long cranks and big pedals, I need to be aware of the rocks. The main issue: I have to convince my lizard that we're gonna make it. "Stop … clipping … out! This is how we ride now!"
On the faster, flower sections this bike is a magic carpet of floaty precision. Encountering a band of small rocks? Get light and let the tires absorb like four inches of suspension. (I know the tire is only three inches tall, but it feels like my 110mm Camber.) Need to snap a turn or backside? Get heavy, firm up the tire and drive force through that rigid frame. Bam! You're hauling ass in a new direction.
Micro float and macro pump: This is, I think, the shredder's reason for a plus hardtail. With very little effort you can get light and let small bumps penetrate the air space of the tire. If you want to double your weight, you only need to compress the tire about 1/4 inch (yes, I did the math). You can easily switch from floating like a butterfly to stinging like a bee. Make the tires heavy and snap those backsides!
In the Land of the Lost rock gardens (for you kids, imagine huge, steep boulders like in a dinosaur movie), the Fuse is a lot more capable than I'm ready for. That's me being honest. As the last cartilage has been smashed out of my shoulders, I've become more aware and precise when it comes to big impacts. Aware and precise are a euphemism for wimpy. I know what my Enduro 29 can do (which is a lot!), and I'm learning what my Stumpy 6-Fattie can do (which also seems to be a lot). I have no idea what this hardtail can do. But last night I rolled through some pretty crazy stuff, and it was all good. I look forward to another go at that trail.
At one point, in growing darkness on a trail I've never seen, the traverse turned into steep rock steps. I turned down into them — bap bap bap — and followed what seemed like the trail. It got very steep! The rocks were totally random! The surface was inches of pine needles! In a moment like this the alarms usually go off and I stop in a panic. On this bike I was just balancing, controlling the brakes, dealing with the bumps and become gradually aware that maybe I lost the trail? So I stopped — easily — hiked back up and, yep, these aging eyes had lost the trail. All good. And impressive how this bike made that madness not mad at all.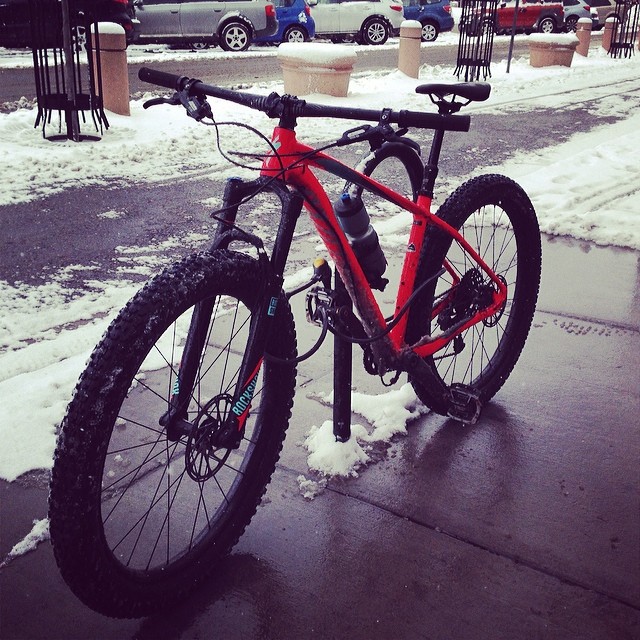 Kovarik drifting down the snowy mountain, slushy errands in town then snowy climb back home. Never has PT and the permit office been such an adventure.
Parts is parts
Thanks to generous support from FOX and Shimano, I am spoiled in the suspension, brakes and drivetrain departments. Some notes about the stock parts:
RockShox Reba fork. The compression lever doesn't seem to have any effect. Based on other RockShox forks I've felt, this setting seems to be in the light-middle range. But the fork works fine, and the whole bike felt great.
SRAM DB5 brakes. Of all things Shimano, I'm the most vehement about the brakes. Give me XT or give me death! I must say, once the terrain got interesting, I forgot I was on SRAMs. I was able to control the bike's speed without undue effort or stress. So it's official: The new SRAM brakes work.

The Fuse Pro is a lot of bike for $3,100. Mine's been doubling as a not-so-fat bike in the snow, it's taking the place of my Stumpy hardtail and I expect it to supersede my awesome Camber for normal trail riding. Pretty sweet. I'm excited to dial this bike in and explore more of its capabilities.
I think plus hardtails will become the go-to bike for a lot of riders — shredders and beginners alike. Shredders can wring out the best traits of huge tires and rigid frames. Beginners will love the simplicity, safety and confidence.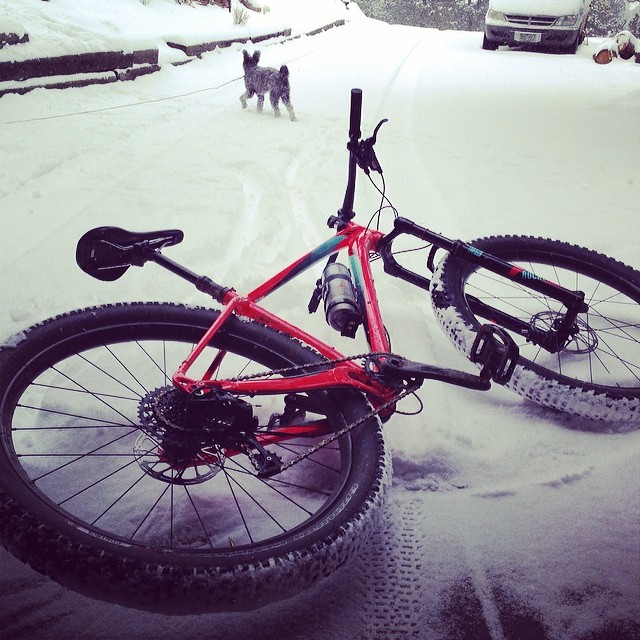 All the cool kids in Boulder are riding fatbikes, but those cranks are too wide for my knees. The Fuse offers a 3-inch tire with a normal Q factor. For me, that's my happy medium. On shallow and hard snow, the bike rides just fine.
Lee
NOTE: I paid my own money for this bike. It was expertly assembled by The Fix Bike Shop in Boulder, CO.
---
Know more. Have more fun!
Join the leelikesbikes mailing list:
---
https://www.leelikesbikes.com/wp-content/uploads/2018/08/leelikesbikeslogoheader.jpg
0
0
leelikesbikes
https://www.leelikesbikes.com/wp-content/uploads/2018/08/leelikesbikeslogoheader.jpg
leelikesbikes
2016-02-02 14:08:30
2016-02-02 14:08:30
Specialized Fuse Pro ride #2