Snow pump track (for bikes)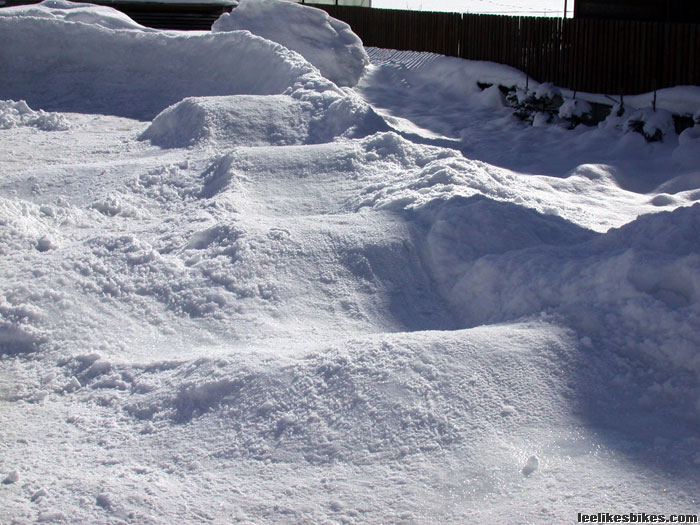 Our friend Stefan in South Tyrol used the specs in Welcome to Pump Track Nation to build a snow pump track.
He plans to build a dirt track this summer. As he says, he's working out the kinks with a zero-cost material.
Hello Lee,
Finally my Snow-Pumptack is finished and it works.
It took a long time to get the snow hard enough by watering it … but now, after evenings and evenings of piling and watering the pump track is finished and it rides quite well. We ride it with Schwalbe Ice Spiker Pro tires, and they have good grip on the icy surface.
This track is a test for the summer, when I will build a bigger one with dirt. I'm happy for this experience working with a zero-cost material (snow). I will work out all my mistakes by Spring.
Thanks for Welcome to Pump Track Nation. It is a very accurate and valuable document.
Best greetings from South Tyrol- Stefan
---
Hey Stefan,
Wow, that looks fun. Thanks for sharing your photos and video:
Also see:
Winter pumptrack madness (with video)
The book Welcome to Pump Track Nation
Sweet!
---
Know more. Have more fun!
Join the leelikesbikes mailing list:
---
https://www.leelikesbikes.com/wp-content/uploads/2018/08/leelikesbikeslogoheader.jpg
0
0
leelikesbikes
https://www.leelikesbikes.com/wp-content/uploads/2018/08/leelikesbikeslogoheader.jpg
leelikesbikes
2010-02-14 15:02:27
2010-02-15 11:07:52
Snow pump track (for bikes)