Shorter shock on SX Trail?
Hey Lee.
I have an older 05 sx trail frame I am looking to build up for light freeride use. It uses a 5th element 8.75×2.5 shock. The headangle is too steep though even with the very long 66 forks it originally came with. I am wanting to run an 06 for 36 talas on it so it becomes more of a problem. The other issue is that I'm not a huge fan of the stock shock and I have access to a dhx5 in 8.5×2.5 size. Is this my silver bullet? How much difference will the shorter length make to the h/a?
Cheers, Jonny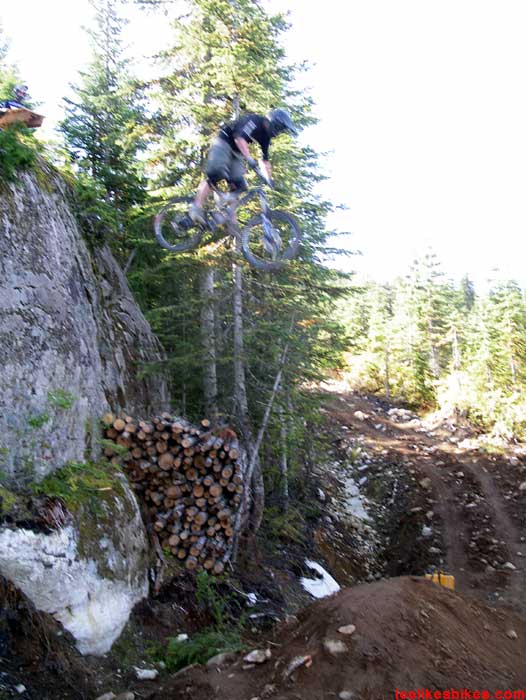 Whistler, September 2005: Jeff Bryson never complained that his SX Trail was too steep. As a matter of fact, he said, "This is the best bike I've ever ridden."
Hey Jonny,
1) A FOX DHX 5.0 will feel much plusher and more consistent than the stock 5th Element.
2) Your SX Trail is too steep? I find that hard to believe. SX Trails are rallied by the best riders on the sickest terrain in the world. Either: 1) your terrain is way out of control, 2) your suspension is set up wrong, 3) you don't know how to ride the bike or 4) some combination of the above. Numbers 2 and 3 are both true in 99% of cases.
3) According to a quick calculation, the shorter shock will slacken your head angle 1-2 degrees.
That is a significant difference. Doctor Brandon Sloan, the genius behind the SX Trail, says an experienced rider can feel a difference of 1/4 degree.
To sum it up: The shorter DHX will make your bike plusher and slacker. If you make the change, make sure your suspension and technique are dialed.
Go forth and rip!
— Lee
Added after the first comment
Jonny raised a valid question about the published geometry numbers. Look at this business:
I measure both bikes with 65-degree head angles.
– The 2005 model with the 66 fork has the high bottom bracket shock mount.
– The 2006 model (same frame) with the 36 fork has the low bottom bracket shock mount.
This tells me the 2005 frame with a 36 and the low BB shock mount would be sweet.
---
https://www.leelikesbikes.com/wp-content/uploads/2018/08/leelikesbikeslogoheader.jpg
0
0
leelikesbikes
https://www.leelikesbikes.com/wp-content/uploads/2018/08/leelikesbikeslogoheader.jpg
leelikesbikes
2008-07-28 10:49:30
2008-07-28 19:03:30
Shorter shock on SX Trail?