Can Sand Hill Ranch be saved?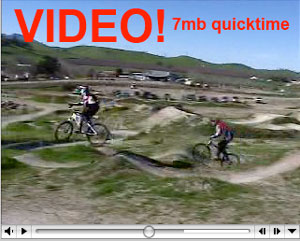 Hey Lee
I have just recently heard that the good folks at sandhill ranch might be considering shutting down the bike section because of unknown reasons. I personally consider this a horrible thing to happen. If I had the opportunity to help them keep the area open or help maintain the park, I would.
Can you PLEASE help me rally the braaapers and help please keep this wonderful area open.. What forums can I write to? Who can I motivate to help? Can IMBA help us? If you have any suggestions can you please send it our way? I'm deeply worried. If it was a matter of money I would pay double what they charge. If its a matter of up keep, I would volunteer. thoughts? Your expertise and knowledge is valued and respected. Please help me keep this heaven open.
Daniel
Hey Daniel,
Sand Hill Ranch is indeed an awesome place. It's in the East Bay close to a huge population, and it was the first park in Northern California's Bay Area that provided "aggro" terrain in a legal, official way. I lived nearby when it first opened in the late '90s, and my bros and I used to ride and race there all the time. Dude … I was the first Sport Super Slalom Champion!
The park has evolved along with the riding styles, and the current 4X and DS tracks are awesome. But they are in dire need of maintenance.
According to co-owner Renee Anderson, there are no easy answers. The problems include:
The owners don't have the time or resources to run the park the way it needs to be run.
Attendance and income are very low. I remember riders grousing about paying the small gate fee. IMO, we mountain bikers are used to using public lands, and we seldom directly pay the true cost of our sport. Too cheap to pay to ride Sand Hill? Don't be too surprised when it goes out of business.
Liability insurance is hard to get. And expensive. USA Cycling only covers races, not practice sessions. (I suggested IMBA – you can insure a club.)
Business has been declining over the past several years. "I chalked that up to a sign of the times," Renee says, "as well as the fact that Phil had two back surgeries in '05 and could no longer do a lot of the hand work needed on the bicycle tracks. A lot of other parks similar to ours were being opened around the Bay Area so most of our business of late was from local pre-teen boys. The actual mountain bikers/racers rarely showed up for weekend practice, just the races."


Teaching a clinic with Joe Lawwill and Brian Lopes, February 2002.
Good volunteers are impossible to find. "'New volunteers' is a great idea," Renee says, "but akin to 'squeezing water from rocks' or 'blood from turnips' or any other metaphor that means if you need something done right you need to do it yourself." Many people say they will help, but very few actually step up.
"One of our best helpers has moved to Germany with his girlfriend, another had a bad accident and is still very hurt, and another can't justify the gas money to come down from Sacramento. It's hard to find good help."
"My fatal error with the bike park was entrusting it to a guy with a bike team with the [naive] hope that the team would flourish, having its own place to practice and in turn work on the park, take turns sitting out there on weekends to monitor the practice, and use the race income to help their team finances. (There is no profit on the weekend practices and with the price of gasoline I doubt that the riders would be willing to pay more to practice.)


First berm on the 4X track.
"I severely underestimated the ability of their team leader to run the park and the races. When he blew off the entire Spring Gravity Series (the biggest income source for the bike park each year) and showed no interest in the annual Father's Day Eve DS Race, I pulled the plug on the bike park. It was an embarassment and an insurance liability to run the practice with the tracks in such a state of disrepair."
"We are currently closed (as of June 1) while we ponder our options."
— — —
There you have it. In order for the park to re-open, it needs:
Building and maintenance. Lots of it.
Volunteers or businessmen who will take over, make the park sustainable AND follow through.
Liability insurance that is available and affordable.
Enough customers paying high enough practice and race fees to make the place financially viable.
— — —


A young Chris Powell pulls Gs on the slalom course. December, 2003.
Sand Hill is a fantastic resource, and it would be a shame to see it close forever. If you want to save the park, the local riding community needs to step up in a big way. I don't know how Renee will feel about this, but here are some steps that might help:
Put someone in charge. This mission needs one person to run the show. This person must be a strong leader and a no-BS, get-things-done type person.
Contact Renee. Listen to her. Find out what she needs. She and Phil have sweat blood for Bay Area mountain bikers. It's time to return the favor.
Gather the troops. Post on all the regional forums: ridemonkey, msdhw, mtbr, etc. You need a small but committed crew. This will take some weeding.
Contact businesses. Who has a financial (not emotional) reason to support the park? Area shops, niche brands, etc. I'll guess that Lars at Trail Head Cyclery in San Jose would help in some way. If I lived there, I would be all over it.
Come up with a plan. At this point, saving Sand Hill Ranch has little to do with loving to ride. This is a business and logistics issue. You need an air-tight business case and a strong team with clear roles and responsibilities. Any of you who work in places with "synergies" and "deliverables" know what I'm talking about.
I hope the community and market will support Sand Hill Ranch. If not, as Renee says, maybe it's just "a sign of the times."
---
https://www.leelikesbikes.com/wp-content/uploads/2018/08/leelikesbikeslogoheader.jpg
0
0
leelikesbikes
https://www.leelikesbikes.com/wp-content/uploads/2018/08/leelikesbikeslogoheader.jpg
leelikesbikes
2008-07-30 09:22:07
2008-07-30 20:04:02
Can Sand Hill Ranch be saved?