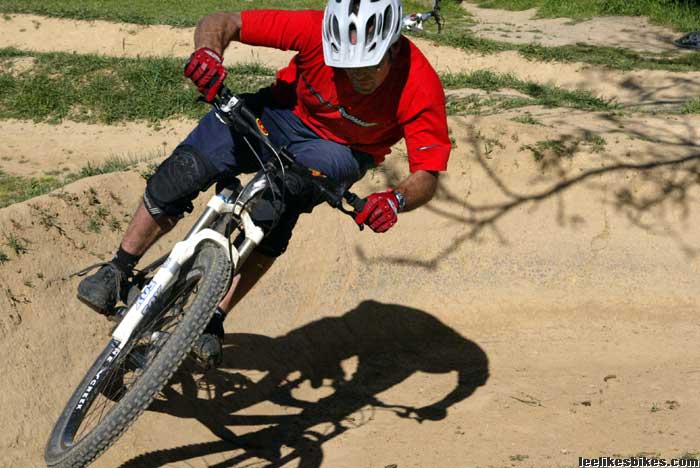 Lee, I am picking up a 2007 Specialized P.3 for dirt jumping, pump tracks, and park riding. I would like to get the bike as light as possible without jeopardizing the strength of the bike. As I look for a light weight fork which is still strong, I am considering: Fox Talas RLC, Rock Shox Pike (not sure which model would be best), Rockshox Argyle 409, or the Marzocchi DJ. Which would you advise if weight is one of my considerations? Also, do you have the build specs on your P.3?
Mauricus
The more you click, the more I can post. Lee Likes Groceries dot com!
---
Hey brother,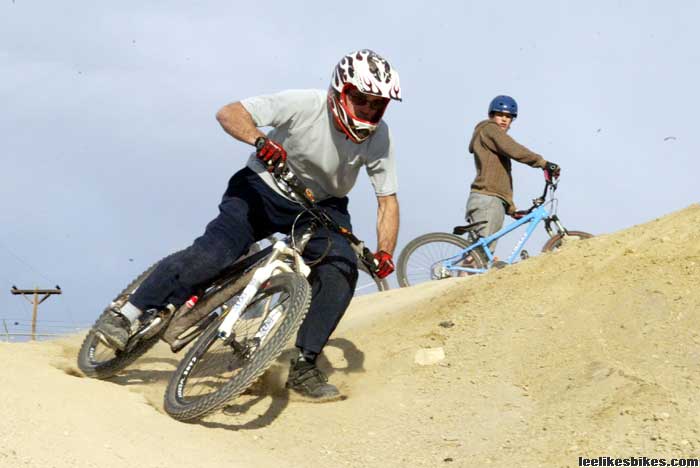 I run my F100 very stiff. This lets me load the front end with good control.
Forks
– The P.frame is made for a 100mm fork. With that much travel you get about a 69-degree head angle, which I think is perfect for this sort of riding.
– You have no need for adjustable travel, so don't mess with a TALAS or Pike. You'll never use the long-travel settings.
– From what I've seen and heard, the DJ is durable but a so-so performer; they come stock on P.bikes. The guys at PUSH Industries love the Argyle 409; that is very high praise.
– If you ride very hard, especially on pump tracks, you'll notice the flex of a QR fork. I do. If you consider yourself a tough guy, consider a through-axle fork like the DJ, Argyle or 36 TALAS. Marzocchi has a new Lopes race fork with a 20mm axle. Worth a look.
– Many racers run 100mm QR forks. They're lightest, and they're plenty strong. I rock a FOX F100 RLC. So does some fast guy named Graves.
– If you want lightness, and you're not a total tough guy, I vote for a 100mm QR fork like the F100.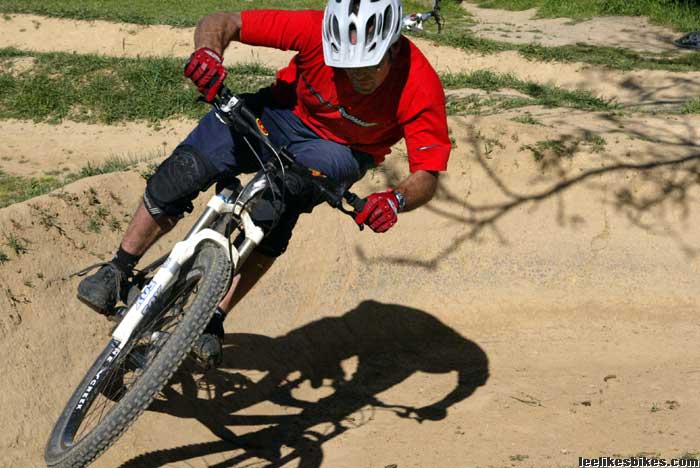 Ejecting from one of Weir's big, bad, beautiful berms.
My P.3
This bike is pretty light, very stiff and extremely versatile. I ride it almost every day for commuting, DJ, pump, urban, trail and clinics.
Frame size: Short. They don't make that size anymore because of foot/tire clearance issues for bar turning. Not an issue for me. I keep my front tire pointing where I'm going.
Fork: FOX F100 RLC. I wring the heck out of this fork. It has flex, but I only notice it after spending a lot of time on my 36 or 40. Once I get used to it, the flex becomes an invisible part of the bike's handling.
But! When I ride a good pump track very hard, I cannot keep my front QR in place. No matter how tight I make the Shimano XT skewer, the axle shifts in the dropout. This was a real problem at Mark Weir's pump track. We're talking 3G turns. So I look forward to a more secure solution.
Wheels: Cane Creek Duros. These wheels are light, very stiff and darn durable. After a full season of DJ, pump, urban and trail, they're still perfect.
Crankset: Shimano Saint. These are way overkill, but I bought them on crazy-low closeout. I'd be fine with XTs, but I'm cheap.
Gears: 32t ring with 12-25 cassette. The 12 and 25 are blocked out. Climbing the 2.4-mile hill to my house … always a pleasure.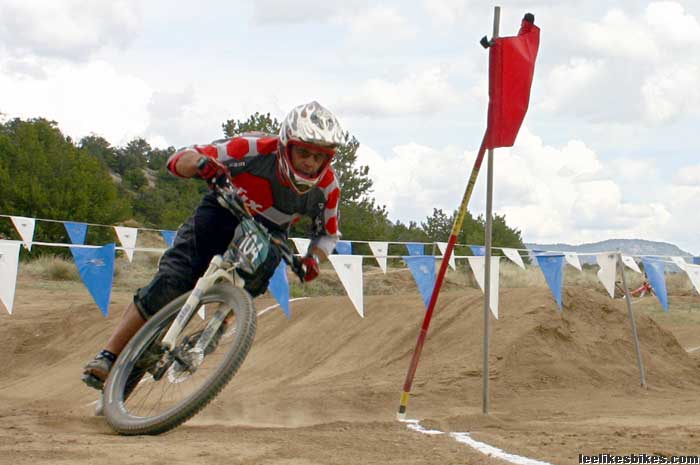 I usually race the SX, but it pooped out at the Yeti Spring Series. The trusty P.3 gets it done. I qualified 14th in pro/semi — stoked!
Shifting: SRAM X.9 shifter and rear derailleur. X.0 works way better, but X.9's fun-to-dollar ratio is awesome. Kind of like Shimano XT vs XTR. Volkswagen Passat vs. Audi A4.
Chain guide: Gamut P20. It's light and simple, and it keeps my chain on. Done.
Brakes: Hayes Nines. My bike stops when I want it to. I never worry about my brakes. Done.
Controls: Thomson 50mm stem, oversized. 28″ Easton DH bars, uncut. ODI Ruffian lock-on grips, always.
Tires: Specialized Fast Trak 2.2s. Fast-rolling, powerful cornering and lasting a full season (the front looks great, but the rear is almost dead). Previous: WTB Mutano Raptor 2.4s. Another great all-around tire; better in loose stuff than the Fast Trak. On loose DS courses I rock 2.2 Specialized Chunders.
Seatpost: Super-long no name cheapo. The best $30 I ever spent. I get full XC height for commuting and down-to-the-rails lowness for braaaping.
Yeah, I like this bike.
https://www.leelikesbikes.com/wp-content/uploads/2018/08/leelikesbikeslogoheader.jpg
0
0
leelikesbikes
https://www.leelikesbikes.com/wp-content/uploads/2018/08/leelikesbikeslogoheader.jpg
leelikesbikes
2007-08-28 09:56:27
2007-08-28 09:59:13
Setting up a P.3