Rocking one bike for all Sea Otter events?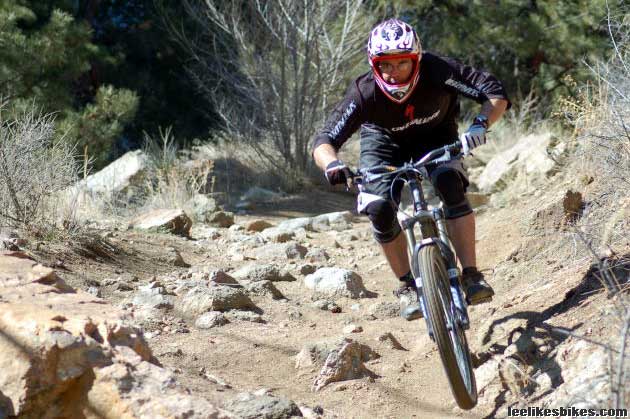 Hey Lee,
First time caller- long time listener. You're the only rider I know of who rocks all the disciplines for these questions, so here it goes. I have my '06 Reign 1 set up for Super D but want to also try downhill and 4x at Sea Otter this year. I'm thinking about swapping the 36 Talas with something longer and plusher for the DH but what about the 4x? My only other ride is a XC hardtail with a 71.5 head tube angle. I have a shorty stem for it but would prefer a slacker frame. Is there any way to setup the RP3 on the Reign to at least try 4x? Thanks for your time.
Oso Negro
Hey there Black Bear,
First, Sea Otter is not running a 4X this year. This is fine with just about everyone because the Sea Otter 4X experience has sucked lately. The good news: Sea Otter is running its world-famous Dual Slalom. That fast/flowy/sweepy/swoopy course is worth a drive from anywhere in North America.
Second, DO NOT change your fork. Your 36 is all you need, and your geometry is dialed as is.
Third, rock your Reign for every event — Super D, Downhill, Dual Slalom, even Cross Country if that's your thing. Here's why:
– It sounds like you ride your Reign the most. In gravity events, comfort and confidence are VERY important.
– The downhill is mellow and pedally. People race well on everything from 4-inch 4X bikes to 10-inch DH bikes. (Heck, even the hardtails go fast.) Your Reign is right in the middle. If you can get through the bermy/jumpy top of the course smoothly and pedal strong at the end, you'll do fine.
– Your Reign might not be the snappiest bike out there, but it'll carry good speed down the DS course. This track is fast, and it can get bumpy. Lay off the brakes, use the berms, pump the bumps and pick smart lines in the flat corners. Oh — and PEDAL!!!
– This thinking applies to any 6-inch all-mountain bike. Reign, Nomad, Enduro, ML-8 … Just to prove the point, I've thought of racing every Sea Otter event on an Enduro, but I have a full quiver — no sense leaving the beautiful Demo and SX in Colorado!
That said, I feel *really* confident on a dialed Enduro. I wouldn't be surprised if I raced best on that bike.
The best way for you to train: Ride your all-mountain bike as much as you can — and as fast as you can — on a wide variety of terrain. The more love you feel on Fun Day, the better you'll rock on Race Day.
An Enduro, or Reign, or Nomad, or ML-8, rips just about anywhere. Me & My Enduro …
Also read: Questions about Sea Otter DH
Have fun out there,
– Perro Blanco
---
https://www.leelikesbikes.com/wp-content/uploads/2018/08/leelikesbikeslogoheader.jpg
0
0
leelikesbikes
https://www.leelikesbikes.com/wp-content/uploads/2018/08/leelikesbikeslogoheader.jpg
leelikesbikes
2007-12-31 12:02:28
2007-12-31 12:03:49
Rocking one bike for all Sea Otter events?