Christmas '07: Family Fun Time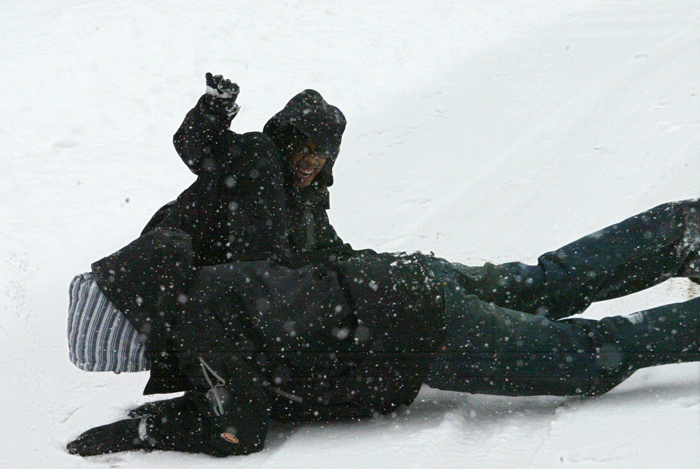 Up here in the Boulder foothills, we rocked our first Blended Family Christmas Extravaganza. Highlights:
Four hours of Rock Band on the X-Box. That game is awesome! Ian on drums, The Wife on vocals, The Kate on guitar and me on bass. I haven't played video games in a decade, but I'm here to tell you: Get an X-Box 360. Get Rock Band and a spare guitar. Let the Family Fun ensue.
BTW: Playing Iron Maiden's Aces High on Medium difficulty, the notes coming faster than I could think about them, just feeling the groove and letting the fingers do their thing, felt a lot like ripping my trusty Enduro on a new trail. At least from a flowing, releasing control standpoint. Hey, it's all practice, right?
Filet mignon on the Weber. It all starts at Whole Foods. The Wife never shows me the receipt; I don't need that info. Baked potatoes, grilled veggies and briquet-seared filet. The Best Christmas Ever!
Sledding. Kate is 18 and visiting from college. Ian is 15 and enjoying a break from school and basketball. Both kids are cooler than I ever was. When I picked up a couple Flexible Flyer snow saucers, I wasn't sure whether the kids would be down — but they were in a big way.
| | | | |
| --- | --- | --- | --- |
| Our neighborhood is a gym and a playground. Having gained sufficient potential energy, The Kids prepare to let fly. | Whee!!!!! | There's nothing like the pure, childlike joy of crashing. | The Kate. This force of nature gets a definite article, capitalized. She takes after The Wife. |
| | | |
| --- | --- | --- |
| Next year's Christmas card. | Ian's old friend Taylor flew all the way from New Orleans to … drum roll please … sit on this couch. | It's Christmas in Colorado. Snowflakes float from boughs, and sunlight warms cheeks. Yeah great … what's on TV? |
Meanwhile in NorCal, my little nephew Michael celebrated his first Christmas.
| | | |
| --- | --- | --- |
| Next year Uncle Lee is getting this dude a Skuut. | My mom, now a Bubbie, and her little grandson | Michael is named after my Dad, the most honorable man I've ever known. |
This message has been brought to you by Microsoft, MTV Games, EA, Iron Maiden, Specialized, Whole Paycheck, Weber, the Flyer company, Fisher Price, Skuut and my Dad. Hey guys, I accept Paypal.
Merry Happy,
— Lee
---
https://www.leelikesbikes.com/wp-content/uploads/2018/08/leelikesbikeslogoheader.jpg
0
0
leelikesbikes
https://www.leelikesbikes.com/wp-content/uploads/2018/08/leelikesbikeslogoheader.jpg
leelikesbikes
2008-01-01 17:32:41
2008-01-01 17:32:41
Christmas '07: Family Fun Time