Rocking Keystone, Texas XC style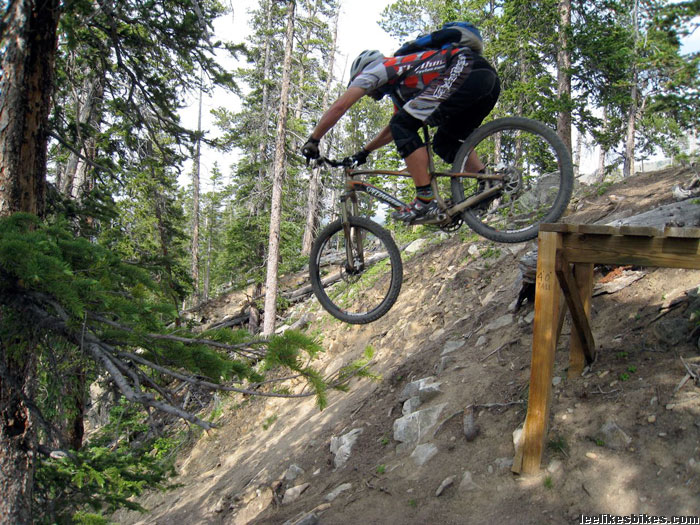 Jordan, Jason, Adam and Keenan are all riding buddies from Texas, and last week they road-tripped to Keystone for three days of braaap. We spent the first day together.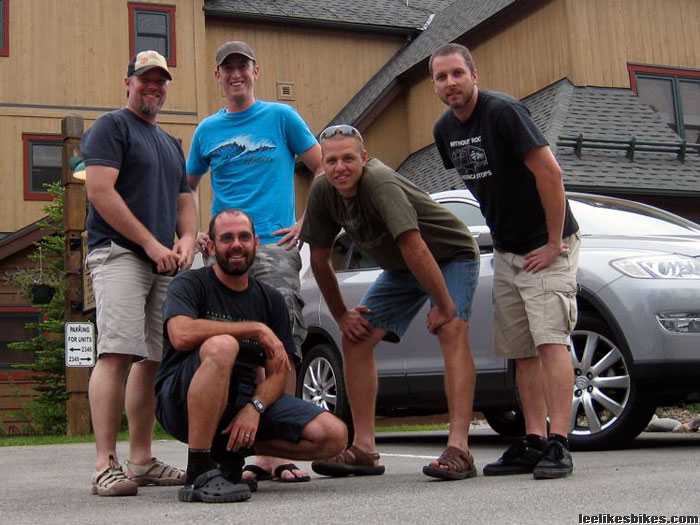 From left: Jordan, some dork, Adam, Keenan and Jason. These guys were a lot of fun.
The crew brought their XC bikes: a Specialized Epic, an old Specialized Enduro, a Niner Jet 9 and an Intense Spyder 29er.
You know what they say: When the Romans are visiting, do as the Romans. Rather than riding my longer-travel Demo or Enduro, I rocked my 120mm Stumpjumper Pro Carbon.
We started with parking lot drills in front of their condo. Range of motion, check. Attack position, check. Basic cornering, check. Rolling into a steep drop, check. Sine-wave weighting and unweighting, check.
After some Sandwich Action, we bought tickets and hit the trails.
Greens and blues
Mosquito Coast and its connectors are some of my favorite trails on the mountain. They are fast, flowy and just rough enough to be interesting. If you just drove 15 hours from Austin and got two hours of sleep, they are more than interesting. Halfway through our first run, the boys knew they were in for an adventure.
For our second run, we "downgraded" to Let It Ride, a long, curvy green that was a ton of fun. I believe it's better for learning (and a lot more fun) to rock an easy trail than to survive a hard one. We rocked Let It Ride.
BTW: The Mighty Stumpy was perfect on these trails. Quick, agile, plush and oh so braaapable.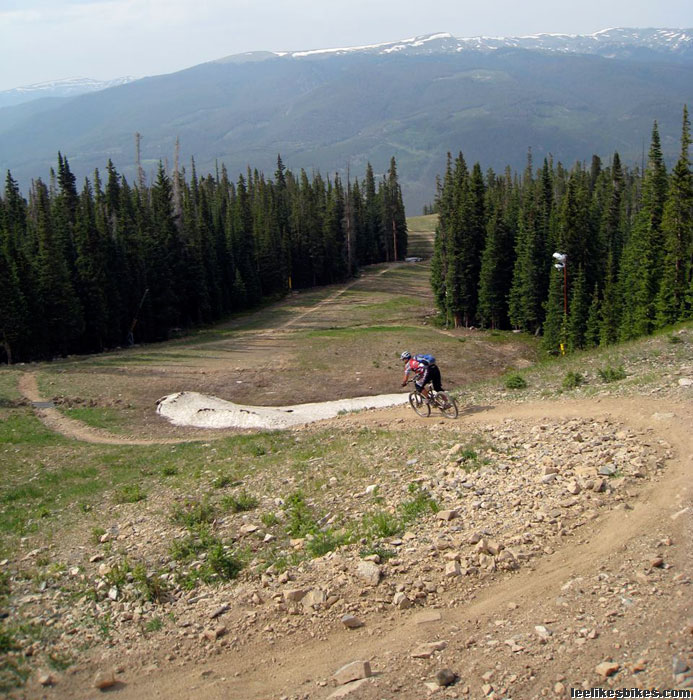 Paid In Full is WAY steeper than this looks. We gotta get Ansel Adams to shoot mountain biking.
Blacks, baby!
OK, time to step it up. While Jason and Adam ripped Let It Ride, I took Keenan and Jordan down some of the full DH terrain.
Let me just say: If your technique is clean, and you're not in a huge hurry, you can have a great time on an XC bike. I wasn't going race pace, but my Stumpy worked perfectly. We worked our way down Cowboy Up, Motorhead and Paid in Full to the Drop Zone, then to Money.
Money is just that: This homage to Whistler's A-Line has 22 tabletop jumps and plenty of sweet berms. The highlight for me was three linked 180-berms with a pair of perfect jumps on the exit. Braap, braaap, braaaap! Talk about sine waves …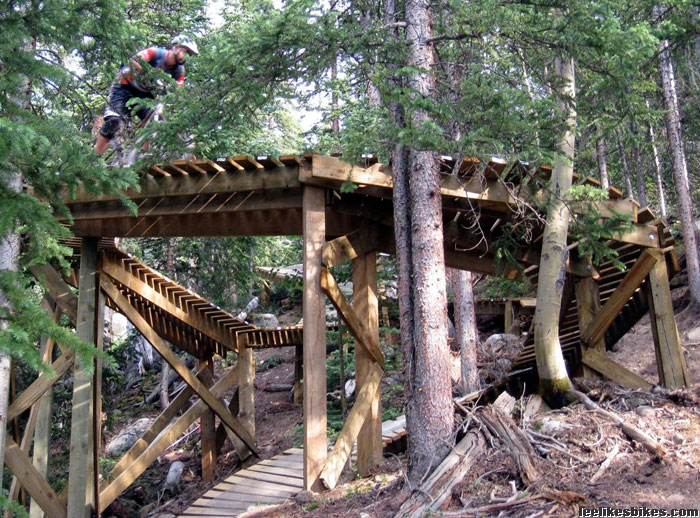 The corkscrew, as seen on YouTube.
The guys wanted desperately to ride the corkscrew on East Forest. They'd seen it on videos, and — well — they don't have that stuff at home. Elevation is not my cup of tea, but the Romans were in town, so … After whisking through some woods, we dropped under the lift onto a long sequence of bridges. They were wide, but they were STEEP! You better have your braking technique dialed, is all I can say.
The corkscrew itself is impressive to behold, and if I thought about it too much, I would have bailed. I scanned the line, said "screw it" (ha!) and just let it ride. The boys did the same, and we were all super stoked. It's technically easy, but definitely a thrill.
From there East Forest turned steep and raw, like we were the first riders ever. We got down just fine, jumped through the terrain park and called it a sweet day.
Best of all: No flat tires!!!
Thanks to Jordan for the photos. Jason put together this video on the drive home. Mac users unite!
| | | | |
| --- | --- | --- | --- |
| The Drop Zone gives you some options. | The landing and runout are steep! On the XC bike with light tires, it was all about speed control. | You do it kind of like this … | Practicing what I preach. The Stumpjumper Challenge continues, and so far so good. |
They made it home safe
Hi Lee,
We rocked it out on Day 2 & 3 and are all home safe and intact 🙂
Huge thanks for the training day. We were all super-happy with it and
benefited greatly….not to mention had a blast with you. I hope we
can all do it again.
Anyway, we'll be keeping up with you via your site for sure and hope
to meet up again. We'll be waiting for the DVD (16:9!) too, along w/
the BMX book. 🙂
Keep it BRAAAP'n,
Jordan
— — —
Lee,
Thanks again for showing us your Kung Fu skills at Keystone on Friday.
We had a great time. I definitely prefer the downhill bikes to mine on
those trails!
– Adam
— — —
Hey Bro,
Wanted to say thanks for the skills in Keystone last weekend. You
definitely kept us alive on that old mountain.
Anyway, it was fun to hang with you and we appreciate all of your good
advice.
– Jason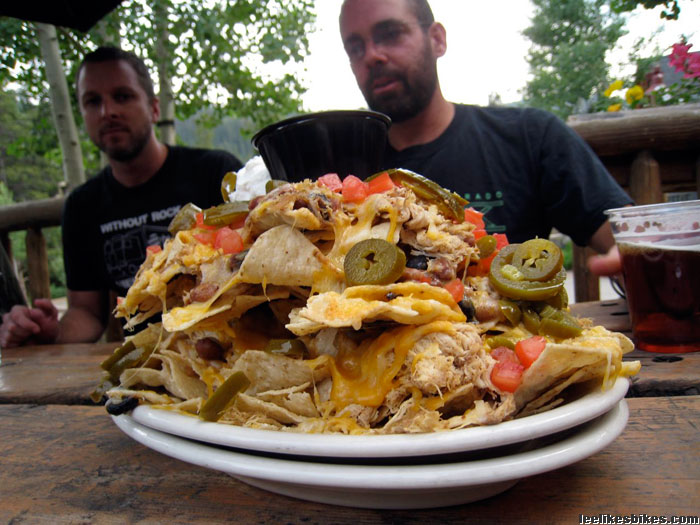 After you ride, hit Kikapoo tavern for drinks and NACHOS!
For a good time, check out Skills clinics with Lee
---
https://www.leelikesbikes.com/wp-content/uploads/2018/08/leelikesbikeslogoheader.jpg
0
0
leelikesbikes
https://www.leelikesbikes.com/wp-content/uploads/2018/08/leelikesbikeslogoheader.jpg
leelikesbikes
2008-07-17 12:12:46
2008-07-17 12:18:23
Rocking Keystone, Texas XC style