Riding a Specialized FatBoy: Ride 2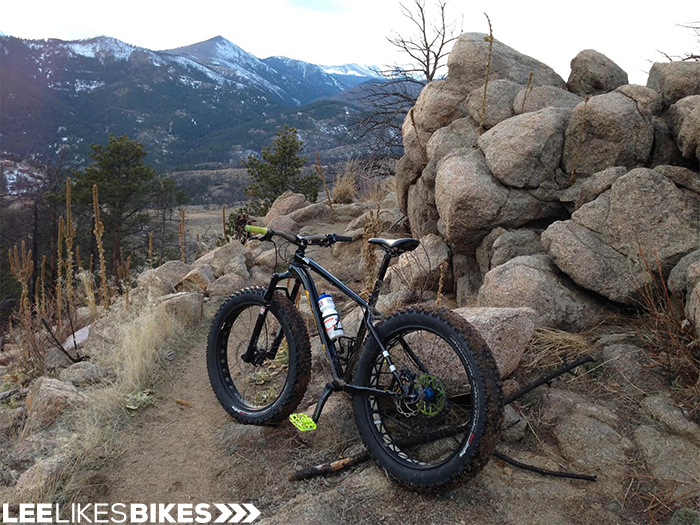 I have a Specialized FatBoy for a week. Saturday morning we did backyard funny business. Later that afternoon, I rode dirt roads and singletrack from the house.
Notions:
---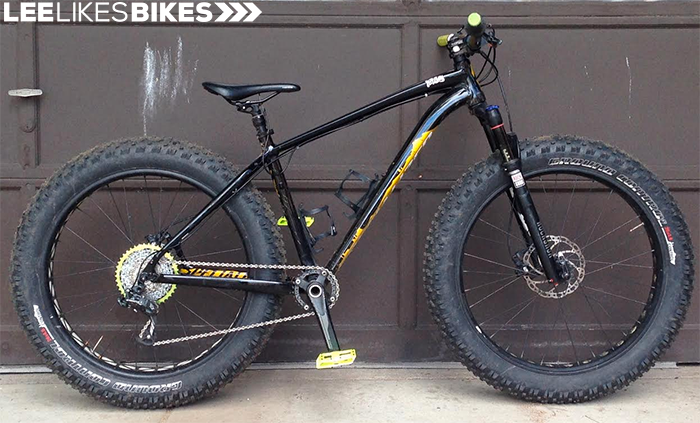 Specialized Fatboy with a RockShox Bluto fork, 1×10 drivetrain, Command Post dropper post and 50mm stem. Thank you Jason Emmanuel for the loaner.
I'm expecting bad things to happen, but they're just not happening. Hauling mail down a loose dirt road, edging into an off camber sweeper, expecting some drift … but nope. Just hook. Hmm. How fast can one ride?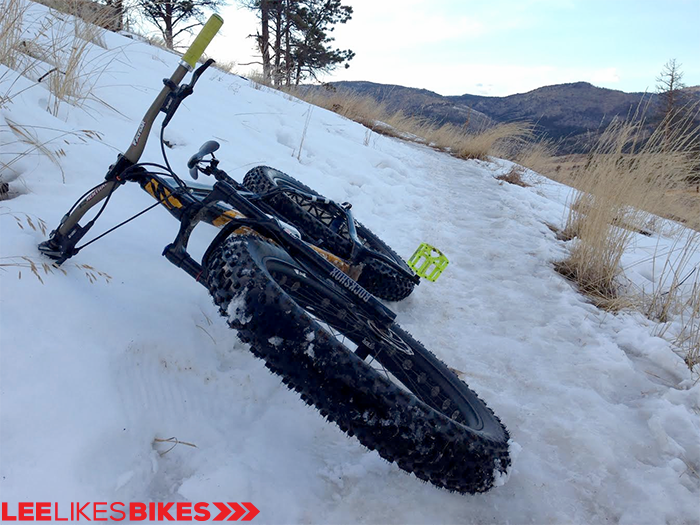 Off camber icy snow usually means calamity. Not on this ride.
Climbing feels slow, but how slow is it really? I think we're really sensitive to the weight of the bikes we ride, but we forget that the bike is only about 15% of the total system weight (In my case: 180-lb human, 30-lb bike). I usually reach Bald Mountain in about 30 minutes. Yesterday, on the fat beast at a very casual pace, it took 32 minutes. Not a big deal.
I feel like I'm gonna strike my pedals. The bottom bracket height is about 12.6 inches, which is the standard low Specialized shred position. Maybe it's the big flat pedals or sagging an inch into the tires, but I felt tentative on the rocky climbs. And, yes, the pedals did strike things.
More riding days. Your trails are too muddy for a regular bike? They might not be too muddy for a fatbike.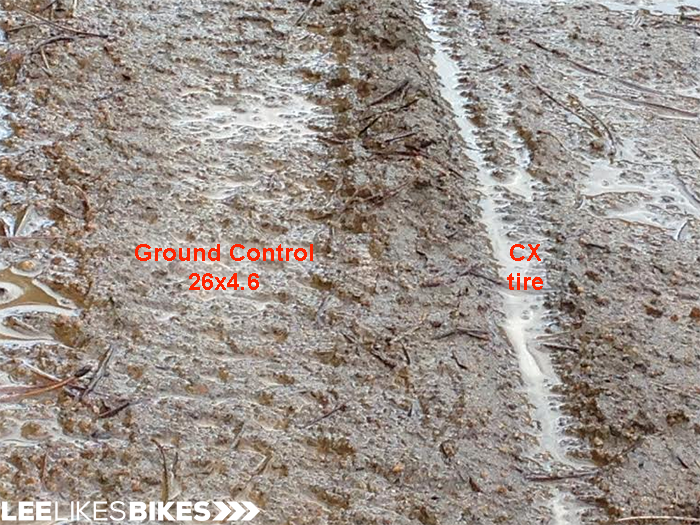 When a narrow tires leaves grooves, a fat tire leaves … a tender kiss.
These tires are clever. The Ground Control Fat 26×4.6 has a very round profile,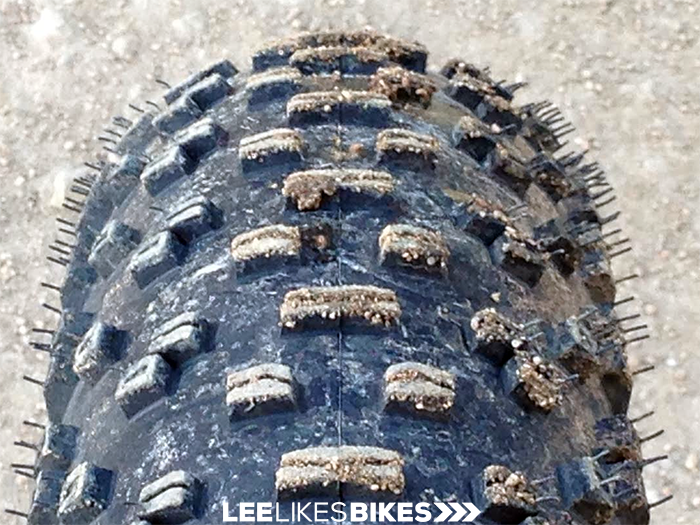 which I like because 1) Narrower contact patch in a straight line. 2) Lots of camber thrust when you lean the bike: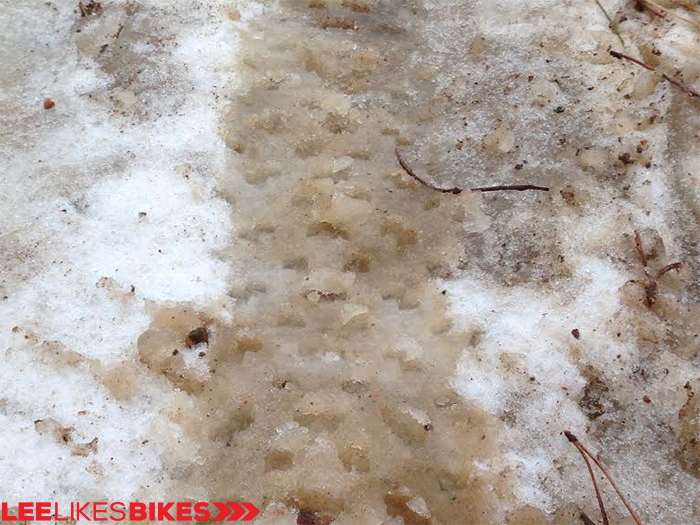 Depending on air pressure, you can make the contact patch narrow, wide or medium. This is medium.
Must … countersteer. At low speed, the FatBoy feels like a bike. At high speed, it feels, as Jason says, like a motorcycle in neutral. The tires make as much noise as the chain, and — dude — those heavy wheels are stable. Stability is a good thing, but you still gotta turn. Next time you're hauling mail with heavy wheels, give countersteer a try: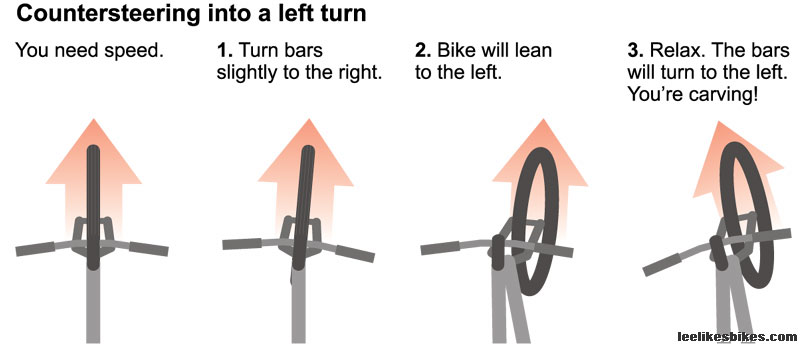 Fun! Everyone says fatbikes are fun, and now I have to agree. What makes 'em so fun? Some guesses: 1) Riding stuff you usually can't ride. 2) Riding in a new way. Fatbiking is like biking, so you're already pretty good at it, but it's different, so you get an extra hit of novelty.
Compared with other fatbikes: I've only ridden this FatBoy and a Salsa Mukluk. Compared with the Mukluk, the FatBoy feels more normal (credit the lighter weight, dialed geometry, rounder tires and higher-end build) yet more capable (must be the Bluto and 4.6″ vs. 3.8″ meats).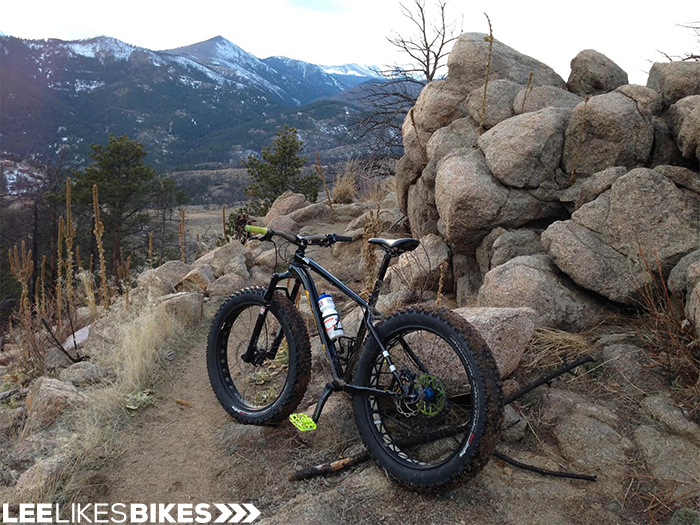 The initial purpose for this ride was *Important Testing* — but do you know what happened? I had fun. Just plain fun.
It's supposed to snow later this week. Game on!
Lee
---
Know more. Have more fun!
Join the leelikesbikes mailing list:
---
https://www.leelikesbikes.com/wp-content/uploads/2018/08/leelikesbikeslogoheader.jpg
0
0
leelikesbikes
https://www.leelikesbikes.com/wp-content/uploads/2018/08/leelikesbikeslogoheader.jpg
leelikesbikes
2015-02-09 17:53:42
2015-02-09 17:53:42
Riding a Specialized FatBoy: Ride 2