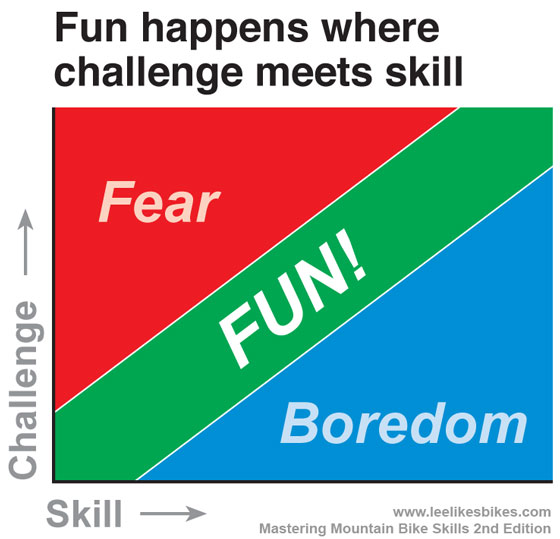 As my favorite chart shows, fun happens at the intersection of challenge and skill. As long as you're trying new things and working your kung fu, you'll be having fun.
One of the many rad things about cycling: There are a zillion ways to improve your abilities and gajillion ways to challenge yourself.
---
It's not just about riding longer or faster, jumping bigger, winning races or any of the other gross measures of badassness. Riding has unlimited nuance, so many flavors, and so many ways to mesh with our lives and challenge us in meaningful ways.
For a few years I rode as much as I wanted on any terrain I wanted. I thought I was a Big Deal, and it got to the point where any impediment to my riding pissed me off. Seriously, if I didn't get 2+ hours of Flow Experience every day I was annoyed. If I wasn't winning races (Cat 1, big whoop!) I was a failure.
One afternoon at Whistler I was doing a timed run down A-Line. I'd been ripping this run every day for a month (riding with Lopes and crew, shooting for the first Mastering Mountain Bike Skills). I was hauling ass! I was bad ass! As I reached an open area, some guy looked at me and dropped in. "HEY!" I yelled, "I'M DOING A TIMED RUN!"
How dare this guy get in my way? The dude looked back over his shoulder, took a pedal and started pumping. I cranked and cranked because I was on a PERSONAL BEST TIME. But, wow, he was pretty fast. I held his wheel — trying as hard as I could while he obviously cruised.
At the bottom he pulled aside and apologized: "Sorry mate, I didn't know I was in your way." I was like, Whatever, then I looked at the name on his top tube: NATHAN RENNIE.
Oh man, I was sorry.
Dude: When you're yelling at Nathan Rennie to get out of your way, you are 1) a jerk and 2) deluded.
Those days are over. Now I don't get to ride as much as I want. I get on a bike pretty often, but it's almost always for teaching, errands or "training," which is mostly the indoor trainer and pump track. Big adventures and big glory are pretty much out of the question.
Now I'm focused on teaching, learning Skill (capital S), building on my weak areas and enjoying the path to mastery. My technical skills used to be my weakness; now they're my strength. Lab tests confirm I will never be a great pedaler, but — man — I am enjoying the process of becoming a less sucky one.
Last summer I taught at Valmont Bike Park at least several times a week. That's on top of two other jobs plus all the track building and other Lee Likes Bikes ventures — plus trying to be a good Daddy and Husband. On those harried days, I'd warm up for coaching by riding 10 laps around The Glades or 10 laps up the start hill and down the dual slalom course.
My 10-lap Glades times started at about 30 minutes and got down to 27. My 10-lap slalom times started at 20 minutes and got down to 17. I enjoyed these missions because they let me lose myself while I worked my aerobic base, functional strength and riding skills. That's a lot of action in 27 or 17 minutes, and that was the bulk of my personal riding.
As soon as the snow hit, Valmont closed, and we Valmontians went back to whatever it is we do. This winter I've been working a ton, stressing a lot and trying to stay sharp. I turned my aerobic training up a notch on the trainer. I rode my pump track. I did my best to stay on top of mobility and strength (but my shoulders really are falling apart).
Yesterday morning I hit Valmont on the way to a work meeting. I felt tired and crappy as always, but — dang — I rode pretty well. I turned the 10-lap Glades in 25 minutes (2 minutes faster than ever), spun easy then banged out 10 slalom laps in 16 minutes (more than a minute faster than ever). While I rocked these mini adventures, I felt smooth, solid and strong. None of last summer's low-back pain, plenty of juice to spare.
I was stoked! Probably more stoked than timed runs at Whistler and definitely more stoked in a long-term sustainable way than when I was chasing wins.
Life has gotten pretty hectic, and my riding has changed, but I'm fitting it in the best I can — and I am rocking at the intersection of challenge and skill.
Where are you on the chart?
---
Know more. Have more fun!
Join the leelikesbikes mailing list:
---
https://www.leelikesbikes.com/wp-content/uploads/2018/08/leelikesbikeslogoheader.jpg
0
0
leelikesbikes
https://www.leelikesbikes.com/wp-content/uploads/2018/08/leelikesbikeslogoheader.jpg
leelikesbikes
2012-03-09 10:26:55
2012-03-09 10:26:55
Progress