Pilates on the pump track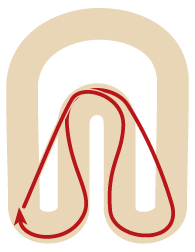 Last week my wife and I took a private Pilates class, and it turns out I suck at sitting, standing, walking and pretty much everything else. Our teacher Jordan at Rally Sport Boulder gave me some homework, and I've been mixing it into my everyday activities.
---
Goal
With Pilates I want to learn more about the body and increase my core stability. I thought I was strong and skilled, but this summer, as my fatigue and speed have increased, my hip bones have been shifting on my sacrum. This usually happens in a high-G corner, and the resulting muscle spasms are not cool. As a matter of fact, riding has been very painful.
So, yeah, we all need more core strength. And I think I can clean up my riding, too.
So …
Protocol
100 laps on the inside turny loop on Valmont Bike Park's lower pump track. The loop goes right, right, left, left, like this …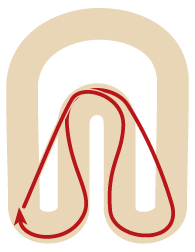 Line idea courtesy of Bill Turner.
… and I find it very engaging, very soothing.
I rode 10 laps (about two minutes), rested one minute, repeated.
Bike
The mighty P.PUMP. This thing, with its Specialized P.3 frame, Fox 831 fork, Gamut guide, Shimano XTR brakes, Shimano PRO bars/stem, Specialized Eskar/FastTrak tires and SRAM Rise 60 carbon wheels, is incredibly quick.
Foci
• Lateral breathing. From what I understand, you pull your abs in tight and expand your sides and back (Jordan says emphasize the back) as you breathe. The goal seems to be getting full breaths while maintaining a solid torso. It feels powerful — but mentally taxing — on road climbs. I about blew a brain gasket trying to do this on the pump track. I have a new appreciation for what I ask of my skills clients.
• Keep my core super engaged. Pulling the belly button up and back, squeezing the sides inward. Pretty hard while you're sitting on a mat. Freaking impossible while you're pinning a technical track.
• To completely dial in my rotational movement. You know that pulling or pushing or twisting you feel, especially in your torso, when you rail a corner? I tried to get rid of that. I wanted to turn from the absolute center.
Results
• The breathing came easier when I inhaled on the straights and exhaled in the turns.
• Early on I felt lots of noise in my torso. My back muscles are still worked from the last spasm, so the tiniest pull feels big. As I tightened my core and expanded my breathing, I felt more quiet.
• At lap 100 I felt like I was just finding some efficiency, so I went for another 50. I experimented with using less and less effort to go the same speed.
• I'll be able to explain this better as I dial it in, but for now: I feel like I'm finding a new centeredness in my riding. I wasn't driving with my whole torso or even my hips; I felt like I found a pivot in the middle of my core. The movement felt tiny but incredibly powerful. I will definitely pursue this further.
Today I rode 600 turns and 1,800 rollers in a bit more than 30 minutes. My back doesn't hurt, and my hip bones are where they're supposed to be. Stoked on that.
It's fun to suck at stuff. There's so much to learn!
Lee
---
Know more. Have more fun!
Join the leelikesbikes mailing list:
---
https://www.leelikesbikes.com/wp-content/uploads/2018/08/leelikesbikeslogoheader.jpg
0
0
leelikesbikes
https://www.leelikesbikes.com/wp-content/uploads/2018/08/leelikesbikeslogoheader.jpg
leelikesbikes
2012-09-19 21:22:46
2012-09-19 21:49:39
Pilates on the pump track