Optimizing a pump track for kids

Hi lee – love the book (Welcome to Pump Track Nation), it has been a lifesaver. First mini pt was a disaster, v2.0 followed your spec. WAAAAY better. (I used the 17′ x 31′ design in your book)
Now my questions. We're still adjusting the track… Do you have a recommendation for:
• Adapting the track to 20″ bmx vs 26″ DJ bike? I want to optimize it for my sons on their 20″ers.
• Related – how might I make it easier to ride for kids? They are 6 and 9. Lower bumps? Fewer bumps?
Any ideas or thoughts welcome. Thanks for doing what you do. We're hooked. Boys are out there every day it isn't raining, which in NorCal is most.
J
---

The mini pump track at Superior Bike Park is designed for little-little kids. It was incredibly quick and easy to build, and it's surprisingly fast on an adult bike. Rollers and berms are 8 inches tall.
Hey John,
Thanks for buying Welcome to Pump Track Nation — and for writing. Quick ideas:
• Theoreticlally, you can make the spacing tighter for 20-inch wheels, but American BMX tracks are pretty wide open. The WTPTN "standard" is a great compromise for all rider types and levels.
• Lower bumps are good for kids, as are very round, very gradual shapes. Make sure their pedals don't strike the tops of rollers, even at bottom dead center. When building a track, smooth shapes are a lot trickier than pointy ones. Be patient and test the track with your kids' bikes.
• You can go to a shorter wavelength, as we did at the Superior Bike Park mini track, but that's not necessary. Use the WTPTN standard measurements — and make sure everything is round.
• Berms can be as big and steep as you want, but make sure the banks transition smoothly from flat to steep. Kids tend to ride slow and low … until they don't! Then you'll be building dirt jumps!
• Go crazy with the tricky berm-to-berm sequences. Your kids can stay low until they learn to ride them. And you can hone your kung fu.
• If you can, build on level ground and avoid big changes in elevation. As you know, kids have a hard time scooting up steep hills.
• Make sure all conceivable routes are smooth and clear. As you know, kids are super creative. You never know where they'll ride — and you don't want them hitting ditches, rocks and such.
Measure twice, dig once!
Lee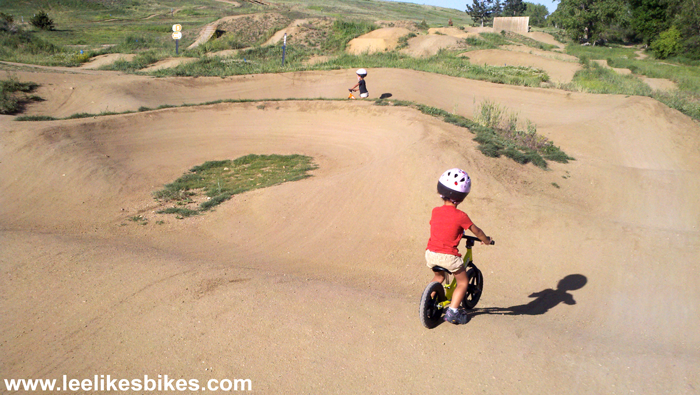 My girls work the "beginner" pump track at Valmont Bike Park. This track is actually very hard for little people to ride; they get stuck in the low spot at the far left. The inside turn is too tight for most adults, but little kids are too slow for that to be an issue.
---
Know more. Have more fun!
Join the leelikesbikes mailing list:
---
https://www.leelikesbikes.com/wp-content/uploads/2018/08/leelikesbikeslogoheader.jpg
0
0
leelikesbikes
https://www.leelikesbikes.com/wp-content/uploads/2018/08/leelikesbikeslogoheader.jpg
leelikesbikes
2013-02-19 13:08:56
2013-02-19 13:11:47
Optimizing a pump track for kids