MSC Final – Keystone Climax full report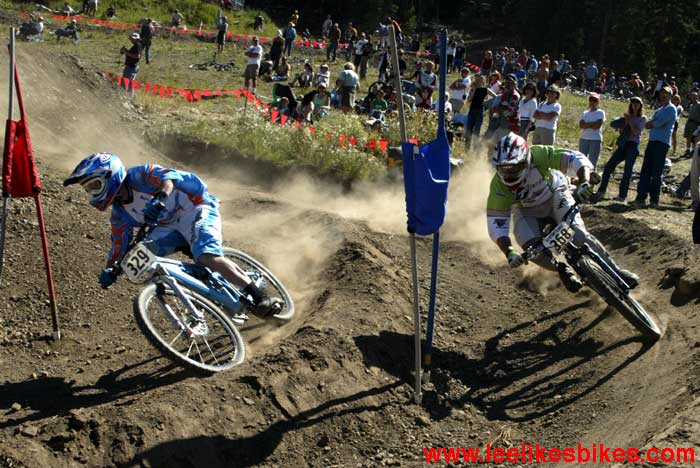 Another series in the books. The Keystone gravity events saw new faces having new fun and old faces enjoying new success. Good stuff as always.

Dual slalom
OK riders, let's set 'em up.
Watch the gate.
Beep beep beep BEEEEP!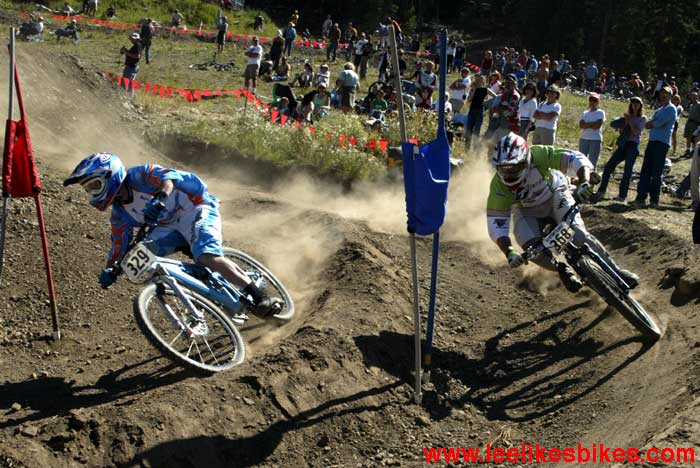 The metal gate drops — CLANK! — and you pedal as hard as you can. Pump three rollers, sneak in another stroke and jump the 10-foot double. Carve left against the hillside, pedal hard and sail over the 15-foot tabletop. Pump the landing, gain more speed and fly 20 feet over the next one. So smooth (if you get it right) …
Brake! Fold right into the 90-degree berm, pump for more speed and pop over a little double. Coast a sec, double again, hook the roller and jump into a hard left. Zooom: Push out of the berm and flip outside the next flag. Sneak through a flat, rocky right, then a left. You won't win it here, but you sure can lose it. Rail the right berm, jump into a left then stick a flat right. Pedal! Jump onto the table, sneak in a peal and jump off. PEDAL to the line. Whew! Repeat in the other lane.
A great slalom course takes the sensations of trail riding — fast, slow, left, right, up and down — and distills them into a tasty syrup. The cheering crowd tops it off with whipped cream and a cherry. What a perfect way to top the 2006 Mountain States Cup.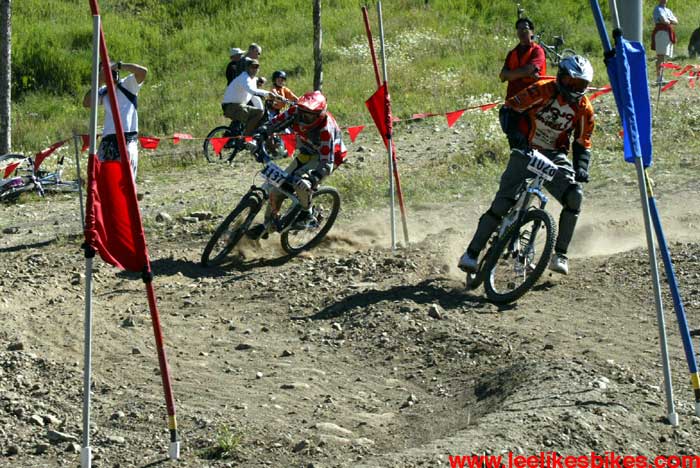 The monkeys: The Fix Junior Team I coach did awesome. "Super" Joey Shusler won junior expert, and Dylan Patterson won junior beginner. Evan "Wolverine" Powell rode almost perfectly, but a blown flat corner put him in third. All of the dudes are champions.
It's all about the skills: A soccer ball can rail a perfect berm. The dusty, rocky flat turns required major skills (in the Napoleon Dynamite sense). One of the most important: Knowing when to slow down.
XC crossover: The Maverick American crew of Boulder — Abby Hippely, Mike West and Ariel Lindsley — raced dual slalom, and these pro cross country racers proved they know how to pedal, corner and jump. Abby took second in pro/expert women. Ariel took second in 30+ expert men, after edging out West in the semifinals.
Finally: Boulder pro racer guy Steve Wentz placed third: his first-ever pro podium. Wentz beat a lot of fast guys, including Chris Boice, Petr Hanak and Fast Jon Watt. Nice work Steve!
Go Zach: My man Zach Griffith put on an amazing performance. Months of technique work have obviously soaked in: Zacharoo was riding so fast and clean that he almost got past Petr. Too cool. Zach finished 3rd overall for the season. Next year it's full pro.
As for me: I haven't raced much this year. As an almost-full-time coach, my skills have grown, but my speed has atrophied. I qualified No. 25 out of 32 pro/semipros, which meant I had to race No. 8 Chris Boice in the first round. As we staged, the fast young pro asked me, "Hey Lee, can I use you for a reference in my resume?"
"Sure," I said. "If you let me get through this round, I'll make your resume."
Let's just say I rode my best, but that Chris will be building his own resume.
| | | | |
| --- | --- | --- | --- |
| The course took four guys four full days to build. Lots of work! | Ariel Lindsley (left) and Mike West. Pro XCers on a fact-finding mission. | Chris Boice (left) and Steve Wentz. | Wentz and Watt did their final run chainless. Watt got an amazing chainless slingshot, but Wentz took him in the flat turns. |
| | | | |
| --- | --- | --- | --- |
| Zach Griffith gets some. Look at the form! To rip like Zach, come see me. | Evan "Wolverine" Powell, another graduate of the Lee Likes Teaching People To Ride Academy. | A seething, teeming throng. | Wentz and Watt. What a big day for Steve. Jon says he would have been better off with suspension. |
| | | | |
| --- | --- | --- | --- |
| Dylan lines up a tricky flat turn. This dude WON Jr. Beginner. So cool. Dylan is another pupil at LLTPTRA. | Dang! While Petr Hanak made some mistakes, Wentz rode with a perfect blend of aggression and precision. Go Steve! Go Petr! | Mike West. Look at that smile. I think we'll be seeing more of this XC/Super D dominator. | Teddy was ripping! Look at that Attack Position — he and his Kona Super Groms team came to my house a few weeks ago. |
| | | |
| --- | --- | --- |
| Super Joey Shusler-Peat (he loves Steve Peat so much they got married) was pedaling around this banked left. Yes, he won JrEx. | Fast Jon Watt was riding better than almost everyone, but he wasn't on his normal form. Guesses: His SX would have been better in the flat turns. He had some gnarly sinus congestion. His wife Bobbi wasn't there; she was racing the Jeep event in Vail. (She took 7th.) | This caption writes itself! Neven Steinmetz and Speedy Lisa Myklak. |
Downhill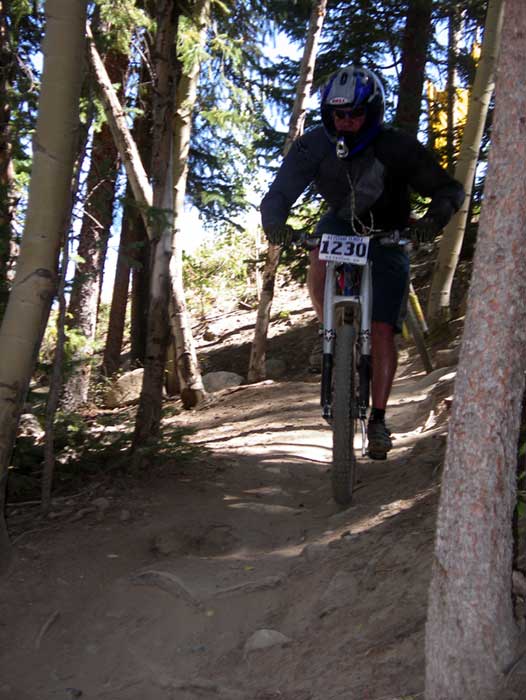 Beginner old guy action in the last woods section.
DH was the same as it ever was, which is long and varied. Take a couple cranks off a line and settle into a banked left. Unweight straight over the roots and fold into a fast left berm. Catapult into the woods. Use the lines and berms, but stay just a little higher and later so you don't get sucked into the wrong hole. Sprint across the ski run and dive into the rock garden. Hold left and hold your speed, and the rest will be fine. Rat tat tat!
Motorhead. Skim across the roots, fold into the left berm and jump the short step-up. Perfect. Upshift. Crank hard. Butter the long step-down. Nice. Carry speed into the Jared Graves turns: an S made famous in Clay Porter's movies. Hard right, hard left, then POP up over a double. Yum. Straight over the rocks, into the right berm, straight across the bridges and across the run.
Medium table. Tall step-up. Short bridge. Steep rock garden. Just flow it baby. Across the slope, through tight trees then onto Paid in Full.
It's WFO (wide effing open) as far as you can see. Line up wide, carve the turns and fist it down the ski runs, over grates, across roads, over jumps. 50 mph never felt so smooth. Find your feet and let your bars rattle free; otherwise you'll shake into a million pieces.
Wild Thing. Cut your speed into one-quarter. Duck and shuck and weave through the trees and switchbacks. Your hands are still fresh, right? Slow down for the dreaded Triple Drop, drop in and pump the three hits. Hit dirt again at a million miles per hour, pump across a rooty left and jive through the trees.
Under the lift. High speed across the runs, rip the S turns. Pedal across the line and call it good. Anything under 10 minutes is pretty quick. Chris Del Bosco of Vail ran it in 8:19.6. Lisa Myklak of Boulder ripped it in 9:33.81. That's a whole lot of action and about 1,600 heart beats. Rat tat tat!
As for me: My last DH race was Sea Otter, which is a completely different sport. But my skills feel good, and all the pumping and moto have made me pretty strong. I did a very clean, smooth run. I pedalled where I could, hit all the jumps and got everything maybe not crazy-fast, but definitely clean and smooth. When I crossed the line, my race time was 9:49, which seemed a lot slower than I expected; I've been riding this course all summer, and I expected about a 9:00. I checked with the timing officials, and they assured me the time as correct. Oh well; I guess I'm not as fast as I thought. I was bummed but willing to accept it.
But here's the funky thing: Jeff McCullough from Grand Junction ran an 8:44 for the win. (Congrats Jeff — Go Demo 8!) But he started 30 seconds behind me, and I never saw him. If my 9:49 was correct, he'd have passed me halfway down the course. Hmm. So maybe I ran a minute faster than the official time? 8:49 would make sense, based on my experience with the course. If that's the case, I placed 6th in semipro — my best finish yet. Next year I'll have to crack the Top 10 officially!
Super D
The Mosquito Coast run is dang sweet. Just a few short climbs and LOTS of corners. As much as I love it, I skipped it so I could get eliminated from dual slalom more energetically. Surprise: Mike West won open men, with Ariel Lindsley chasing, and Abby Hippely beat the open women by almost a minute.
Hero of the weekend: Ariel. He raced every event on his Mavericks. 2nd in open Super D, 2nd in expert downhill, 2nd in expert slalom and 5th in pro cross country. (Mark Weir: Are you reading this? Come out here next summer!)
Free Super D clinic
I ran a session for a half dozen racers. We practiced starts then rode the course. I showed everyone some clever late-apex lines — remember, in a series of corners, the last one is the most important. Every previous turn sets up the last exit. Good stuff.
I rode my new 2007 Specialized Enduro SL. Whoa, that bike is quick. I plan to ride it today here in Marin. Full report soon.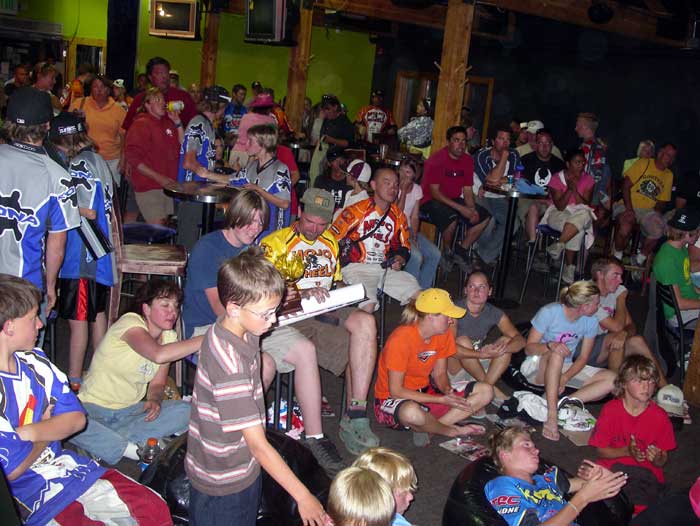 2006 MSC is over. The tired and the stoked at the final awards ceremony.
https://www.leelikesbikes.com/wp-content/uploads/2018/08/leelikesbikeslogoheader.jpg
0
0
leelikesbikes
https://www.leelikesbikes.com/wp-content/uploads/2018/08/leelikesbikeslogoheader.jpg
leelikesbikes
2006-09-08 12:42:23
2006-09-09 12:00:59
MSC Final – Keystone Climax full report