Moto-assisted downhill training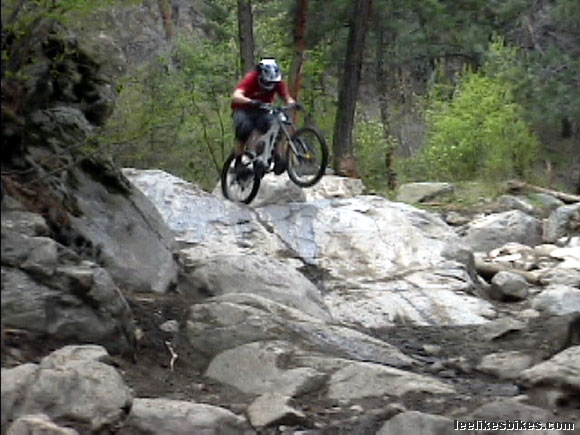 Yesterday I treated one of my clients to something very cool: downhill shuttles, with a moto as the shuttle vehicle. What a sweet way to dial in his skills training.

Background: The dude
Zach Griffith is a naturally strong, talented, aggressive dude. In just a few seasons he catapulted from a rank beginner to a semipro downhill racer. And catapulted is a good term for his riding style; he just pinned it everywhere. If he stayed on his bike, he was really fast, but he rarely stayed on his bike. It was like he loaded himself onto a piece of medieval artillery and went along for the ride.
Last fall, Zach and worked to get this riding style dialed and toned down. Aggression and confidence were never an issue — the key with this animal was to get him in tune with the nuances of correct riding, and to help him trust his ability to get the job done (without having to PIN it all the time).
It's obvious to everyone who knows him that Zach is an entirely new rider. He's smoother, more consistent and much faster — with none of the drama and very few crashes. When he told me he rode an entire weekend at Bootleg Canyon without crashing, I knew he was doing his homework.
Obvious improvements: Balanced over his pedals rather than too far forward; lower on the bike; great bike lean; looking at the next turn; much smarter line. We'll keep working on turning his hips into the turn.
Action!
Zach and I are doing a couple tune-up sessions before the MSC races start. We worked some cornering kung fu on my street, then Zach wanted to ride some DH shuttles. But it's not like you can simultaneously drive shuttle and coach someone … unless … you have a moto!
The place: Left Hand Canyon OHV area. Tons of gnarly trails, all legal.
The machine: My CRF450X, rigged with a tow rope. Thank goodness for torque; I pulled Zach up a steep fire road with no trouble. Except when one of the rope clamps broke and I tied the rope around my waist. Bad idea! That Zach is heavy! But still all good.
How very cool: I followed the Zach down Carnage Canyon, a rock-strewn stream bed that's frequented by rock crawlers. The moto was a handful in the tightest sections, but otherwise the engine and 12 inches of suspension gave me plenty of bandwidth to watch Zach cut side to side, double rocks and basically play like a dolphin in the bow wave of a ship.
We stopped at the trickiest sections to try lines and take videos. Zach was riding so smoothly, so centered. "This is the best I've ever felt," he beamed. "That's so much. Lee, you're the man."
I don't know about that last part, but I am super stoked to help Zach reach his potential, and I can't wait to watch him race. And if we must do more of this training, so be it!
Ride faster and safer with some Skills Clinic action.
https://www.leelikesbikes.com/wp-content/uploads/2018/08/leelikesbikeslogoheader.jpg
0
0
leelikesbikes
https://www.leelikesbikes.com/wp-content/uploads/2018/08/leelikesbikeslogoheader.jpg
leelikesbikes
2006-05-10 08:54:18
2006-05-10 09:17:13
Moto-assisted downhill training