Minimizing hardtail twitch
Lee!
I love your site and great advice you give! I recently bought an Ibis Tranny and love it! I switched from road to mountain biking about 4 years ago and have always used full suspension up until now. I wanted something that suits our trails that include short steep climbs, descents and tight twisty single track, thus the Tranny. So far I love it, however, I do not feel very secure on faster descents. The back end feels very twitchy. How do I get the back end to skip around less? More weight over the back? As well, with all the hype surrounding 29ers, can I get my Tranny to corner as well as a 29er with a proper technique or will the bigger wheels always have an advantage in this area?
Thanks,
Mike
---
Hey Mike,
Welcome to the hardtail crew. I've been riding Captain America all over the place, but on rough descents I'd rather ride the Stumpy or Enduro.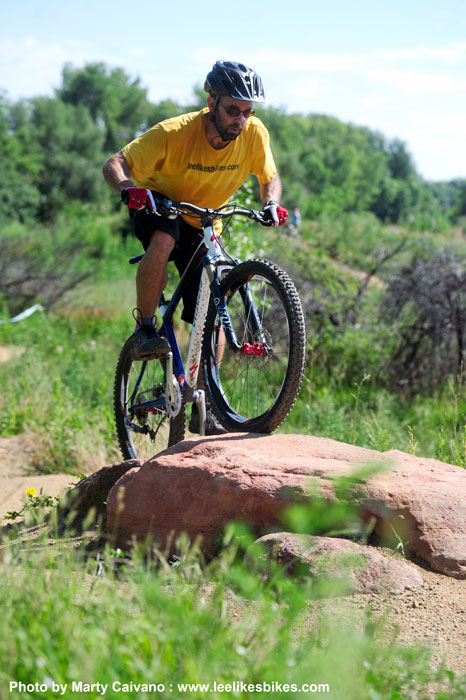 With some balance, a hardtail can rock in the rocks. Captain America gets it done.
Thoughts:
• Most people will tell you 26ers corner inherently better than 29ers. A skilled rider can turn any bike. Stop worrying about this.
• A 29er will definitely roll more smoothly over rough stuff. But you bought a 26er, so stop worrying about that too.
• Dude, it's a hardtail. Of course it feels more twitchy and less secure than full suspension. I love Captain America on smoother trails and on big, pump-able rocks, but in the chatter … uuuuuuuuuugh!
• DO NOT put more weight over the back (or the front). That is a recipe for disaster. As always, cultivate a balanced, centered riding position. Light hands, heavy feet.
• Loosen up and get aggressive. Don't run into any bumps. Pump them. Pump everything.
• Who cares if your back end is bouncing around? As long as you're in the middle of the bike —- in a good attack position — it doesn't matter. Plus: As Steve Peat told me, As long as your front wheel is tracking, it doesn't matter what your back wheel is doing.
For a video of exceptional hardtail riding, check out More weight forward for an all mountain hardtail?. Scroll down.
Check out Mastering Mountain Bike Skills 2nd Edition.
Braaap!
Lee
---
Know more. Have more fun!
Join the leelikesbikes mailing list:
---
https://www.leelikesbikes.com/wp-content/uploads/2018/08/leelikesbikeslogoheader.jpg
0
0
leelikesbikes
https://www.leelikesbikes.com/wp-content/uploads/2018/08/leelikesbikeslogoheader.jpg
leelikesbikes
2011-08-18 11:07:01
2011-08-18 11:08:19
Minimizing hardtail twitch