Making a DJ bike feel like a good trail bike
Hey there, Lee – how are things? I just have a quickie bike question for you. I don't know much when it comes to DJ bikes, but I do know that I would like to be in the market. I've been going to Valmont Bike Park when I can (why is it so addicting?), and I have been annoyed that I can't get my seatpost any lower on my trailbike. So I went over to The Fix and rented a dj bike for an hour. There was a pretty big difference…the right tool for the terrain I guess. Even though I need a lot of work keeping my weight on the flat pedals. Anyway, I was kind of into the Specialized P.2 pro (I believe, one of the P's with front susp)….how do you think it compares to the Kona type version?
Not sure if you have any input – the only thing about the bike I rented was it doesn't corner like my trailbike, it felt slow and wide, unless I just have to get used to the much wider bars or something. My trailbike feels great and sticks hard to those banked corners. I wonder if the Kona would feel any different than the Specialized? Thanks for any info!
Hope all is good –
Dawn
---
Hey Dawn!
I'm glad you're exploring Valmont Bike Park. It was fun having you in clinics out there.
Why is it so addicting?
Park is riding is addicting in part because the results are so obvious. While flowing down a trail is the ultimate (IMO), there's something so … definable … about riding a clean pump lap or clearing a jump. Remember, one of the keys to Flow is an appropriate goal … and the bike park is full of clear goals!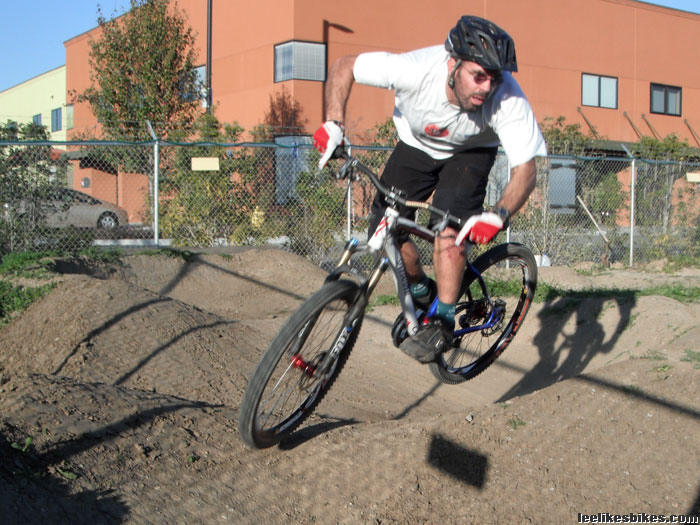 An XC frame can be coaxed into some serious pump action, especially if it's built like a DJ bike. Captain America on the Fox track.
Why does the DJ bike feel sweet, but funky?
Yes, a DJ bike is the right tool for that job. But consider:
• Most DJ bikes are built heavy for durability and inexpensive so groms can get them. (Hey kid, here's a bike. The first one is cheap …) Few stock DJ bikes have the refined feel of a high-end trail bike because they have low- to mid-level components.
• A stock modern DJ bike has pretty wide bars. You are not a wide person.
• As I recall, a stock P2 comes with street/park tires, which work great on hardpack but have a very different cornering feel from the knobbies on your hardtail.
• The P2 might have a slacker front end than your trail bike. It's definitely longer from your feet to the front tire and shorter from your feet to the rear tire. These are not bad traits. You will get used to them and eventually demand them!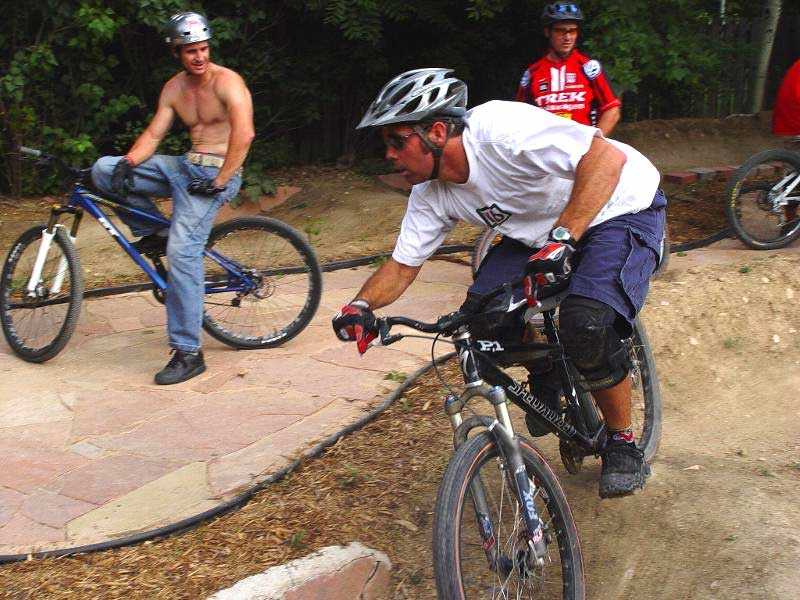 This stock (cheap!) P1 felt great with an upgraded fork and some XC tires. My old back yard. No pressure with this guy watching!
If you want your DJ bike to feel as good as your trail bike
• Get the correct-width bars. Do some pushups. How far apart are your hands?
• Install knobby tires. Whatever you like for XC is perfect. My P3 has a very knobby Eskar 2.3 on the front and a low-profile FastTrack 2.2 on the rear.
• Learn to ride flat pedals. That's a good idea in general. BUT: You can clip in if you want to.
• Specialized makes the best bikes EVER! But the other guys — Kona, Giant, Trek, Santa Cruz, etc. — all do a great job too. As a matter of fact, the new Santa Cruz Chameleon has my dream do-all geometry. Pick a bike you like from a shop you trust. The guys at The Fix take great care of me.
• If you want to go all the way, as I have, start with a top-range frame like the P3 and build it with great parts. My special "P.PUMP" has a P3 frame, Fox 831 fork, Gamut chain guide, Shimano XTR brakes and SRAM Rise 60 carbon wheels. Everyone who rides it says it's the best hardtail they've ever ridden. This thing is a weapon!
All bikes are rad. Get whatever you can afford, then ride the heck out of it!
Lee
---
Know more. Have more fun!
Join the leelikesbikes mailing list:
---
https://www.leelikesbikes.com/wp-content/uploads/2018/08/leelikesbikeslogoheader.jpg
0
0
leelikesbikes
https://www.leelikesbikes.com/wp-content/uploads/2018/08/leelikesbikeslogoheader.jpg
leelikesbikes
2012-12-05 15:15:19
2012-12-05 15:19:00
Making a DJ bike feel like a good trail bike