Maiden voyage: 2008 Stumpjumper Pro Carbon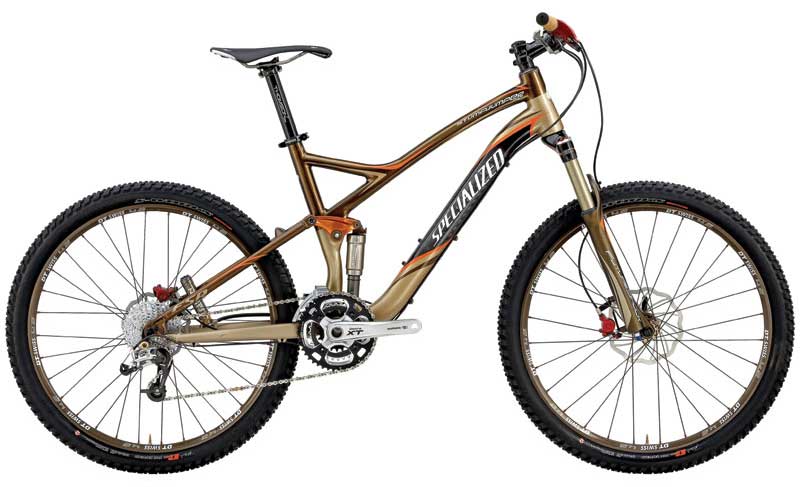 After weeks of snow and general pinned-ness, I finally got to ride the new Stumpy. It needs some adjusting, but it sure does rip.
Where: Hall Ranch in Lyons, CO. This is my favorite local XC ride: moderate grade, lots of flow, plenty of embedded rocks.
Weather: 30 degrees, with just a whisper of snow. The exposed dirt was frozen solid. The snow was crusty. The ice was as sketchy as you'd expect.
With Whom: The Watts (comma) Bobbi and Jon. They're great folks and fantastic riders.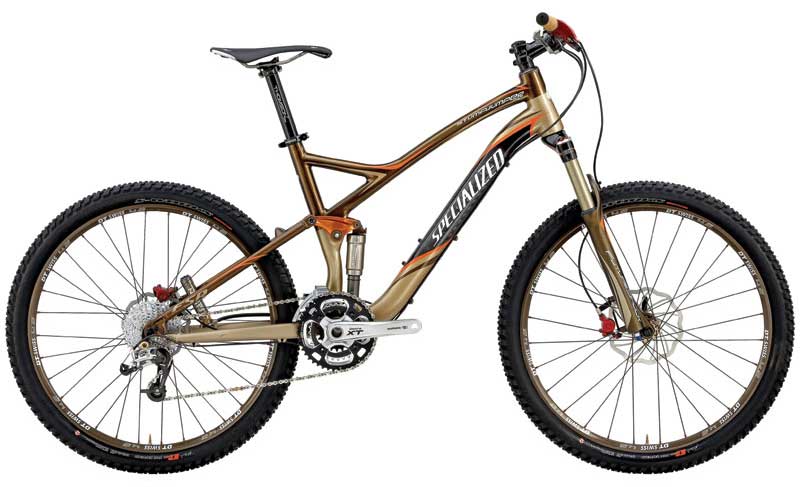 2008 Stumpjumper Pro Carbon, as spec'ed and photographed by Specialized
Setup: The parts are quality but practical. I'm running a 2.2 Specialized Resolution in the rear and a 2.3 Resolution in the front. These dual compound tires are pretty quick and very grippy. More spec details: Oh it's so tempting.
I set the rear shock to my body weight (about 170 psi) and the fork to just less than half my body weight (80 psi). I adjusted the rear pedal platform three clicks out from all the way in, so the bike barely moves when I hammer out of the saddle. I left the front pedal platform (which requires an Allen to change) at the stock setting.
Climbing: As you might expect, this bike climbs very well. It feels light, tight and efficient. My bars were too high to feel perfect, but I made do. Any time I'm climbing comfortably with the Watts, something must be going right.
Cornering: Excellent. The whole chassis, with the unified frame and fork and a set of Sun Charger AM/4X wheels, feels very stiff and planted. Compared with my 33-lb Enduro, I really feel the 27 pounds of love.
Low speed tech: At low speed when you're hopping and hitting individual rocks, you can really feel the bike's efficiency. And you can also feel the individual rocks. There is a definite lag before the suspension responds to a hit. The fork had way too much pedal platform, and a few times I almost got stopped by sloppily bonked boulders. It's not a big deal; it's just different from a fully open suspension, and I think I can adjust it away with an Allen.
High speed braaap: This bike rips. Jon was riding a new 6″ GT Force, and he was leading me at a fast, fun pace. The pedal platforms give the new Stumpy amazing pump and out-of-the-corner snap. Corners were braaaped. Boulders were pumped. Rock gardens were attacked. Overall, I can say I rode as aggressively as normal — at least between the snow patches.
The Jon Watt factor: Jon is a fast, fit, consistent pro rider, and it's always fun to chase him downhill. Yesterday, with him on a big all-mountain bike and me on a mid-range XC bike: Jon gained moments by laying off his brakes and taking aggressive lines. At speed across roughness, we went exactly the same speed. I gained moments back with well-placed pedals. Overall, we got to the same place at the same pace. If you know Jon, you know that's a good sign.
Compared with the 2007 Stumpy: I built the new bike with the same parts, except for the Sun Charger wheels and Hayes Stroker brakes (and, of course, the integrated Specialized fork).
– The new Stumpy is over a pound lighter (right about 27 lbs), even with the burly wheels. This bike could definitely go under 25 lbs.
– The new Stumpy feels more efficient and less bouncy, thanks to the Specialized fork and its pedal platform.
– The new Stumpy feels laterally stiffer, especially in the rear end. I really notice this in the tight, flat corners where I'm combining lateral and vertical forces. (aka braaap)
– The new Stumpy feels more integrated. Yeah, yeah I know that sounds like Specialized marketing hype, but the rear shock has such a unique ride, any other fork feels a bit off. I had a Maverick DUC 32 on a 2005 Stumpy with a Brain rear shock, and while that bike rips, I could always feel the competing suspension philosophies. I look forward to dialing in the front pedal platform. I have a feeling this bike will really come to life.
– The new Stumpy inspires even more confidence. The 2007 model was no slouch, but the new one — maybe it's the stiffness, or maybe it's the new suspension technology — but even poorly adjusted it ripped hard and felt planted.
For the next ride I will lower the handlebars and reduce the front pedal platform.
This is fun. Stay tuned!
— Lee
---
https://www.leelikesbikes.com/wp-content/uploads/2018/08/leelikesbikeslogoheader.jpg
0
0
leelikesbikes
https://www.leelikesbikes.com/wp-content/uploads/2018/08/leelikesbikeslogoheader.jpg
leelikesbikes
2008-01-07 12:56:57
2008-01-07 12:59:29
Maiden voyage: 2008 Stumpjumper Pro Carbon