Jumping: big rider with suspension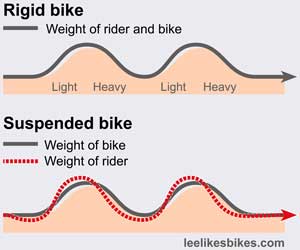 Hi Lee,
The bigger they are the harder they fall. Or jump.
So I've just found the local jump spot and I want to start building up my jump-fu. There's a bunch of jumps from 2ft high table tops to 6ft high doubles and so a nice learning curve, but my question is this. As a heavy rider (+230lbs) riding a full squishy is there anything different I need to be doing to get airborne? I got your book and that's been a lot of help, but I'm guessing I'm not going to able to lift the bike as easily as the 150lbs bmx/hardtail riders I see sailing through the air. More speed? More compression and release on the up ramp?
Cheers, Marz
The more you click, the more I can post. Lee Likes Groceries dot com!
---
Hey Marz,
Yeah — jumpfu — great word!
The solution IS NOT MORE SPEED! Two things:
1. Power-to-weight ratio. If you want to pop higher off a lip, you have to compress harder into the lip. A big rider can jump just as high as a small rider, but smaller riders tend to have better power-to-weight ratios. Minimize your weight. Maximize your power.
2. Pump. Before you can compress into the lip, you must compress your suspension. This is like bouncing on a big, soft trampoline. Your movements have to be slower and more deliberate than on a hardtail or BMX. Learn to really crush your suspension into the lip. Use all your Massive Power.
Read these entertaining yet informative articles:
Rider weight and landing force
Yeah, freakin' rip it!!!
— Lee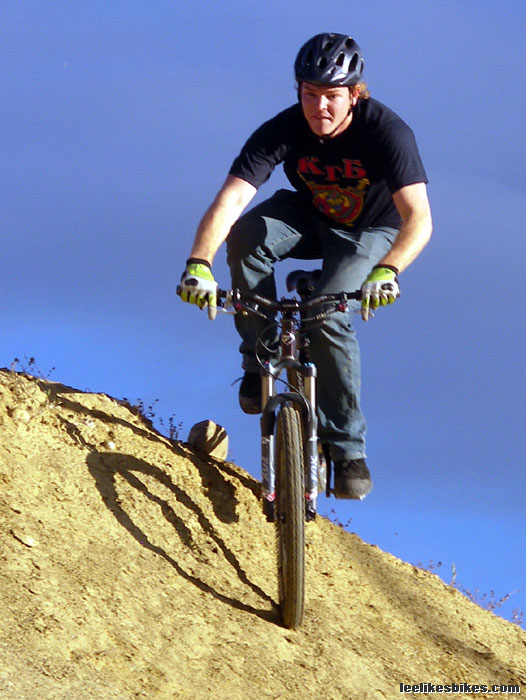 Matt Fisher is a bigger guy — in the 200lb range — and a great rider. Why? He's powerful and fluid. Talented too.
https://www.leelikesbikes.com/wp-content/uploads/2018/08/leelikesbikeslogoheader.jpg
0
0
leelikesbikes
https://www.leelikesbikes.com/wp-content/uploads/2018/08/leelikesbikeslogoheader.jpg
leelikesbikes
2007-08-15 12:07:41
2007-08-15 12:10:26
Jumping: big rider with suspension